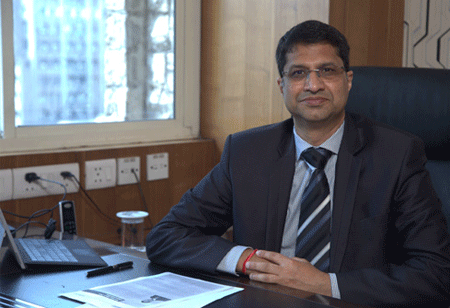 Pradeep Misra, Chairman & Managing Director, REPL, 0
Providing gap fills for expertize supply and specialized in infrastructure development consultations, he has also been contributing to urban planning, building designs and civic services planning.
I started REPL at a very early stage, even before my final results of Engineering were announced. It was 1992, India had just entered into an era of economic liberalization and globalization. When I look back today, it seems the timing was just right. The massive development that has taken place in the space of infrastructure and urban landscape since then, still continues in full force. We have been an active participant throughout this process. Our offering of integrated consultancy addresses to a very crucial missing part in this overall infrastructure strengthening of the country.
We at REPL, have been constantly aware of the evolving scenario and requirements of the industry. At every stage, we have been constantly upgrading ourselves, adding new service divisions, introducing technology to efficiently serve our clientele. Agility and innovation are at the core of our organizational approach.
That could be the reason that we have registered continuous growth over nearly three decades span. Apart from the corporate clients in the urban development section, we have been working on almost every infrastructure flagship program of government of India. Our business is aligned with the policies of government and direct societal requirements.
Starting with a small team, nearly three decades back, we have come a long way when we launched our IPO and got listed at NSE Emerge in 2018. Subsequently in 2020, we got listed on NSE, India's largest stock exchange. While it brings an opportunity of larger growth for us, it also increases our accountability and commitment to a broader stake holder community.
Principle Integrate With Your Company Vision, Mission, And Values
I am great admirer of Gandhian principles of peace and co-existence. As much as in personal & social life, it is equally useful and applicable in context of general corporate environment. His concept of 'trusteeship' stands even more relevant in modern times. He was not against companies making profit. He was against letting the greed unleashed. He urged them to take care of the 'interest of all stakeholders'.
He was advocating ethical practices in business. The core values of our company include 'transparency', 'sustainability' and 'social responsibility'. In everyday business activity, we always remain aware of these factors and try our best to adhere to them. As per Gandhian philosophy, every action should do good to larger section of society. On line with that, every project that we do in REPL is for that purpose only.
Impact Of Covid In Business
Impact of Covid has been deeply felt across the board, and naturally we could not remain entirely untouched by the same. However our structure and business model has been as such that we could be able keep the impact minimal to the extent of being in control. Large infrastructure and construction projects were delayed or majorly slowed down for nearly two quarters. At many places the government had to withhold the new project roll-out.
There have been unavoidable incidences of delay in receiving the proceeds of our consultancy fees. But that had to be there and we sailed through that period. Our timely investment in the technology enabled us to serve our clients seamlessly on the on-going projects. We were rather quick in implementing our pre-planned business continuity process to avoid any major operational disruption. However, the sporadic lockdown and uncertainty in cash-flow due to Covidis putting lot of pressure on banking sector, which in result is effecting business sentiments.
Despite the intermediary set-back due to coronavirus pandemic, India's growth story stands intact. As the country's economic growth resumes its upward curve, the need of supporting infrastructure will be even higher. REPL's future plan is to remain aligned with that growing demand in infrastructure consultancy space by delivering end-to-end solutions. We are already associated with the GOI's flagship programs such as Smart City Mission, PMAY (PradhanMantriAwasYojna), Skill India, AMRUT and JJM (JalJeevan Mission) etc.
We are now gearing up to enter or scale up our business in new domains like Tourism, Ports, Metros, Roads & Highways etc. We are also expanding in the IT & Software enabled services in infrastructure sector. In recent years, we have also been making presence in new geographical territories.

Change In Infrastructure Development In The Country During The Last 3 Decades
Infrastructure landscape has been swiftly changing in different phases as per the emerging requirements, and also as a result of continuous learning process. There has been a phase where the government focus was largely on the rural infrastructure to give boost to the local and decentralized economic environment. Of late, we have been seeing the rapid urbanization. Owing to different factors, this trend is likely to continue in coming decades. Subsequently, the government's policies and programs also started to focus on strengthening and development of urban centers. Smart City Mission is one such program that aims to create an ecosystem of economic vibrancy around the major cities.

Another major shift in the infrastructure sector has been public participation. It was realized that pulling off large scale infrastructure growth on rapid speed was not possible by utilizing only the government system and resources. Therefore the routes for private participation were opened through various modes. One of the noticeable development has been increase in PPP (Public Private Partnership) programs. We are also witnessing massive FDI flow in the infrastructure sector.

Role Of Technology In Service Offerings
The complexity of infrastructure projects are increasing multi-fold. Increasing urbanization itself calls for new technology driven innovative solutions. One such obvious example is requirement of metro rails. To increase the mobility within the city and reduce traffic clutter, you need automated multi-level car parking facilities; ICT enabled traffic management system and other similar facilities. Even on the traditional infrastructure projects like roads and highways, one major problem is time and cost overrun. It can largely be addressed by the application of adequate technology in designing, monitoring and implementation. REPL's approach has always been to include latest technological solutions during the entire project life cycle.

We have been investing in technology and making alliance with the global software giants to introduce new technologies not only on our projects, but also to disseminate in industry within the country. We have made tie-up with Hungarian MNC, Graphis oft for Archicad based BIM (Building Information Modeling) in design and construction. Similarly, with Italian firm TeamSystems, we are working on implantation of project management software, STR Vision. For many years, we have been implementing GIS (Geographical Information System) in urban planning projects. Now, we are working towards its application in other domains such as land-record digitization and property tax.

Leadership Philosophy
I firmly believe that companies need to build leadership at multiple levels. REPL is into knowledge-driven business. Our service divisions and teams are led by the experienced technocrats of proven credentials. My approach is to carefully select the right person for a position and let him/her operate the respective division as independent SBU.

However there is an overall organizational culture, and set of values that provide broader operational framework to everyone. Moreover we are close-knit organization. I personally like meeting everyone as often as possible, visit project sites and also regularly communicate with all our employees to discuss organization level plan & developments. It is important that everyone is on same platform and share common vision.

Message For The Budding Entrepreneurs
First of all you need to have an entirely innovative idea that breaks through the existing clutter. There should be clear-cut implementation road map or business plan. After you have managed the 'seed-capital', you need to ensure arrangement of cash to keep it going. Most of all, you need to be 'ready to face failure'. Without immense risk appetite, road to entrepreneurship is not to be embarked upon.

The budding entrepreneurs need to be fully prepared with the initial set-backs that create as much internal pressure as much external. It is no easy or short-cut rout to success. Challenges go far beyond the initial anticipations. It requires mental and psychological fortitude to sail through the set-back phases. Entrepreneurial success takes time, and you need to deal with uneven cash flow in the intermittent period.

However it gives an opportunity to follow your passion, live your own dream and a chance to create your own legacy. Needless to say, it allows you to operate in a domain where there is no upper ceiling. Budding entrepreneurs should also be aware that the thorough professionalism and business ethics are essential guiding factors of long term success.