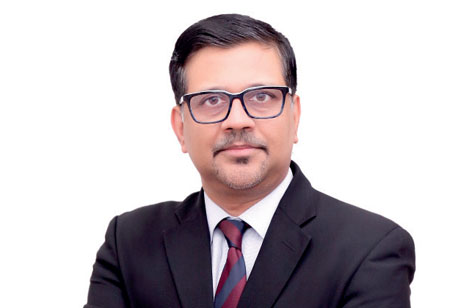 Manoj Jagathmohan, Director & Head, QIAGEN India, 0
Holding over 24 years of experience, Manoj envisions for inclusive growth and is on a mission to enable the organization to reach its leadership objective while enhancing the company's footprint.
Clinical Diagnostics plays a crucial part in the delivery of quality health care by providing information and services that contribute to maximizing the effective delivery of care in today's complex healthcare system. The world of diagnostics has changed and is rapidly changing over the last 10 months due to the pandemic and new normal of testing and customer deliverables are in place.
Clinical Diagnostics is the most effective, least invasive source of the objective information used in decision-making by a clinician in Infectious disease, cancer testing and non-communicable diseases. There are clear evidence that 70 percent of medical decisions are based on laboratory results. This enables physicians and other healthcare professionals to make appropriate evidence-based diagnostic, disease stratification or therapeutic decisions for their patients. Diagnostics have a conclusive impact on both early detection of ailments for the screening and detection of diseases at an early stage, prognosis, determination of treatment regime, monitoring of patients and the care continuum. The medical diagnostics industry accounts for only five percent of the total health system cost, but it influences 95 percent of the remaining costs as they form the basis of medical decision making by reducing the spend on trial-error treatment, hospital stay, over prescription of medicine. Along with treatment regime selection, diagnostic test results help in monitoring of the patient condition during recovery and follow-up. With these multiple touchpoints, laboratory tests contribute 80 percent of the objective data in clinical records. The shifting focus from curative care to preventive care, diagnostics are taking center stage and are increasingly performed in prevention and wellness. With data analytics and AI taking centre stage, these clinical records will help in predictive analysis and disease prevention going forward.
COVID-19 has further proven the need, relevance, and importance of clinical diagnostics. It is remarkable that as nation we achieved several folds increase in the number of molecular testing labs, solution providers both local and global presence scaling their production capacities. Few companies even developed innovative diagnostic solutions in record time from start to end.
Though COVID-19 has undoubtedly proven the importance of clinical diagnostics and the capacity to which we can collectively raise, it has also dampened the efforts in continuity of services like prognosis, diagnosis and treatment of diseases like Tuberculosis, Hepatitis and non-communicable diseases like Cancers which have been rampant for long and cost the country dearly.
Cancer management has had a severe impact due to COVID. Ongoing programmes like screening for Cervical Cancer, the only preventable cancer, has been dramatically impacted. While the strong link between high-risk persistent Human Papilloma Virus (HPV)
infections and the occurrence of cervical cancer is well established and documented, the numbers are daunting. One Indian woman dies of cervical cancer every 8 minutes. The Paradox is we know the cause, we know it is preventable, there are screening options like VIA, Cytology tests and HPV DNA and vaccines available, but the death rates are the highest. Lack of awareness is the root cause and as a Nation's priority we need to address this on a mission mode by leveraging media, social network and also each of us as an individual. A Pandemic like covid almost stalled these efforts in some places both in Public and Private set up, ensuring continuity is vital.
Clinical Diagnostics Is An Indispensable Partner And The Compass That Navigates The Clinician And Health Care Professional In Providing Timely And Improved Patient Care
Few of our country's Health Programmes had seen remarkable progress over the last few years with commitment at the highest level in the country, embracing collaborative models to deliver the last mile service, adoption of innovative technologies. A fine example would be the progress of TB programme of India. As per WHO Global TB report 2019, the incidence of TB reduced from 300/ lakh population in 1990 to 199/ lakh population in 2018 and mortality reduced from 76/lakh population in1990 to 32/lakh population in 2018. An Accelerator campaign to National Strategic Plan 'TB Harega, Desh Jeetega' has been launched on 25th September 2019. The campaign has seven pillars- Advocacy and communication, Health & Wellness centers, Inter-Ministerial Collaboration, Private and Corporate Sector engagement, community participation and Latent TB Infection Management. The core of all activities of TB Programme has been a patient centric approach a critical element that has become more relevant than ever during such pandemic. It should all be in the DNA to ensure this should be sustained throughout no matter any obstacle.
The seven pillars of Accelerator campaign to National Strategic Plan (of TB) Advocacy and communication, Health & Wellness centers, Inter-Ministerial Collaboration, Private and Corporate Sector engagement, community participation and early disease management will hold good for not only Tuberculosis but also cervical cancer or any such highly prevalent disease or cancer conditions in our country which would trigger a marked shift in the approach of many companies to take a disease based rather than a technology based one.
So, Clinical Diagnostics is an indispensable partner and the compass that navigates the clinician and Health care Professional in providing timely and improved patient care. What today is disruptive technology will undoubtedly be the norm in the After-Corona era. The world and the governments will be focused more on health care with specifics on prevention and treatment regimens that would bring in newer innovations using tools that would make patient management easier. The goal should be to bring in accessible, affordable technologies that can be scaled up immediately like when we are faced with a situation as this pandemic which is teaching us many lessons. This is certainly not going to be the last pandemic but would be the first that has helped us shape a new ecosystem and I suppose also realign our own minds to new priorities in life. Ensuring continuity of services and patient centric approach is vital, 'it should all be in the DNA' than ever before.