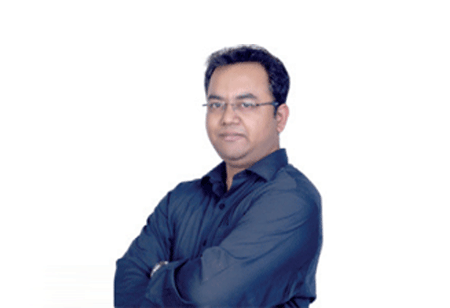 Rahul Paith, Chief Operating Officer, DocOnline
Rahul has worked for over a decade in the healthcare domain developing and launching new products, and setting up ventures/businesses in and outside India
Imagine this. There is an important meeting coming up in the afternoon, one which requires you to preside over; and there is no way your health is permitting you to showup. The seasonal viral infection has got you quite disoriented to the point that you would rather take a day off. What do you do? But, what if you are enrolled or use an Online Doctor Consultation platform. Sitting in your office cabin itself, you undertake a videoconsultation with a registered doctor and undergo your treatment. Telemedicine is the facilitation of healthcare services like diagnosing and treating patients remotely by using technology platforms.
Healthcare Industry, globally and in India, is among the largest industries, and is continuously evolving and growing at a rapid pace. According to a research study, India added 450 million people over 25 years by 2016, a period during which the proportion of people living in poverty fell by half. This period of rising prosperity has been marked by a 'dual disease burden', a continuing rise in communicable diseases and a spurt in non-communicable or lifestyle diseases, which accounted for half of all deaths in 2015, up from 42 percent in 2001-03.
The result of this disease burden on a growing and ageing population, economic development and increas ing health awareness is a healthcare industry that has grown to $81.3 billion in 2013 and is now projected to grow to touch $280 billion by 2020.
India has multiple challenges like acute shortage of physicians (one per1000 patients) and nurses(0.8 per 1000 patients), along with facilities (one bed per 1600 patients). Moreover, the distribution of the healthcare workforce is uneven, given that 70 percent of the population lives in rural India and over 60 percent of the health care workforce is present in the urban areas. The existing Healthcare infrastructure is not enough to cater to our Healthcare needs and we have one of the lowest per capita Healthcare expenditures in the world.
Utilization of Digital platforms and technology will go a long way to address the issues and ensure accessibility to all. Today in Healthcare, we observe multiple utilizations of Digital mediums from using Portable Medical devices which is bringing about easier medical interactions to utilization of platforms to ensure
accessibility and affordability of medical care (diagnostics/non-emergency doctor consultations/ specialist doctor interactions). We are also seeing the advent of Enterprise software solutions catering to different healthcare needs. Newer & innovative Technology models are being used by caregivers/ practitioners to enhance their delivery of healthcare services.
Online Healthcare services are the most interesting amongst the new offerings simply because of its pro-found impact in the way Healthcare is delivered and the manner in which the general public will perceive healthcare utilization. Telemedicine industry is going through an adoption curve to educate the user/customer about the advantages of using Healthcare on the Go. The customer needs to be sensitized to understand the benefits and the value of Preventive Healthcare.
Utilization of digital platforms and technology will go a long way to address the issues and ensure accessibility to all
Various doctor consultation and Online Healthcare platforms are trying to experiment with standardized Point of Care. Here, they are utilizing technology to provide enhanced customer support when customer uses a Healthcare service. Healthcare buying process is always emotional and there is a lot of potential when the patient has nothing to do except to be available.
Fundamentally, Online Doctor Consultation platforms help in Preventive Healthcare without compromising on Quality standards, complying with regulatory requirements, thus ensuring data security(medical records, privacy; patient doctor consultation interaction,eHR). Moreover, these telemedicine/ telehealth platforms consist of applications that use simple navigation so that people of all age can access it conveniently.
Information Technology & Utilization of Healthcare
Technology in healthcare industry provides new opportunities to enhance Patient trust in caregivers and healthcare facilities. Technology is also playing a big part in imparting the concept of Integrated Healthcare services or platform. This is about providing various Healthcare services seamlessly to any customer. IT is fundamentally helping to bring decision support to Patients, improve point of care instances, help in adherence to Quality metrics. Technology also enhances customer service instances like Notification of services, Medicine reminders, medical interaction details, history/references, and standardized communication documents.
Given the various advantages that a digitized healthcare sector has for India both the Government and private players are taking keen interest in it. After all, this is making healthcare available in the best form by bringing the best of both digital and healthcare together!