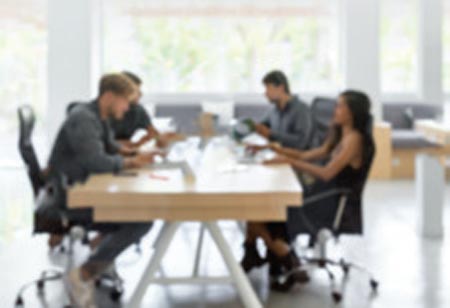 Paras Arora, CEO & Founder, Qdesq, 0
Paras has expertise in retail, management and business strategy. He completed Master in Retail Strategy, Retail, Shopping Centre Management from London Metropolitan University. He founded Qdesq on November 2015, for creating new workspace model, and convert square feet based industry into per seat based.
Are you an Entrepreneur? Does working from home leave you isolated or subject to distractions, in turn impacting your productivity? Or you can't afford traditional private office space; perhaps it is time to dig the concept of coworking.
Even traditionalists have been bidding the office goodbye in favour of a work-from-anywhere lifestyle. Where coworking has become the digital age' sage's answer to 50 years of the cubicle, and the hype is only getting louder.
Coworking spaces are now more than just a hot trend, but due to every facility which they offer, they are likely to be around for many years. So as an entrepreneur, if you choose to work in a shared office space, you can expect to enjoy some of the following perks.
Productivity Boosting Setting
Coworking spaces have been intricately designed to boost creativity, productivity, and collaboration. Being part of a shared environment allows individuals to collab orate, get exposure to new ideas, different ways of working with a sense of togetherness. The positivity that emanated from those environments is what made coworking such a unique, enriching, and charming experience.
The open space is a juxtaposition of office settings as well as a home environment that provides flexibility to every worker. The presence of strategically based items like plants, design of chairs as well as colours of the walls plays an essential role that helps in extracting great professional results.
Capex And Opex Services
Shared workspaces cut down the hassle by providing capex services of fully setup and managed offices as well as opex advantages like unlimited supply of tea/coffee, electricity, wifi, and printing options available in the workspace. The benefits let an occupant focus on the work without dwelling too much into trivial details that take up a good proportion of one's productive time.
Along with the capex and opex advantages, an occupant is steered clear of operational responsibility like checking the lock of the main door at the end of the day, paying phone or electricity bills. Such distractions can take a toll on the quality of work, and hence all of this is taken care of in a shared workspace.
Working And More
Coworking spaces are becoming not just a place to work, but also a place to learn and grow. Many shared workspaces conduct different activities like yoga classes, meditation sessions, and social mixers. Some hold in-house seminars to help members improve their skills or build their brands. Others are looking into adding health clubs, spas, and the innovation continues.
Liberty To Grow
Coworking spaces are the best choice for all kinds of corporate firms and businesses. The flexibil ity of plug & play and absence of lockdown period offers liberty for every occupant to enter and exit the booked office as per their demand and need.
Shared workspaces cut down the hassle by providing capex services of fully setup and managed offices as well as opex advantages like unlimited supply of tea/coffee, electricity, wifi, and printing options available in the workspace
While one needs to think of the future of their company's size in terms of members as they acquire a traditional workspace, such details are quite often unconsidered when booking a coworking space. Shared workspaces are equipped with all the facilities when it comes to change in the size of a company - one can simply add or subtract the number of desks as per the demand. With such flexibility, coworking spaces assist companies and removed the burden of inconsequential factors.
Attracting And Retaining Talent
Finding work-life balance is becoming more and more vital, especially for the ever-progressive millennial generation. The upliftment of coworking spaces is allowing the business owners to have complete ownership of their work schedules, and a greater sense of autonomy over their lives. They offer an option for entrepreneurs to work where they live, which helps to spur creativity, collaboration, and engagement in their passions to create even greater and more sustainable growth.
From the freelance writer to the software engineer, and to the traveling mogul, coworking spaces are rapidly becoming the entrepreneur's trend of the future. So, after given benefits coworking spaces offer, it is no surprise that the shared working ecosystem is growing exponentially with no signs of slowing down anytime soon.