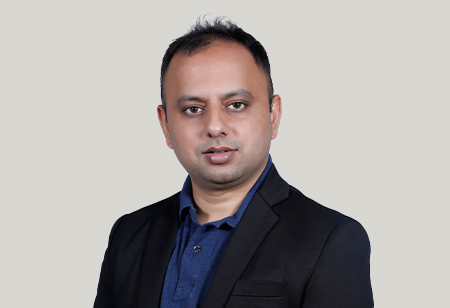 Sourabh Gupta, Digital Program Leader - APAC, RTX, 0
A Business centric technocrat with over 16 years of unique blend of business & consulting experience. Across his professional career with leading organizations like IBM, Virgin Mobile India, Idea Cellular and Tata Strategic Management Group, prior to joining RTX in 2020 he has a proven record of application of digital & strategy in solving real world problems across diverse sectors. His key areas of interest include Innovation, Incubation, Digital consulting, Business strategy, Strategic partnerships, Product development & building happy teams.

CEO Insights recently had a chance to interact with Sourabh about GCCs and their exponential growth in India today. Below are the excerpts from the exclusive interview –
Enlighten us about global capability centers. What function do India's global capability centers serve?
A few decades ago, India was identified for back-office operations due to available qualified resources but primarily driven by cost. What started with outsourcing, quickly turned to many captive centers and gradual transition of large volumes of back-end work. Gradually, technology became more prominent than the support function itself and came to the forefront to deliver customer experience and value-add within the organization. As a result, these captive centers evolved to become global capability centers (GCC), which serve as the extended arms of large multinational companies catering to their diverse innovation and technology needs. Thus, India is no longer a cost-driven story, but an innovation-driven story. What I call as 'Made best in India'.
Today's GCCs are exponentially more mature, with many becoming global R&D centers, driving product innovation and handling almost all core functions of a large enterprise. While they were previously seen as enablers of cost arbitrage, they are now viewed as having the potential to create innovation arbitrage. Thus, it is imperative for all CXOs to leverage GCCs to reap the numerous benefits that they can offer for a global business.
GCCs are bringing in massive benefits to every organization in terms of their digital transformation journeys. In today's digitally connected world, every organization is concerned about security and privacy. GCCs, being their own extensions, assure a larger sense of privacy and security. They can ensure efficient operations leveraging India opportunity while information remains inside the company and private. Also, the easy availability of skilled talent in our country and the widely acknowledged focus on innovation has further strengthened the case for India GCCs for Global organizations. This is also reflected in the scale that GCCs have achieved with over 1500 GCCs currently operating in India and 75 being added each year. Furthermore, over 5000 patents have been filed by Indian GCCs in the last few years alone.
What steps could business leaders take to help the GCC achieve its imperatives?
Firstly, get your vision and mission clear about the reasons for opening a GCC. Secondly, be precise in what your focus will be in the initial days, build capabilities surrounding that, deliver value and show that work can be done efficiently in India. Thirdly, have a clear sponsorship from the senior leadership in your parent organization, as it is indispensable to have someone stand up for you in board meetings and leadership forums to share planned GCC's aspirations. Fourth, ensure you have a suitable India leader who can stay in tandem with the vision and mission statements of your
GCC and work accordingly towards achieving the set goals. Fifth and most importantly, have a people-centric culture driven approach bending Global culture with Indian sensitivities. It's your founding years that will define long term success and growth of your GCC in India so 'Design & Set it up right'.
Tell us about a few major challenges that leaders face while establishing a GCC.
First is change management, among others, required within the organization especially at the headquarters to align on benefit of GCC beyond fear of distance and different time zones. Second being spread very thin by trying to do many things at the start thus lack of focus that leaders face in this regard. Third is the attrition rate, which is currently at around 25-27 percent in junior-level roles. Lastly, if not kept in control, the constant changing priorities of the parent company driven by VUCA world. Thus, it is imperative for GCC leader to be in sync with ever changing environment, his team and global leadership.
Why is India evolving into a top location for expanding Global Capability Centers?
There are two major aspects driving the GCCs growth story in India today – first being home to the largest pool of digital talent and second comes from the way the country has enabled its strong startup ecosystem.
Being the third largest startup ecosystem in the world, India's GCCs have easy access to the latest innovations and technologies by collaborating with startups & other leading Indian tech companies. This has been a catalyst for them moving up the innovation value chain thus creating 'RnD focused, and Tech led center of excellence'.
Going forward, GCCs are expected to embrace a digital transformation-centered approach, wherein major focus will be on delivering transformational technologies & solutions built indigenously in India.
Tell us about a few key strategies GCCs are implementing in recent times to accommodate the emergence of new business models.
A major focus area is to increase automation & use of AI/ML. Since India is at the forefront of technology, there is massive scope for automation that will result in a reduced labor intensity for GCCs and their parent entities. Secondly, is to stay relevant and bring-out the best use cases for their parent organizations, they are now actively participating in the country's startup ecosystem by starting their own accelerator programs and even investing in many startups. Thirdly, GCCs are extensively focusing on talent on-boarding at early stage, wherein they have tie-ups with many universities so that they have a steady pipeline of fresh talent coming in from those universities. Many GCCs even have specific programs where they invest in final semester students in areas of their interest. Going forward, GCCs are expected to embrace a digital transformation-centered approach, wherein major focus will be on delivering transformational technologies & solutions built indigenously in India.
How can CXOs leverage GCCs to accelerate digital transformation initiatives?
CXOs must leverage their GCCs as a lever as they plan for large digital transformation program. While designing their transformation agenda, they must ensure that GCCs are given prime importance with access to global talent & resources. GCCs also maintain diversity of talent within the organization & bring diverse perspectives and opinions. In today's world, India will have its fingerprints of any large global digital transformations through host of technology services providers, it is thus imperative of CXOs to proactive strategize what part of that work can be done internally by leveraging GCC model. As I said India GCCs are a phenomenon taking over the world of business driven by Innovation, high resiliency & efficiency.