Hospitality Industry Championing For A Better Future And Superior Guest Experience Through Disruption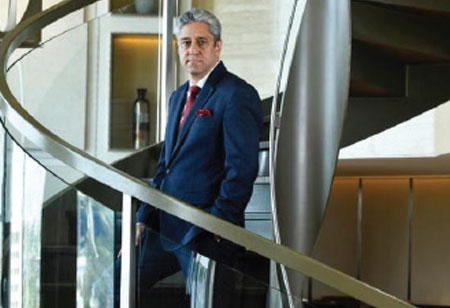 Sanjay Sethi, MD & CEO, Chalet Hotels, 0
Sanjay is a Certified Hotel Administrator from American Hotel and Lodging Educational Institute with management certifications from IIM Bangalore and has over 30 years of experience in topnotch Indian hotel chains.
The outbreak of Coronavirus disease (COVID-19) has acted as a massive restraint on the hospitality market in 2020 as governments globally imposed restrictions on domestic and international travel limiting the need for services offered by these establishments. Just as there was a semblance of normalcy beginning to surface, the supposed second wave of the deadly pandemic is sweeping across the country. While governments and health authorities continue to grapple with realities on-ground, the hospitality industry is confronted with strict rules and a lockdown like situation; all of these making it extremely difficult for the industry to bounce back. Despite the challenges and devastation caused by the coronavirus outbreak, the travel and hospitality industry in India has exhibited great resilience and competitiveness throughout the year in fighting against the turbulence caused across industries.
With continued border restrictions and extended international flight ban till the end of April'21, inbound tourism is currently halted.Internationally, countries are gearing up to open their borders UK has announced May 18 for the easing of international border restrictions while US has confirmed that it will complete vaccination for all citizens by May. This augurs well for the travel and hospitality industry. Under the current regulations, the Maharashtra state government has made it mandatory to carry a negative RT-PCR report for interstate travel between Maharashtra and other states. While the distribution of vaccine is picking up across the state, there is a sense of caution that has prompted people to reevaluate their travel plans and opt for shorter, safer destinations.
Travelers in the new normal seek unique experiences with modernized services and prefer staying with brands that ensure the best health and safety standards. Hotels are using technologies that are transforming the customer experience. Some technologies are leading to significant improvements and savings in the hospitality market. Hotels are also using robots to deliver amenities to guest rooms and for many other functional purposes. Hotel operators are investing in systems and technologies that can automate processes and personalize the experience for guests.
In response to the same, hoteliers are ensuring utmost safety and sanitization for guests and employee well being to contain the spread of the virus. However, advancement of vaccination by enabling hotels to collaborate with medical teams to set up camps for distribution will act like a roadmap to eliminate the threat of another lockdown and also build a sense of safety and confidence amongst travelers. However, with recent support and initiatives by government to boost local destination travel, we foresee moderate to heavy movement of domestic travelers for bleisure. Current trends impacting the business are focused on guests' safety and hygiene through enhanced modern age technology and digital contactless services.
At Chalet, our hotels have implemented robust measures bench marked to global standards. We benefit immensely from our global brand partners Marriott and Accor who have implemented the latest and superior solutions from across the world at our hotels in India. We are in the process of implementing key less mobile check in option at our Marriott branded hotels along with modern age software solutions that enable guests to sign the registration card and guest folio on the touchscreen tablets, through our digital check-in facility.'Touchless Hospitality' is one such change that we foresee becoming the norm. We are implementing changes which will provide both assurance and delight to guests. Moving forward, it will be crucial to adapt to the ever changing landscape with digitalization of services across all aspects. For instance, offerings mobile app services for room directory, TV guide, IRD, spa booking, laundry pickup, and hotel info along with an integrated digital payment wherever required. All outlets that are open at the hotels now feature digital menus that are accessible via QR Codes.
While all our hotels are strategically located to cater to the business and mice segment, the hotels are posed with the challenge of limited cap and current events regulations by respective state authorities
While all our hotels are strategically located to cater to the business and MICE segment, the hotels are posed with the challenge of limited cap and current events regulations by respective state authorities. We are considering adapting hybrid events to become an integral part a key part of MICE events business in 2021 as it is safer to have smaller group gatherings,while simultaneously it also serves bigger events by reaching out to a larger audience in a virtual format.
The situation right now is dynamic and as a company, and industry, it is important for us to be agile and adapt with the times. We are hopeful that the current semi lockdown phase is temporary and we are optimistic about seeing hotel occupancies reset on path to return to pre pandemic levels in the first half of 2021.