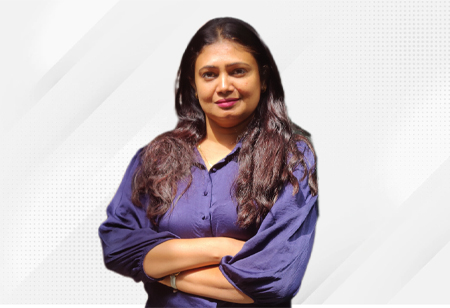 Varsha K, Director - Business Development, Interplex, 0
As a seasoned industry professional, Varsha has over 17+ years of experience and has played a significant role in Interplex's growth story in recent times. CEO Insights recently got a chance to interact with Varsha, where she shared her insights on the current EV landscape and various other aspects pertaining to it. Below are a few select extracts from the exclusive interview –
What factors must an organization consider to formulate effective business development strategies?
There are lot of aspects to business development – from market research, identifying target customers, customer analysis, and having a thorough knowledge of the competitors and their strengths & weaknesses. Based on the above analysis, you develop a product which satiates all the needs of the customers. During this process, one must also keep in mind factors such as quality, performance, durability, reliability, and compliance, and accordingly collaborate with the internal teams.
Share your thoughts on the current E-vehicles landscape in India.
Currently, the 2-wheeler segment is very promising and witnessing a significant demand across the nation. However, the sales of EVs has been impacted recently because of FAME incentive being partially withdrawn by government. As a result, every EV company is investing heavily in their R&D efforts to come-up with new and disruptive technologies to cut-down costs related to material &operations to maintain competitive edge on pricing and performance. Few Gigafactory organisations are working on swappable battery concepts, wherein the complete Battery, BMS & cost of establishing charging infrastructure could be scoped out of OEMs. This shall enable consumer only to pay for energy consumption/ usage.
Tell us about the various government initiatives that are currently playing a major role in improving the EV ecosystem in India.
One of the initiatives that has had a great impact on the EV industry in the country is the FAME (Faster Adoption and Manufacturing of Electrical Vehicles) initiative which offers incentives and subsidy to manufacturers, buyers and other stakeholders involved in EV ecosystem. Second initiative is the National Electric Mobility Mission Plan (NEMMP) through which the government aims to achieve 30 percent electrical vehicle penetration by 2030. Thus, they are promoting hybrid and electric mobility across public transportation and even working on the charging stations infrastructure accordingly.
Third is the Phased Manufacturing Program which aims to promote the domestic manufacturing of EV components including batteries and battery packs. The program encourages localization by providing incentives, while discouraging imports. So, by establishing local manufacturers especially for the battery interconnects/ Busbars, you can leverage this program and collaborate with auto makers to be more competitive.
How do you collaborate with internal teams to align business development strategies with the company's technological capabilities and product roadmap?
As a Business Development we collaborate closely with internal teams to align strategies with technological capabilities and the product roadmap. From strategy formulation to execution, we engage in team reviews, requirements analysis, feasibility studies, and cost
estimations. Customer involvement at every stage ensures precise product understanding, timely market delivery, and customer satisfaction.
How do you evaluate and prioritize potential business opportunities to ensure optimal resource allocation?
To optimize resource allocation, we follow a structured approach in evaluating and prioritizing potential business opportunities. It begins with establishing clear evaluation criteria and business objectives. Strategic priorities are aligned based on factors such as market size, growth potential, competition, profitability, scalability, resource availability, required core competencies, and capital expenditure.
Embracing India's green initiative, we are enthusiastic about our role in contributing to a sustainable future and being an integral part of the country's journey towards greener transportation solutions.
Each opportunity undergoes a thorough assessment, considering factors like ROI, risks, costs, and cash flow management. Internally, we develop and refine financial models to determine the strategic fit for our organization. This process ensures that we make well-informed decisions and allocate our resources most effectively.
How do you plan to leverage the massive opportunities that the EV space has to offer for your company?
EV is here to stay and there is huge potential for the EV industry globally. To stay ahead of competition, we realize that FAME is going to be withdrawn in April 2024 and thus increase the costs by 25 percent for the customers. Hence, we are already looking at optimizing our manufacturing costs by experimenting on using other alternative materials in our manufacturing process. Also, keeping an eye on the government policies and initiatives, we are also working with ARAI. Being aware of the upcoming rules and that rules will cease to exist will be paramount in cutting-down costs.
We have a well-defined plan to capitalize on the tremendous opportunities presented by the EV space for our company. As a global organization, Interplex recognizes the undeniable potential of the EV industry worldwide, and we acknowledge that it is currently in its early stages but poised for exponential growth with the advent of breakthrough technologies. To remain at the forefront of this dynamic industry, we place significant emphasis on staying up to date with the latest technological advancements and exploring alternative materials that align with our commitment to delivering cutting-edge technologies at optimized costs. As part of this proactive approach, we are actively engaged in optimizing our manufacturing processes and cost structures by conducting experiments with various alternative materials, especially with the upcoming withdrawal of FAME subsidies in April 2024, which is projected to impact vehicle costs significantly. Furthermore, we closely monitor government policies and initiatives in the EV sector, ensuring that our strategies align with evolving regulations and market dynamics. Embracing India's green initiative, we are enthusiastic about our role in contributing to a sustainable future and being an integral part of the country's journey towards greener transportation solutions.
Overall, our vision, foresight, and dedication to innovation drive us to leverage the immense opportunities that the EV space offers, securing our position as a leading player in this transformative industry.