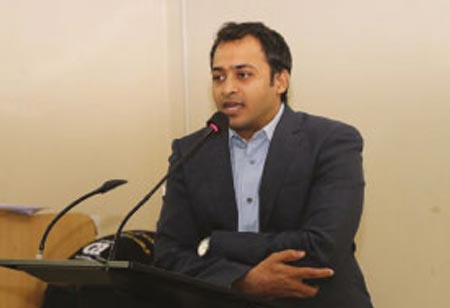 Anirudh Pucha, Director - Technology, Sunera Technologies, 0
A tech-geek with an immense knowledge and grasp on Autonomous Cloud Technologies, Anirudh strives to bring a perfect blend of technical and functional leadership to drive the businesses.
Integration' key word not only means connecting systems, but also enabling them to be future ready through digitization. Integrations enable enterprises to digitally transform themselves to meet their future needs and achieve their long-term vision. Hybrid integration trends are most common these days, integrating On-Premise and SaaS applications seamlessly. Data integration is the key to success in these scenarios where the data formats, frequency, sizes, and sources differ invariably across geographical boundaries.
Digital transformation for an enterprise depends on how the organization is interacting with their clients and business prospects and by what all channels of communication. The leadership needs to ensure that their messaging, information and pricing should be reasonable and simplest for any user interacting with their organization via any modes of communication. This is Digital Transformation in a nutshell.
It is very important to make all the stakeholders a part of the digital transformation journey. For digitizing your integration strategy, you need to perform the following:
• Find-out what makes sense to your customers and end-users, understand what is really working versus what is not really working for them and their end users
• Clear identification of customer personas who will participate in your overall business lifecycle, what interests them, and most importantly, understanding the secret sauce for their success
• What are the different communication channels that your customers use to interact with their end users, distributors, and vendors during their sales cycle?
• Identify the current state of the organization and what is the future ideal state?
Integrations of multiple heterogenous systems make the entire strategy very complex, that may include systems such as ERP, PIM, Order Management System, Warehouse, CRM, SCM, PLM, and Payroll. Each one of those systems require specialized func tional and technical expertise to develop, monitor and manage through their lifecycle. Integration is the mash-up of all the data flowing between those systems, and will be the key driver that decides if your organization will move forward digitally in a successful or failure path. If not properly architected, designed, planned and developed, it will not only lead to complexity, but also a major failure of the entire business model itself.
Every system has its own way to connect to another system. These connectivity technologies include adapters like file, ftp, jms, aq, mq, database, SOAP and REST web services. APIs will be future's most preferred way to integrate different systems. This is why enterprise
system integration tools that can orchestrate many different connection types will gain traction within your IT department in the coming years. The key is to evaluate various integration platforms and choosing the appropriate one that can meet most of your requirements.

There are several iPaaS (Integration PlatformAs-A-Service) products available in the market that can meet most of your requirements. There are high chances that you might have to use more than one iPaaS platform to integrate your organization i.e. iPaaS platform-1 integrating with iPaaS platform-2 and so on. The primary reason for this being you already have an integration platform doing the magic for you since years that requires integrating with another integration platform for cross system integration. The iPaaS platforms currently available in the market are Oracle Integration Cloud (OIC), Mulesoft, Dell Boomi, Workato, AWS, Azure, WebMethods, Tibco, and Jibberbit.

Each one of them has its own merits and demerits in various features when compared with each other. Application integration, Process automation, building new applications for web & mobile, visualization & analytics, rich interactive dashboards, data streaming, data lakes, big data analytics, data integration, security and seamless monitoring are some of the key features that need to be considered while choosing an iPaaS platform. APIfirst design approach is the most opted approach that the enterprises would take during the integration of digital transformation journey. Microservices are being opted by new enterprises who want to build from scratch and that can easily integrate with their existing business using SOA. Microservices compliment the existing SOA framework model. It can be divided into several categories on a high level:

• Application Integration: Reusability, Accessibility, Dependencies, and Decoupling
• Cloud Integration: Security Gateways, Micro Services, API Management, and SaaS & On-premise Application Integration
• Data Integration: Canonical Models, Data Quality, Data Storage & Management (on-premise vs. cloud), Real-Time Data Replication, and Analytics
• Process Integration: Documenting Business Processes, Avoiding Redundancy, and Metrics
• Infrastructure & Security: Identity & Access Management, Securing Endpoints, On-premise and Cloud Infrastructure (IaaS)

It is very important to engage enterprise architects to lay-down the Integration Maturity Model for your organization for assessment of your existing business model. The questions to be addressed here are – What is the integration strategy that is currently in place? Evaluating the hybrid integration model and systems involved in it. Do we have mobile and IoT devices integration? How the real-time information should be captured and displayed?

The key characteristics of the Hybrid Cloud Integration platform are:
• Integrate homogenous and heterogonous systems and applications to communicate effectively
• Seamless hybrid integration between several SaaS and On-Premise applications
• Exposing the existing businesses and traditional models as APIs for consumption
• Simplify development of apps with micro services, and deploy them on-premise or to the public cloud
• Create encrypted gateways for secure access to on-prem API and data.