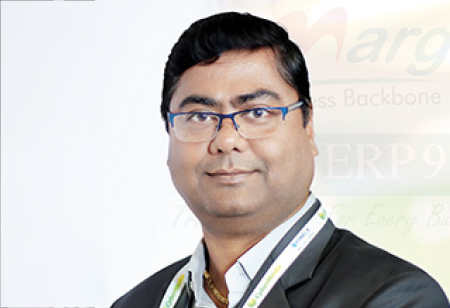 Thakur Anup Singh, Group Chairman & Managing Director, Marg ERP , 0
Understanding the grievances of the MSME industry, Thakur Anup Singh, a true leader, co-founded Marg ERP to empower MSMEs achieve their full potential to transform the economic growth of the country.
Over the decades, the industry has witnessed Enterprise Resource Planning(ERP)software adapt to ever-changing business needs, client demands, and enterprise tech improvements such as mobile, artificial intelligence and collaborative commerce.
ERP is all about dealing with resources in the most productive and effective way possible. It's the instrument by which companies can manage, gather, and then stock critical business data and activities. A completely integrated realtime system offers the flexibility to work from anywhere.
It's no wonder that it is growing at such a rapid rate. Let's take a look at some of the points about the trends being witnessed in ERP.
The Internet of Things (IoT)
The Internet of Things(IoT) is defined as the interconnection of data from equipment, which usually are not connected to the Internet. Businesses can gain great deal of insights into how the ERP process performs with the IoT, such as how and where the system is used. IoT can increase accurateness and multiply data availability, which gives rise to intelligent and much more flexible ERP systems as well.
Furthermore, by combining IoT data with ERP systems can add valuable statistics to bigger picture within the company, for instance with the IoT, product consignments can be marked with devices that report transportation time andcurrent location information. As a result, manufacturers can use this information to better plan production schedules and distributions.
Mobile
Mobile ERP solutions permit businesses to benefit from upgraded quality of service and precise data collection along with access to important data from any location at any time. For instance, a pharma distributor can check inventory levels or get any details about the medicines from anywhere. The handiness of retrieving ERP data from phone, laptop, and tablet lets the productivity increase while getting tools and information which may be needed to run a business. Mobile ERP applications can improve the efficiency of different business procedures as well.
This process can increase the customer relationship
strategy as well. Businesses can easily communicate with customers at any time and can deal with any situation.
Artificial Intelligence(AI)
AI-enabled ERP arrangements can build an environment where a company's data is conversational and actionable. It can also pick up from the data sources, build workflows, and lessen the time it takes to load data and reduce mistakes in the data. As AI studies various means in which a company and individual operators interact with the software every day, these systems can recommend different ways to improve the system for individual users.
IoT can increase accurateness and multiply data availability, which gives rise to intelligent and much more flexible ERP systems as well
Built-In Analytics
Earlier ERP systems may outdo at gathering and organizing data, but they are more restricted when it comes to analytics and reporting. Future ERP systems will need to be able to incorporate direct marketing and data gathering links through various social media channels to remain on the top list and highly aggressive. It boasts of having all solutions at one platform, from ordering to payment for instance e-Order, collaborative commerce, payment gateway among others.
Latest growths and improvements have shown that solutions which first appeared to be intended for consumers are gradually finding profitable applications within industries. By taking an inventive methodology to the adoption of technology, businesses stand to save time and increase output and efficiency; results that will be reflected in the bottom line of enterprises that choose to embrace new technologies.
An ERP software system is often one of the major investments a business will have to make. Not only is it an important financial decision, but it can impact all parts of your business, like HR, accounting, manufacturing, and marketing among others.
Banking in ERP
Some of the ERP softwares have integrated 'Connected Banking' with the account holders to connect their bank account with the ERP software and undertake an array of digital transactions within the platform itself. It allows businesses to initiate salary & vendor payments directly from the platform, accounting entries and automate reconciliation of banking as well as allows to schedule future dated payments, thereby offering perfect command over day-to-day financial transactions for businesses.
With the integration, business owners can keep track of transactions flowing in and out of their bank accounts. Businesses can eliminate data entry and manual errors of accounting, as transactions are directly fetched from the bank. Realtime bank balance and transaction status on accounting platforms help business owners to take important decisions instantly.