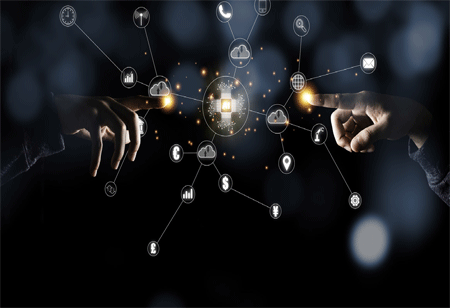 Gautam Nimmagadda, Founder and CEO, Quixy, 0
Well known for technology creator and motivational leader, he is a complex problem solver and has hands-on experience in solving customer, partners and associates' problems.
Before COVID-19 came into the picture and disrupted the world as we knew it, digital transformation had been something that every company has its eyes on. Some were actively adopting the process, while some were taking their time to get around the idea. But once the pandemic struck, digital transformation changed from being a choice to an absolute necessity. It accelerated the process of adopting digital practices and skyrocketed the demand for enterprise-grade business applications and platforms.
This shift has led to an increased demand for professional coders and an intense burden on IT departments. However, such resources are usually focused on complex projects and fail to cater to the various needs of multiple departments across organizations. This divide is where no-code/low-code tools fit in perfectly. These tools are bridging the gap between professional developers and end-users, by enabling individuals to become citizen developers and achieve technological goals which seemed out of reach before the recent no-code boom. According to forecasts by Gartner, by 2023 over 50% of medium to large enterprises will have adopted a low-code or no-code as one of their strategic application platforms. Their studies also state that low-code will be used for more than 65% of application development by 2024.
Some Insight Into No-Code/Low-Code
IDC has reported that by 2023, more than 500 million apps will be developed. There aren't enough qualified developers or platforms to meet this demand. As a result, there has been a major no-code/low-code boom. These tools eliminate most of the complexity related to traditional programming by allowing users to create software through graphical user interfaces and visual tools instead of intense coding.
While low-code has some amount of coding involved, no-code has visually-driven mechanics that allow for application creation without a single line of code. The difference boils down to the type of users these tools are targeted at. Low code is mostly adopted by professional developers, to speed up the development process. No-code on the other hand is perfectly suited for business users, empowering them through Lego-like building blocks to create-solutions sans any coding.
As no-code is an option that can be used by more team members as compared to low-code, more and more companies are going down the no-code route. No-code perfectly meets the rising demands of creating customized applications that streamline workflows and automate various business processes. It is enabling the relevant resource person to create their own applications as they have the best knowledge about the task at hand.
The Power of No-Code
Enterprises that have adopted no-code tools have been immensely benefitted owing to the unimaginable value and potential that it brings to the table. Not only does it promote the spirit of citizen development and digital dexterity within an organization, but it also shows
quantifiable results when it comes to profits and efficiency. Some promising benefits of no-code applications are listed below.
Reduced Time and Costs
The traditional process of application/software development requires months of waiting time, as IT teams and professional developers are usually swamped with multiple projects. To add to the predicament, the costs involved in such a process are usually high and put a major financial dent, especially for smaller organizations.
Owing to their features, no-code platforms are 10 times faster than traditional coding. They also bring down the financial burden of organizations, as no-code tools are a much efficient alternative to traditional coding. Needless to say, such tools are a boon for all types of organizations in general given the effective use of time and money.
Efficient Problem Solving
With the adoption of no-code, business users are empowered to create solutions for the problems they know the most about. Rather than trying to put their needs across precisely and hoping for the IT team to understand it fully, they can create the perfect solution on their own. Instead of compromising on specific needs by using a generic application that is bound to have gaps and loopholes, precise and accurate solutions can be created through no-code. Solutions that deliver results.
The traditional process of application/software development requires months of waiting time, as it teams and professional developers are usually swamped with multiple projects
Not only does this lead to efficient and ideal problem-solving, but it also reduces the strain of IT departments. As the focus of business users shifts from programming to problem-solving, IT departments are free to utilize their resources on building highly complex and critical software instead of getting burdened. This leads to impressive results on both fronts and paves the way for a highly successful organization.
Culture of Innovation
No-code is not just a term, it's a movement that is opening up several possibilities for various organizations and individuals. Digital transformation is a process that also requires a shift in mindset, and no-code adoption is a harbinger of this change. As team members and business users create their own applications and get hands-on with digital tools, they will inevitably seek out to become digitally dexterous. Organizations will witness a spur of problem-solving and ownership, leading to a long-lasting culture of innovation.
A Glimpse Into The Future
With increased momentum and demand for no-code tools, the ecosystem is bound to mature and scale to new heights. As more and more organizations get involved in no-code development, the solutions in the market are guaranteed to become more nuanced and complex, catering to every need imaginable. This will allow for an even larger scope of problem-solving as compared to the present and no-code will become a paradigm practice across industries and organizations.
As a result of the increased adoption of no-code solutioning, organizations will be able to eliminate crucial bottlenecks and become a part of the most important digital disruption of our times. The potential is endless, and incentives are extremely rewarding when it comes to no-code. The only thing that remains is the decision to adopt this pioneering technology as much and as soon as possible for a stellar digital transformation.