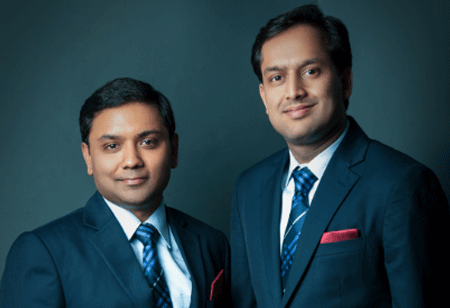 Puneet Jain & Yatin Jain, Directors, Odhni Sarees
Focusing majorly on the Indian Traditional Wear segment, Odhni offers an exquisite range of designer sarees and lehengas made from the finest fabrics, along with free delivery across India and efficient customer support services.
Retailing has never ever witnessed such dynamic changes as it went through in the last 15 years after the mass consumption of internet and smartphones. In the first few years of physical to digital transition, Indian consumers were a bit reluctant to welcome
e-Commerce due to the absence of touch, feel, and try options. Later, shopping has become a multilayered experience with the amalgamation of Physical and Digital, this new concept of Phygital Shopping has created better avenues for both customers and retailers. Now, shoppers can find all the details of a product online, they can compare its prices on various e-portals, make a better buying decision after reading its reviews and feedback, and finally, they can choose the best shopping format for themselves. This multi layered concept has not only made the shopping convenient for the buyers but the enhanced competition between offline and online stores has also improved the pace and quality of brick and mortar retail.
e-Commerce once used to be a big threat to physical retailing is now collaborating with the offline retailers to tap on the potential customers in tier-II & tier-III cities and giving them a personalized shopping experience. It was in 2015 when the Government of India allowed 100 percent Foreign Direct Investment in a single retail brand, 50 percent FDI in the multi-brand retail brand at minimum remains the coveted dream for realty investors. In fact, India saw a total FDI worth $44.86 billion during 2017-2018 as per the Department of Industrial Policy and Promotion (DIPP). Seeing such heavy investments in the brick and mortar stores and knowing the fact that only 17 percent are digital-only customers, e-Commerce retailers have come to realize that brick & mortar retail still holds some real value. And therefore, they optimistically started setting-up their own standalone stores and physical stores to harness the potential of the luxury ambiance of the brick and mortar stores and valuable online assets to give customers personalized shopping experience.
Omni-channel: superior shopping experience
It's a no brainer that e-Commerce is the fast-paced retail segment slowing down the growth of shopping malls to some an extent. This decade is definitely known for the e-Commerce revolution in the retail industry as India's e-Commerce industry is forecasted to reach up to $53 billion by 2018 as per the IBEF report. But, this is also true that almost 90 percent of the purchases is still made in physical stores and shopping malls. The comfort and convenience customers find in getting everything apparel, footwear, grocery, electronics, and food & beverages, under one air-conditioned roof, is par excellence. Therefore, the popularity of shopping malls is ever increasing because they are now no more only the shopping sites, but first class entertainment destinations. No doubt, international and indigenous
brands are, therefore, seen more obsessed with their physical stores in posh markets.
Even the industry experts believe that offline stores may act an influential growth driver of online retailers. For optimum growth of the retail industry as a whole, the offline retailers are going omnichannel and so does the e-Commerce giants to wisely spend the money on real-estate and digital technology to reach out more shopaholics offering them better deals with awe-inspiring benefits.
Transcending Digital Boundaries
Today, revenue for brands comes second to their good brand reputation and strong presence. If the brand is successful online, it should have a strong foothold in the offline markets as well. At first, the customers might look for the products and offerings of a particular brand online to learn more about them, but they prefer buying it only in physical stores. This trend has long been started in the US by Warby Parker, the online retailer of eyeglasses. Having started an online business, Warby Parker now reports more than half of its sales takes place in physical stores. Trailing the same path, Myntra, one of the largest online fashion portals is planning to launch 100 offline stores across the different cities in India until 2020. According to Myntra, its first tech-enabled offline store have driven more customers in and that's the reason offline expansion is a good step forward for e-Commerce players.
The comfort and convenience customers find in getting everything under one air-conditioned roof is par excellence
Similarly, AKS Clothing, the Ethnic and Indo-western fashion e-retailer, recently made a trailblazing entry into the offline world by setting up two offline stores in Dimapur and Kohima city of Nagaland. Lenskart, the premium brand offering various types of eyewear, has a strong online presence and an extensive offline network with over 300 stores across India. Receiving a good response from customers in tier-I & tier-II cities, Lenskart hopes to open 400 stores by the end of the year 2019 targeting tier III cities as well. As Walmart acquired Flipkart for $16 billion, Flipkart may launch more offline retail stores across India for promoting its private labels in Fashion, Electronics, and other segments. However, e-Commerce companies are being quite choosy about the location of their retail outlets for high trafficked areas for expanding their offline reach.
Phygital Shopping Experience
Because Phygital, the convergence of physical and digital, shopping experience has an impressive appeal to the customers, shopping malls and the online offline retailers have started using digital technology to improve their structure for an extravagant 'inmall' shopping mall experience. Using realtime intelligence and location-based marketing, the retailers target the potential customers for shopping ads, offers, and discounts. Beacon technology facilitates this geo location targeting by making the relevant customer behavioral data available to them.
Moreover, the Bonobos model will be seen prominently in Indian shopping malls. Bonobos, the online-offline retailing offers the customer phygital shopping experience in a most innovative way. The shoppers can walk in the store, try a pair of jeans or something, and pay for it straight away. The items shoppers paid for delivered at their doorstep in as less than as 24 hours. No need to carry shopping bags because shoppers can shop and explore freely.