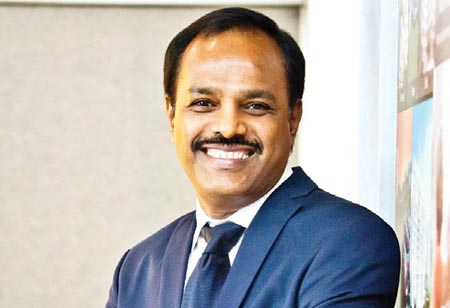 Murali Malayappan, Chairman and Managing Director, Shriram Properties, 0
A renowned speaker and panel member for a major number of International and Indian seminars and Forums on Real Estate, who delivers insights on industry and education and a famous invitee of the IIM Bangalore.
The pandemic took the country by storm and its toll on the economy cannot be understated. While the country is slowly emerging from this turbulence there is a silver lining out there for real estate in 2021. However we need to take a step back to broadly understand what happened to the housing sector in 2020 if we are to make informed predictions for this year. With the onset of Covid 19, demand for residential properties slumped and new project launches were put in abeyance.
The RBI introduced a moratorium on term loans and infused Rs. 3.74 lakh crore to address short term liquidity crunch to breathe some life in this key area of the economy. But all was not lost. During this period, demand for plotted land development and affordable housing began to gain traction especially in the south as well as Pune and Gurugram. We expect these two segments of the realty sector to continue being the growth drivers in this New Year.
What prompted such a movement in an economic environment that was bleak and that too in a sector that was facing a fund crunch and high inventories? A primary reason could be attributed to a change in the mind-set of potential customers in terms of owning an apartment or land that comes with flexible design options that will meet the restrictions imposed by the pandemic.
Furthermore, investments in plotted lands are lower as compared to a ready to move in apartment combined with the fact that land value always appreciates as compared to other asset classes. It is also known that land prices are impervious to market sentiments. Growth for smaller plotted lands is predominantly seen in cities such as Bengaluru and Chennai, while the appetite for larger land holdings are noticed in other cities.
This push towards plotted lands being developed by reputed builders will lead to stabilizing the real estate. Prices of plotted lands are also reasonable and therefore
nudged customers to invest in such properties. With road and metro rail connectivity expanding and the fear of living in a pandemic environment, people are now preferring to move to areas that have standalone houses. An emerging scenario of this infrastructure development is the growing clusters comprising of plotted or affordable housing projects coming up in the peripheries of larger towns and cities.
The other area that created demand in 2020 and will continue to do in 2021, can be squarely attributed to affordable housing. In the recently announced Union Budget, the Finance Minister extended the tax holiday for the affordable houses projects by a year. This will be a shot in the arm for developers in this space. The government's 'Pradhan MantriAwasYojna (PMAY)' coupled with the 1%GST rate cut from the existing 8% has definitely had a favourable impact on the affordable housing segment.
A primary reason could be attributed to a change in the mind-set of potential customers in terms of owning an apartment or land that comes with flexible design options that will meet the restrictions imposed by the pandemic
Simultaneously the government has also extended the Credit Linked Interest Subsidy Scheme till the end of FY 20-21. For customers seeking sub Rs.45 lakh houses there is a window of opportunity to own a house. While demand will continue to move in the positive direction, the newly instituted Special Window for Affordable and Mid-Income Housing Investment Fund for RERA approved affordable segment will ensure that there are no bottlenecks in the supply side when it comes to funds. Reduction in stamp duty, implemented by some states has also played a role in people making up their minds in purchasing an affordable home.
While we see a rise in demand in the housing sector, this trend will not be a flash in the pan. Though the long standing demand for granting industry status to the realty sector is yet to be realised, the current growth is a proof of the resilience of this sector. Several reputed builders see the potential of plotted properties and affordable housing as key areas of development and are now seriously moving in this direction. The government too is contributing to making this a reality. Potential customers too have felt the need to own land, the value of which never depreciates. Looking at the larger picture one can only say that 2021 will be a watershed year for real estate and home buyers.