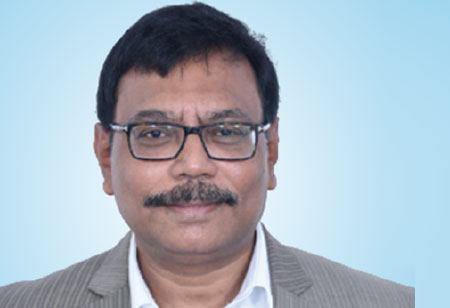 Ranajit Hajra, EVP & Head of Global Services, Tejas Networks, 0
Ranajit possesses extensive cross cultural business leadership and operational management(CXO level) experience
Blurb:
The decadal shift in the technological landscape is transforming the services landscape, paving the way for nextgeneration services and resilient networks operations in the post Covid era.
The pandemic has reset the way we live, work and do business, and not surprisingly, some of these changes are here to stay. Crisis is the mother of invention, it is said the Covid-19 crisis has pushed the world to rethink, reinvent and renovate at a hitherto unknown pace. From innovative ways to work from home to 'zero contact' sales and 'zero contact' deliveries, if there is one thing that forms the backbone of all the innovation, it is data! Data is the new visa, unhindered by physical borders, universal and ubiquitous.
The high reliance on data has made telecom networks missioncritical and led to a sharp rise in data traffic across the world. With homes morphing into workplaces, entertainment zones, shopping malls, social networking and schools, there's been a marked increase in data consumption and greater use of high speed broadband, both mobile and fixed. In India, data shared by the telecom regulator highlights how the average monthly wireless data consumption per user is expected to go up by around 15 per cent in the next six months. That in the first week of lockdown last year, social media usage was up by 87 percent and internet browsing was up by 72 percent may help put the data demand uptick in perspective. Capacity demand during that one week is what we saw in the whole of the previous year!
Changing Technological Landscape
Even as businesses stabilize and the economy begins to revive, industry analysts believe that the current network infrastructure isn't really best equipped to deal with any sudden nationwide spikes in web traffic due to low fiberization. A higher spending in Optical and xPON(for FTTX)led by an increase in residential bandwidth demand and significant bandwidth upgrades, therefore, can be expected in access and backbone networks, even as fiberization continues to increase. In addition, telcos are expected to continue investing in their existing 4G networks even as they prepare their networks for 5G.
Nextgen Services leading the Way
This decadal shift in the technological landscape is also transforming the services landscape, paving the way for next generation services and resilient networks operations in the post Covid era. Remote Deployment Support, Remote NOC Management and Predictive Maintenance are fast becoming a reality, and are very much here to stay.
Remote Deployment Support
Faster, low latency broadband connections enabled by 4G(and 5G in future)allows faster deployment of telecom
networks remotely. Innovative telecom vendors have begun delivering remote deployment and technical support to service providers and partners with AR (Augmented Reality)enabled remote desktop to complete network deployment/migrations in countries, which were inaccessible due to Covid 19 related travel restrictions. Not only has this helped in business continuity, remote network delivery is also cost effective as it eliminates the need for physical travel and movement of expensive resources to the sites. Advanced features such as remote camera sharing, HD VoIP(in session voice/chat with the remote technician), highlighting on 3D objects, freeze image (pause the video to get a clear still image) etc., enable the engineering team at a central location/NOC to provide effective and efficient over the shoulder support to remote technicians. We expect this space to see a lot of tech enabled action in the coming years.AR glasses to enable the local technician with real time interactive video assistance to trouble shoot the field issues in a simulated lab environment is on the anvil.
The pandemic has further accelerated exploration of advanced nms/oss capabilities to provide noc services to customers remotely, backed by automated provisioning, zero defect service assurance and intelligent analytics
Remote NOC Management and Unified NMS
Remote NMS-led NOC Management Service is making the cut.The pandemic has further accelerated exploration of advanced NMS/OSS capabilities to provide NOC services to customers remotely, backed by automated provisioning, zero defect service assurance and intelligent analytics. Since network management complexity is increasing due to the fast growing technology diversity, the need for a centralized, single pane control is emerging as a critical necessity. NMS with multi technology support (SDH, DWDM,PTN, Ethernet/IP and OTN), cross technology/ vendor agnostic with centralized/single pane control, and simplified views that support advanced forensics based simultaneous SLA confirmation for multiple flows are some of the noted developments in this space.
Predictive Maintenance and Advanced Analytics
AI-enabled predictive maintenance pre empts the network faults using advanced analytics and unified NMS. Covid-19 has accelerated the trend of deploying advanced software tools and capabilities to en-able `guided automation' in telecom networks. Telcos are now increasingly harnessing analytics advances to gain new insights on their networks and traffic patterns, and are considering multiple use cases that can lead to savings in capex and opex. Network analytics powered by AIOPS enables a) network capacity forecasting that ensures higher ROI through reduced over provisioning and lower capex, anned downtimes, lowering average fault resolution and remediation efforts.
Resilient Networks are here to stay
The pandemic has accelerated the need for resilient network operations and services with improved speed, quality and efficiency through realtime automation and remotization powered by AI and analytics. These in turn would significantly impact the overall customer experience and help ensure maximum uptime for businesses and consumers. Playing catch up is no more an option. Being future ready today is the only way to move forward now.