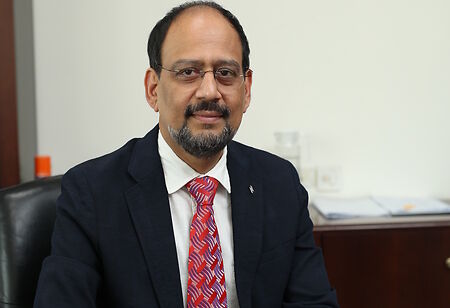 Anitesh Pattanayak, Chief Sales Officer & Executive Director, Thyssenkrupp Industrial Solutions (India) Private Limited, 0
In the energy-intensive chemical industry, providing an integrated business solution from a single platform offers a preferential business partnership model to both the client and contractor. The integrated solution encompasses the entire spectrum of services, a single technology cum EPC (Engineering, Procurement & Construction) contractor can offer, from providing the process license to the post-start up services.
For clients, with reduced coordination through multiple agencies, the project cost and schedule are optimized. This leads to a reduced investment cost and higher ROI. The contractor can design the plant with better flexibility for energy and utility optimization, which also benefits the client's operational expenses over the plant's life cycle.
On the other hand, the contractor, by its expertise, can seek preferred/nominated business opportunities on a long-term basis. By becoming a preferred partner, the contractor can achieve economies of scale, thereby improving profitability. This also leads to business growth possibilities for the local entities, including technology-related services and, above all, better brand visibility.
However, offering such an integrated solution takes time and effort. Any such project from concept to commissioning takes about 40-48 months, under varying climatic and geographical conditions, and includes the impact of change in demand-supply scenario and environmental needs.
Many companies are currently engaged in pursuing diverse energy transition approaches to have a lead in the chemical industry. At the same time, with rapid changes in technology, digitalizing work processes, and artificial intelligence can also prove vital for progress. Thus, contractors must continuously innovate, align with these changing needs, provide integrated solutions, and stay ahead of the competition.
Few companies offer the complete chain (Process technology to comprehensive service packages for the entire life cycle of the plants) from a single source that is sought after globally. Range of technology offerings is vast, ranging from fertilizers, base chemical plants, specialized refinery-related processes and solutions for the oil and gas industry, polymers, solids gasification, and much more. With multiple technologies either developed in-house or with alliance partners since more than a century, such companies offer leading technologies plus EPC competence from a single source. These companies also have a complete value chain for green chemicals under its umbrella, viz. green ammonia, green methanol, and green synthetic natural gas. As an example of a single-platform end-to-end solution, we all know that green ammonia is one of the crucial elements to tackle the challenges of producing enough food to feed and generating CO2-free energy. Specialized companies offer
the technology and design services to produce green ammonia from water, air, and electricity generated from renewables. Similarly, Green Methanol and Green Synthetic Natural Gas can also be made using renewable energy and green hydrogen from the alkaline water electrolysis process licensed by organizations, a sister company or an associate. Alkaline water electrolysis (AWE) is based on the proven chlor-alkali electrolysis technology over the last five decades. The EPC capability is established based on the experience of over several green hydrogen/ ammonia projects installed worldwide, including the manufacture of electrolysers. Green Ammonia can also be used as fuel in marine engines/ ships and as a storage medium for energy (Hydrogen).
Successful and futuristic organizations with a preferential business model will eventually adapt to the ever-changing trajectory, redefining the win-win coalition between the client and the service provider
Establishing a preferential alliance with technology companies is also one of the other ways to form such one-platform business models. This preferential alliance with a technology supplier could be for license and Process Design Package (PDP) while the contractor can carry out the rest of the detailed engineering and construction. Organizations have preferred affiliations for several processes, especially in the polymer and fertilizer space, and thus offer a single platform solution to its clients. Acquiring technology companies is also one of the other ways to establish such one-platform business models.
One such example of a single-platform end-to-end solution is Vinnolit's preferred partnership with thyssenkrupp Uhde for Ethylene dichloride (EDC) / Vinyl Chloride Monomer (VCM) and Poly Vinyl Chloride (PVC) technology, followed by the other services necessary for the smooth operation of the plant offered by thyssenkrupp Uhde. EDC is produced from the feedstock of ethylene and chlorine. The EDC is then thermally cracked to produce VCM, the chemical that eventually produces PVC polymer. Such partnership model has achieved the requisite technological standards through intensive development work for operational reliability, economic efficiency, and environmental friendliness.
To make thoughtful investment decisions, one must understand the world's ever-changing industrial landscape. It needs large-scale and complementary technologies to reduce CO2 emissions while maintaining a profitable business. For example, Govt. of India's new green hydrogen policy offers a range of incentives to green hydrogen and green ammonia manufacturers, including allocating land in renewable energy parks, waiving interstate transmission charges for 25 years, and banking up to 30 days.
The institutionalization of advanced technology will drive future competitiveness, such as the cost of green ammonia vs. grey ammonia and the downstream products. Successful and futuristic organizations with a preferential business model will eventually adapt to the ever-changing trajectory, redefining the win-win coalition between the client and the service provider. It may not be easy, but a long-term and sustainable effort will provide the way forward.