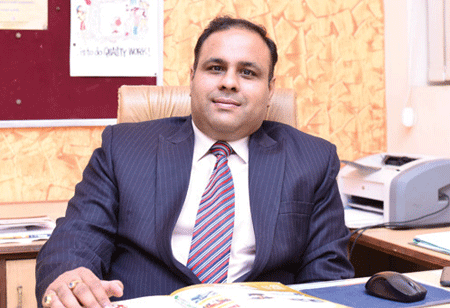 Dr. Munish Sabharwal, Professor & Associate Dean, Chandigarh University, 0
Currently spearheading his efforts as Professor & Associate Dean (CSE), Chandigarh University, Mohali (Punjab), India, Dr. Munish is a qualified PhD (CS), PhD (Management-MIS) and with over over 21 years in Teaching(CS and MIS), Education Management, Research as well as S/W Development.
Innovation is a fresh idea, creative thought, novel imagination in form of device or method or service or simply the application of better solutions that meet contemporary requirements, unarticulated needs, or existing market needs. Innovation is something unique, novel & extra effective, and its outcome is something freshly arriving in the market or society.
Innovation takes place through the delivery of extra effectual products, processes, services, technologies, and business models that are made available to specialized groups, markets, governments & society.
A variation to the concept of innovation is open innovation. It is using information that might be with a few selected special group or an organisation along with any other relevant data to improve internal innovation, that will lead to external innovations as markets will grow to accommodate it. Open innovation is a concept that falls somewhere in between 'business and academe'. There are two sides of open innovation, first is external data or technology is brought into companies to be utilized & innovated upon, and the second is that the internal data or technology goes out to other companies to be improved. Many firms contest to the idea of their data, leaving the company for the fear of being compromised or left vulnerable. Within business, the open innovation method would be efficient and more profitable than previous systems. The time to reach markets for products & services will reduce, cutting down the cost and adding to the revenue of a company.
When an innovation is pursued as an entrepreneurial venture, then it is referred to as a startup. A startup is a young enterprise founded by one or more entrepreneurs in order to develop a distinctive product or service and bring it to marketplace. Further simplifying, it's an entrepreneurial venture in the hunt of sufficient financial support to get off the ground.
The first task of any startup is raising a sizeable amount of bucks to further develop the product and this can be achieved by substantiating the soundness and rationality of the idea to potential financers and investors. To do that, the startups founders have to make a convincing argument, if not a prototype, that substantiates their claim, that their idea is truly novel or better than anything else in the market. Startups are always risky propositions, but prospective venture capitalist have several approaches to determining their worth. Investors particularly venture capitalists add value to start ups in a lot of ways like stakeholder management, raising funds, recruiting talent, marketing, merger & acquisition activity, and organizational restructuring.
The contemporary technology and innovation trends for startups are Artificial Intelligence & Machine Learning, Big Data Analytics, Applications of Block-chain technology, Voice Recognition Technology, Internet of Things(IoT), Edge Computing, i.e. computations performed on distributed smart devices instead of centralized cloud environment, Hyper-Personalization i.e. indepth analysis of customer data and behaviour to provide the best possible as well as well timed marketing messaging, Remote Work or working from home or flexible work schedule, Fitness & Well-Being, Women's
Healthcare and Sustainable Development by taking care of environment issues.
The principal technology challenges that are faced by startups are the dearth of people with the required skill sets in either technology or design or financial domains, the customer outlook for a specific product or service or innovation meeting their requirements and aspirations, proficiency in project management and efficiency in cutting costs as well as reducing time & effort; capacity building and configuring team roles their dynamics; cultural preparedness towards unceasing adaptation for changes in roles & directions abilityto continuously learn and re-learn to keep abreast with changing technology; fitting choice of customer contact channels such as, desktop, mobile, kiosk and others, as well as choice of proprietary versus open source platforms, emphasis on security, privacy & risk management, and last but not the least is prototyping & supply chains.
The key challenge for an Indian technology startup includes to create, expand & successfully run a startup in Indian space with its unique diversity and the digital divide between the creators and the users
In the recent years, startups have been receiving increased attention in many parts of the world. In India, the number of startups has increased fast and more support has become available from all facets. Their numbers are on the rise, and they are now being widely recognized as important instruments for development and jobs creation. Through innovation and scalable technology, startups can produce impactful solutions, and thereby act as vehicles for socio-economic development & transformation.
Startup India Hub is a one stop platform for all stakeholders in the Start up ecosystem to interact amongst each other, exchange knowledge and form successful partnerships in a highly dynamic environment.
The five vital opportunities and progression catalysts for startups' ecosystem in the India are scale, latitude and attributes of the Indian market, the rapid technological changes happening in our ecosystem, the intensified level of political will and government backing, the increasing inclination of corporations to involve in open innovation and also the shifting perception towards entrepreneurship and others.
The key challenge for an Indian technology startup includes to create, expand & successfully run a startup in Indian space with its unique diversity and the digital divide between the creators and the users, to keep scaling it to the next level by regularly raising finance as well as hiring qualified employees, taking products or services to already competitive markets and generating the willingness among customers to pay for the products or services and finally dealing with complex bureaucratic processes as well as regulatory environments and others.
Though investing in a startup is a risky affair, but the minimal requirement for overhead capital combined with high upside potential, makes it rewarding for investors to put their stakes on startups. The Thomson Reuters Venture Capital Research Index replicated the performance of venture capital industry in 2012, and found that overall venture capital has returned at an annual rate of 20 percent since 1996, far outperforming modest returns of 7.5 percent and 5.9 percent from public equities & bonds respectively, thus making it a rewarding investment alternative for venture capitalist.
Startup success stories are changing the perception of the society towards entrepreneurship and are acting as motivators for youth to be job providers rather than jobseekers.