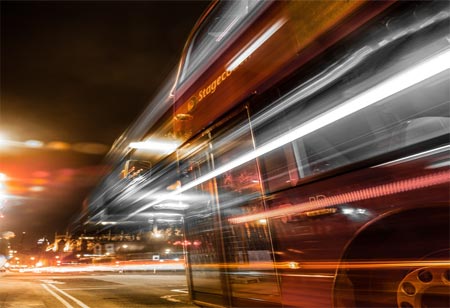 Mukul Shah, Co-Founder & COO, Yolobus , 0
Mukul boasts of a 12+ years long career during which he was associated with DLF, Sahara India, Raheja Developers, NestAway Technologies and Smartworks, prior to founding Yolobus in 2019.
Managing mobility of people is perhaps one of the toughest challenges of the 21st century. This is evident from fastest growing passenger traffic. According to a World Bank report, by 2030, passenger traffic will exceed 80,000 billion passenger-kilometres, globally, an increase of 50 percent.
The scope for growth of mobility industry is wider than ever, but so are the challenges faced by the industry. With the unprecedented growth of digital, customers today in any industry are governed by internet and mobile technology, which has given them a large number of options, some even customised to their needs, thus making it challenging for businesses to acquire & retain their customers and establish a positive business impact for themselves. To succeed, businesses in mobility industry must not only focus on improving customer relationships, but must also optimize their customer retention strategies on an ongoing basis.
Challenges
•
Trust & Reliability:
Pick a story of any successful business in any industry and explore reasons for its powerful growth story. The major factor behind their growth would be customers who trust the brand and find it dependable and reliable. The large customer base doesn't come overnight. Businesses must earn it, and winning the confidence & trust of customers is the key to it. Businesses should focus on making deliverable promises with the customers and deliver unexpected results, as brand trust and reliability is the primary key to the success of any business.
•
Greater Focus on Getting New Customers:
Companies believe that key to greater market share is acquiring new customers and working towards covering new ground, but forget to implement any retention strategy or revamp the existing retention strategy. This is both a challenge and a blunder. To survive in this competitive landscape and to retain the smarter and aware customers, businesses in mobility industry must design a retention
strategy that is inspired by today's dynamic landscape.
•
Customer Centric Product:
Mobility is one such sector that is totally dependent on and driven by customers – their needs, preferences and tastes, which makes it crucial for businesses to design & deliver consumer centric products and services catering to their preferences for routes and on journey services. The major challenge is to bridge the gap between business aspirations and customer demands. What can be done to accomplish the same? Businesses can take customer interviews or submit their feedback and conduct a sample size survey to be able to create a product that is appealing to the customers and resolves their problems, thereby giving them no chance to consider a substitute.
•
Segmentation Often Gets Ignored:
To succeed, businesses must segment their customer base. They must understand their customers' individual needs & preferences to successfully retain them. Gone are the days when customers would be satisfied with what was offered to them. Today is the era when customers want personalised attention. This is more relevant for an industry like mobility where there is direct interaction with customers.
Businesses should focus on making deliverable promises with the customers and deliver unexpected results, as brand trust and reliability is the primary key to the success of any business
The Bottom Line
The proliferation of technology and the rapidly evolving business scenario have triggered businesses to redesign their approach to acquiring and retaining customers. Data science is driving today's business scenario, and for the mobility businesses to be able to produce a successful story, it is significant to track historical patterns of existing customer base.
The biggest blunder that businesses make is setting unrealistic expectations and promising practically impossible things to customers. This is the turning point which slowly impacts business's growth. If not realised and addressed timely, it can lead to great setbacks for a business in a customer driven industry. Businesses must commit what is realistic and strive to perform well in a practical environment.
The complex business landscape has brought about many changes that have made customer acquisition and retention quite challenging. Having a long-term term perspective which focuses on customer satisfaction and sustainability is a defining factor in the future of mobility sector.