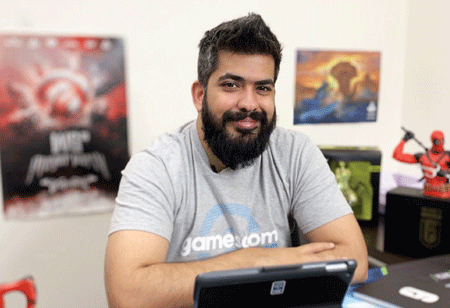 Ishaan Arya, Co-Founder, The Esports Club, 0
Holding a Sociology degree from the University of Delhi, Ishaan has worked with Deccan Chronicle Holdings and Basik Marketing, prior to cofounding The Esports Club in 2019.
What is your view on the growth of Esports in India, keeping in mind the projection of Gaming Revenue to touch $3.7 billion by 2024?
Esports continues to grow at a rapid pace in India. What started thanks in large part to the smartphone and 4G revolution in country, turned into a juggernaut with the advent of PUBG Mobile over the past few years. However, despite PUBG's well known absence, the likes of Free Fire and Call of Duty Mobile have really thrived over the past 12 months. As people across the nation found themselves with limited entertainment options, gaming was thrown into the spotlight. The growth in awareness has really helped the cause of esports, with the stigma around gaming starting to go down.
The biggest challenge now however is distinguishing gaming from misleading advertising from fantasy sports and real money gaming services in the country looking to ride the PR wave of esports. While mobile continues to be the driving force behind gaming and esports in the country, PC esports has certainly benefited from the increased awareness and interest as well. Games like Valorant have witnessed exponential growth throughout 2020 and have really brought a lot more attention to the esports industry in India.
How would you describe the growth of The Esports Club since its inception?
We've seen exponential growth over our first year and a half! In our first year, while we were developing our IP, we started off with more offline activations and esports activities. Like all industries, the pandemic forced us to change our focus and pivot to a fully online model which we tweaked and fine-tuned over the past 12 months into an extremely successful set of esports campaigns, both commercially and in terms of fan reception. We've gone from events that drew in 50,000 views to crossing over two million views per month on our event broadcasts in 2021 so far!
What are your views on the esports in India over the last few years?
Today, Esports is one of the fastest-growing industries, rivalling and overshadowing conventional entertainment rivals like music and movies. The eyes of the world are keenly on India, considered the next major hub for gaming and esports. It thus becomes imperative to understand some of the driving factors for this rising entertainment behemoth. Some of major factors which have led to an exponential rise in esports in India are-
India is definitely one of the biggest emerging markets for esports, which depends not only on players but spectators, and as you can imagine, we have a lot of them! We've seen a massive surge in both numbers of events and the prize pool on offer for players, being led mostly by the Mobile Esports titles. The PUBG ban did
slow things down for sure, however, games like Free Fire from Garena have done a fantastic job of stepping-up to fill that void by not only creating both Pro and Semi Pro esports opportunities, but also curating amazing events accompanied by high-quality broadcasts to fill that void in content as well. They've also created an entire esports within their content platform Booyah! Help increase esports opportunities for players at various tiers and things can only move up from there!
Share your thoughts on Esports emerging as a lucrative career option in India.
When Indians think of sports, the first images that come to mind are probably of cricket, football and a range of other physical games which require exceptional skills and athletic ability for playing well. However, the realm of esports is fast becoming one of the most popular forms of entertainment and competition in the country! Though the esports sector is still in a nascent stage in India, emerging trends point to the fact that this industry is poised to grow by leaps & bounds and will rival the traditional sports leagues in India.
The biggest challenge now however is distinguishing gaming from misleading advertising from fantasy sports and real money gaming services in the country looking to ride the pr wave of esports
Esports as an industry provides numerous opportunities that most people fail to realize. To the average person, including gamers, Esports starts and ends with players; however, that could not be further from the truth. While the top one percent of players can certainly earn a lot of money, there are so many roles in and around esports that can provide gainful long-term employment. It takes dozens of people to put-up an esports event; producers, editors, graphic designers, in game observers, league ops managers, on air talent, the list goes on. While most of these roles are the same as traditional sports broadcast, a gamer's in-depth knowledge of gaming gives them a real edge in understanding esports and driving a bit more value.
Having interest and knowledge of video games and esports gives anyone applying for a job a massive leg-up on the competition who may struggle to grasp the complexities of esports games despite being proficient in their craft. Currently, there is a dire need for a better understanding of gaming and esports in India so that more people can take-up esports as a career option, which as we have seen, isn't just for players.
Will the inclusion of Esports in Asian Games 2022 attract young talent to play professionally?
I think we're at a point now where Esports is looking for mainstream acceptance. The awareness has certainly grown over the past 12 months, but now, having the Asian games add it as a medal event and talks of discussions with the IOC give it a lot of acceptance as a formal competitive ecosystem.
What are the company's future expansion plans?
We've got some exciting stuff planned for 2021, including some campaigns that will really shake the esports landscape. Our goal as always remains to create the best competitive opportunity for esports players and teams in the region backed by amazing broadcast and content to drive value to our partners and sponsors. We will be launching one of the largest esports campaigns in the region latest this month. So keep an eye out for some big news!