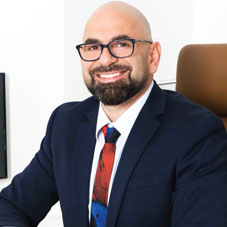 Cleaning and hygiene today have become much more imperative and sought after by people. Because of the unfortunate event of Covid-19 and the impact of it on the availability of man-power, the approach has been directed towards combining traditional ways of cleaning with futuristic and less restraining solutions. Given the current cleaning and hygiene requirements of the governments, industrial, institutional, commercial, and retail facilities and categories, the domestic professional cleaning segments showcased a wide range of innovative and nextgeneration products and solutions. The industry has made considerable progress towards more sustainable cleaning solutions as efficacy and environmental safety are imperatives to professional cleaning products. Issam Horanieh is leading Hygiene Tech Cleaning Equipment Trading by bringing such innovative solutions. The company provides a wide range of hygiene products and the latest technology driven cleaning equipment, machineries, and Robots.
With ample years of experience in the cleaning and hygiene industry, Issam Hauranieh is one of the most inspiring and hardworking leaders who always try to give his best shot even in challenging times. He believes in blending the best quality product and customer delight to succeed.
Issam engages in a one-on-one interaction with the CEO Insights Magazine.
Tell us about your professional background and experience. How has your journey been so far with Hygiene Tech Cleaning Equipment Trading, and what drives you today as an entrepreneur?
I graduated with a hospitality degree and started my career in indoor sales. A few years later, I moved to outdoor sales and discovered my
skills of being a people person. I have learned the value of marketing, public relationship, and problem solving regarding technicalities. This experience shaped who I am today and ignited the first step in placing the cornerstone of Hygiene Tech. Now it's been a long way since I have been in the industry and got a rich experience in cleaning and hygiene. When I decided to start Hygiene Tech, I did it with some fundamental cornerstones: best quality products and client satisfaction. Thanks to all its members' hard work and efforts at Hygiene Tech, we could keep to our promises and values. Today and several years after establishing Hygiene Tech, the same fundamentals keep us going.
If you want to succeed, you must be different, innovative, and enthusiastic
How would you define Hygiene Tech Cleaning Equipment Trading as an organization and its position in the market?
Hygiene Tech is a leading company that provides a complete range of commercial washroom hygiene, paper products, janitorial equipment, mat, chemicals, and a wide range of heavy duty cleaning machinery. The company provides exclusive and innovative machines as cleaning companions, bringing efficiency to work. It is hard to define and position oneself; how-ever, in such a competitive market, we have proven to have striven and thriven. Hygiene Tech has built a solid reputation and trust and is harvesting the efforts of years of hard work and client service relationships. We are a reference and a solution for many renowned clients and establishments.
What are some of the significant challenges you have encountered so far? How did you mitigate them, and what did you learn from them?
The last couple of years have been a challenge for everybody as there were times when human beings were made idle and somehow helpless. Many businesses closed, and many others had to minimize and cut costs. Despite going through all that, I took a quantum leap into the future. Hygiene Tech partnered with Lionsbot, a Singapore-based Robotics company, launching the first interactive
professional cleaning fleet of robots in the market. I learned from these difficult years that one should stay positive and tackle the day as it goes, making sure that one gave one's best.

How are you adapting new technologies to revolutionize your services to meet current industry standards?
Robotics is the latest method and path that should go alongside traditional cleaning machines. We have learned to value time, people availability and skills;accordingly, Hygiene Tech has started its robotics division and is already active in the market with its deployed professional cleaning robots. In addition, it is our continuous support and work towards a greener environment by having a Green range of products and new technologies.

What are the changes in market behavior that you anticipate, and what are the opportunities you foresee?
Unfortunately, the market nowadays is highly challenging because of the scarcity of raw materials and increased freight and logistics. The latter affects the cost of products, period of production and availability. Despite the hardship, we can still work and maintain our range of imported machinery and products. At the same time, we are collaborating with local manufacturers who can produce products per our specifications and standards. This solution is highly encouraged as many local manufacturers apply international laws and regulations as standards in their production. The opportunities that will arise are present because of the country's and community's resilience as the world reopened and travel and tourism are back. As the economy is trying to return to a growth trajectory, one can positively see that the vector of business is rising.

Issam Horanieh, CEO, Hygiene Tech Cleaning Equipment
A graduate in hospitality with a sociable personality, Issam believes in hard work and a positive approach toward life opportunities. With an enthusiastic and innovative mindset, he leads the company to exceed customers' expectations.

Hobbies:Playing Guitar, Tennis, Golf, and nautical adventures.
Favorite book:'My Story' by Sheikh Mohammed Bin Rashid Al Maktoum.