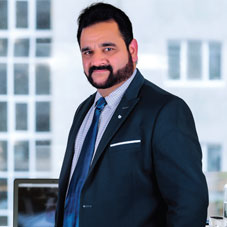 With over 20 years in metal and glass works industry, Imran is a torchbearer of change in this unique industry.
CEO Insights recently engaged in a one on one interaction with Mohammed Imran, here's the highlight from the interview.
Take us through your educational and professional background? What motivates you as a newage leader?
In terms of educational and professional background, I completed my bachelor's degree in commerce and then a postgraduate diploma in marketing management. My career began with a small direct sales position. I've been here for almost 25 and a half years and worked in the same architectural metal works and construction industry in the UAE for around 20 years. Even without an engineering background my passion, dedication and eagerness to learn has led me to this position as an expert in the industry.So, I work with various entities, such as the Belgium Aluminum and Glass Company, which is a part of Al Fara'a Group, where I became the AGM of the stainless steel division & served in that
capacity for several years. I also worked for Juma Al Majid Group, one of the most well known names in the UAE. "Why don't I give myself a chance to start my own?" I reasoned. As a result, I launched my own company, Mettech Metal and Glass Workshop, in 2019 & Alhamdolillah, despite numerous challenges such as COVID and
market downturn, I have been doing well.
Define Mettech Metal and Glass Workshop as an organization and its current position in the industry?
Mettech metal and glass works in the Architectural metal works industry, creating Architectural metal roofs including stainless steel, glazing steel, aluminum, and more. We work for the construction industry and we are manufacturers as well as executors of the products. We do execution in terms of procuring the raw material and fabricating the material in our factory, followed by installation of the product created. So, this is how Mettech metal and glass works, functions and services clients.
Having worked in this industry for over two decades I have a well-known reputation, and I am leveraging this market connection to make MetTech a go-to brand
In terms of products we produce glass handrails, stainless steel handrails, ladders,claddings, space frames, canopies, Pergolas, Gratings and Chequered Plate platforms etc. In terms of positioning Mettech metal is a new entity in the market. Having worked in this industry for over two decades I have a well-known reputation, and I am leveraging this market connection to make Mettech a go-to brand. I have good relations & a wide technical knowledge which I am utilizing in all the projects we acquire like Dubai Municipality Project Storm water Dubai, Al Khail Mall Project Dubai, Waterfront in Abu Dhabi, Baniyas Cooperative Abu Dhabi, Al Wasl Tower - Dubai and others.
What are some of the most captivating difficulties you have encountered so far in your professional journey? What did you learn and how did you overcome those challenges?
COVID began as soon as I started the company, so the biggest challenge we faced was acquiring manpower. Given our line of work, the entire transition from physical to virtual the implications of so many restrictions & the inability to move from one area to another posed numerous challenges. Even so we did achieve many goals by hiring contract labour, meeting client requirements & serving & delivering projects on time which was the most difficult thing.
We couldn't always get the materials we needed on time due to import and export restrictions. Despite the numerous challenges we overcame them by utilizing the resources at our disposal.
What has been the success mantra
that constantly helps you arrive at positive outcomes?
Maintaining a positive outlook and being willing to work hard to achieve whatever goal is set are the success mantras that have worked for me. Working longer hours and beyond designations because working like an average employee does not help to accomplish these levels of success. Therefore, you must put in a lot of effort & maintain a good outlook which, as you may know, will always help you succeed. The secret to success is motivation and a relentless pursuit of more and greater accomplishments.

As the CEO, how are you planning to adopt new tools/technologies to revolutionize the company's services to be at par with current industry standards?
I want to grow Mettech over the next five years. Insha Allah, Mettech will grow throughout the Emirates, including Dubai, Sharjah and the Northern Emirates. There fore, this means that we intend to expand our business to several Emirates through out the course of the next five years. However we are not constrained to that we even have plans to cross borders and expand in GCC nations. Additionally, we'll be adding more goods including curtain wall cladding glass and aluminum products etc. Thus, our goal is to be among the largest groups of aluminum subcontractors taking on turnkey projects involving metal pattern works, general architecture, and three dimensional structures.

Based on your strong professional experience, what advice would you give to the upcoming leaders in the same industry?
A piece of advice I would like to impart is to be positive and never give up on any challenges. If there is no challenge, that means there is no life. In order to survive a person must face the challenges posed before them. You have to work on the challenges with a positive attitude. If you are giving up & losing confidence means that you lost everything and have nothing to look forward to. Focusing on self confidence and willingness to achieve the things that achieve the goals you set is essential.

Mohammad Imran Qureshi, CEO, MetTech Metal & Glass Workshop
Mohammad has been working in the UAE for the past 20+ years in the metal & glass works industry. He has completed his education in Commerce, with a PG in Marketing Management. He has worked with some of the biggest General contracting & Construction works companies in the UAE & has started his own firm in 2019 in the same industry. As a leader, he is inspired by his father, former employers Ganga Ramani & Juma Al Majid & Ratan Tata, & tries to adapt a flexible leadership style wherein he believes in leading through example. He attributes his strength to overcome all the challenges in life to his wife and daughter.