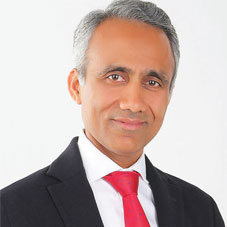 Leaders who have reached the pinnacle of success have one thing in common ­"Imparting confidence and rising as a game changer while lifting others". Such a business stalwart who believes in the wise words, "Alone we can do so little, together we can do so much", is Sandeep Seththe most impartial `constructive' critic and President of Goltens Worldwide. Right from the time he was pursuing MBA from Nanyang Technological University, leadership & mettle were deep rooted within him. From the point of being an auditor at Price water house Coopers to outshining as a well versed leader at Goltens Worldwide, Sandeep always proved to be the best.
As a leader with a foresighted vision, Sandeep enjoys finding solutions to problems and believes in streamlined processes that impact efficiency and productivity positively. The impressive journey of this maven takes us through a ride where he showcases his immense capacity for taking risks and facing challenges with fortitude. The following excerpt is an exclusive conversation between Sandeep and CEO Insights that briefs his professional life and the strategies that drive the business.
Throw some light on your professional background and experience before joining Goltens.
I am a management graduate from Nanyang Technological University. I am also a Fellow Chartered Accountant from ISCA. My career began as an auditor at Price water house Coopers India in 1991. Later, I moved on to various managerial and finance positions in Asia and also served as the Operations Head Far East and Chief Financial Officer for Global Operations of a large financial research organization.
Brief us on the responsibilities and mile stones you cherish in your journey with Goltens.
I have been with Goltens through some of the biggest crises including COVID-19. The first one was the 2002 SARS outbreak and the second was the great global recession in 2008. While the entire economy faced the thump, Goltens decided to close one of its units. Although it seemed like a good choice, I happened to visit the unit and understood the problems on the ground. Not letting go of opportunities to make things right, we were able to bring the business unit back to race within a year. Since then, it has been the most profit-making business.
It is the courage, dedication and determination that made Sandeep climb the success ladder and stand as an inspiration for many
I have been instrumental in the reorganization of the various business unit around the world to boost results and witness progress. In the last 20 years, we have faced several challenges as mentioned earlier from the economic crisis to the health crisis and fallback of the industry. However, I believe that every problem is an opportunity in disguise. At least, a learning opportunity. As a person who values experiences, I believe that my journey was absolutely rewarding with full of learning. I must admit that I wake up each with the excitement to solve complex problems and pursue different opportunities.
Highlight some of the learnings and take aways you follow till today.
One of the biggest learning is that 'a leader cannot solve a problem by sitting at his desk miles away'. At times, it is important to talk to the people on the ground to understand the nuances and address the problems.
Some vital skills needed for leadership even in this modern age are the ability to listen, the fortitude to take risks, and proficiency
articulate your thoughts while communicating. These three factors are important to bring transformative changes.
How did you manage to face the aftermath of COVID-19 on the business growth?
Even amidst the catastrophe of the pandemic, Goltens did not compromise on its services towards its customers. We ensured to continue the work as per plans across all locations. The outbreak did pose several restrictions on traveling and rendering our services to international clients. We are proud and happy for not significantly reducing staff numbers for cost cutting. Despite a couple of operational challenges, we were focused on the safety of our employees. Taking this seriously and adhering to the measures put forth by the government was/is the need of the hour. We at the company, had an eagle eye to ensure the safety of our staff. Even now, we have been advocating strict protocols.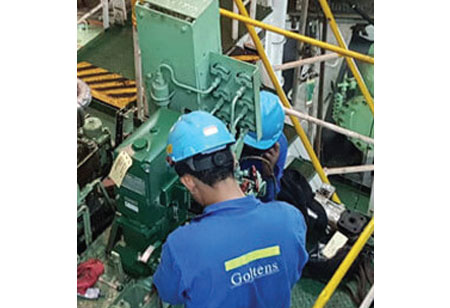 Share about your guiding philosophy to lead the team.
Undeniably, our team is our greatest asset. I believe that feeding our people with an innovation pedigree and providing them enough room to test and try their ideas is much crucial. We offer them an encouraging environment where they and their ideas are respected and given enough scope to breed. Goltens puts its full effort to train and develop people and takes dedicated programs infused with the latest tech to maneuver employees, align them with organizational vision, and thus go that extra mile together.
Sandeep Seth, President, Goltens Worldwide
Sandeep has close to three decades of experience across various industries, including the marine and offshore industries. He is experienced working with companies of international reputation in numerous industries including manufacturing, technology, and finance in the Far East, Middle East, Europe and US.