Abdullah Thamer Al Hemeidi: A Go-Getter Hosting A Paradigm Shift In Qatar's Online-Delivery Ecosystem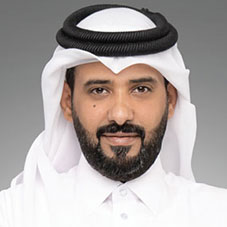 It all started from Abdullah's genuine desire to spread the love of good food by taking the delicious cuisines available in urban Qatar to nooks and corners of Qatar. The people in the outskirts of the country were deprived of this because no food delivery platform reached out to the remote areas in Qatar. A go-getter, Abdullah believed that with the technology advantage, there is always a way. Sprouted out of this thought was Rafeeq a delivery platform for everyone that delivers everywhere, solving the long distance delivery challenges in Qatar once and for all.
A serial entrepreneur and a true food lover by heart, Abdullah banked on his startup experience to set Rafeeq on the success course, democratizing good food. The result? Rafeeq today is one of the fastest-growing startups in Qatar. In fact, having started as a food delivery platform is now evolving into a lifestyle application encrusting Grocery, Stars, Charity and Pharmacy. CEO Insights engages in an exclusive conversation with this exceptional entrepreneur to explore how he transformed the complete delivery ecosystem in the country.
In conversation with Abdullah Thamer Alhemaidi, CEO, Rafeeq
You have around two decades of professional experience. What are some of the most important milestones in your journey?
Praise be to God; I have professional experience in the field of startups and business industries. Dreams are a quest one can only work hard to turn them into reality. Like an ambitious young man, I also had dreams but always strived to make them a reality with arduous work dedication and perseverance. From the beginning I have learned to put in the required effort to gain excellence and achieve self realization. I have encountered multifarious situations in life and turned them into learning experiences. Perhaps, the most prominent depiction of that is the project Rafeeq, which initially started as a startup but, all thanks to the Almighty flourished in the field of business in a brief period and became a successful company.
Tell us about your leadership approach and the values and guidelines you follow as a leader.
To begin with, the selection of the right team for the right task is vital. After allocating tasks, I provide my team with the strategic direction to reach the desired goals. I prefer to entrust my team with decision
making power to fulfill the respective tasks. As far as my role as the CEO of Rafeeq is concerned it is a challenging duty. I tend to be committed, present, diligent, and work with my team round the clock.I believe nothing is impossible as long as we strive to follow our organizational approach of working hard to achieve our collective goals, attracting talented individuals, and excelling in providing our services.
There were numerous hindrances in the logistical operations of the owners of restaurants of small and medium enterprises in the country. We pioneered the idea of Rafeeq to facilitate them and remove the obstacles in their operations
How would you define Rafeeq as an organization? How is Rafeeq transforming the logistics ecosystem in the country?
There were numerous hindrances in the logistical operations of the owners of restaurants of small and medium enterprises in the country. We pioneered the idea of Rafeeq to facilitate them and remove the obstacles in their operations. Rafeeq was launched as the first Qatari-based food and other essentials delivery company in the field. In less than six months, we made a name for ourselves in the State of Qatar as the fastest-growing startup company, competing with the largest international companies in this field. To achieve Qatar Vision 2030 and to gain sustainability in our field, we are in continuous cooperation and coordination with all the institutions of Qatar.
As a leader in the logistics industry, how do you perceive the changing market behaviors and the demand for top-notch customer experience?
I believe we are well-prepared to meet the challenges of the changing Qatari market behaviors. Our priority is to provide and deliver the day-to-day requirements of our customers in a fast and reliable way. Rafeeq is not just a food delivery application it has separate verticals of stars, grocery, flowers, pharmacy, and charity. Although, food delivery remains its most sought after service. It is the only Qatari based delivery application with its own influencer marketplace. The celebrity section is exclusive to Rafeeq App, where prominent celebrities and influencers market their products. We wish to provide our customers with a user-friendly and rich platform with top-notch customer service. We also place a strong focus on the prompt delivery of our products. To deliver the greatest experience to clients, we keep up with changing market trends by soliciting user feedback, observing what is available on the market, and offering superior customer services.
What did the pandemic mean for you? How did you approach the need for new operational and financial strategies?
During the pandemic, we turned the ordeal into an opportunity while ensuring the safety of our employees and users. It was, indeed, a big challenge for us, but we remained determined to follow our motto, which is to provide highquality services no matter what. We trained our employees, including our workers and riders, on the precautionary measures following the Ministry of Public Health guidelines. Provision of all the safety tools and equipment from
face masks to safety gloves- was made mandatory to prevent the virus's spread. We also rescheduled our plans after the corona outbreak and achieved our new targets, which were in line with the dynamics of the changing e-commerce world. During the pandemic, businesses boomed and suffered, but the lesson was that with resilience and dedication, one overcomes any challenge.

Tell us about your partner ecosystem. What does it take to be a Rafeeq partner?
Our partner ecosystem comprises restaurants, pharmacies, marts etc.Rafeeq gives businesses access to a larger market where a lot of customers make their purchases online and gives them a platform to do so via Rafeeq. As a result, they are able to expand their market reach, customer base, brand exposure and customer loyalty. For the vendors to develop a relationship with Rafeeq, they need to fulfill a certain set of standards that conform with the terms and conditions as well as the laws.

What about your rider ecosystem? How do you define your delivery culture, and what's the role played by your field force in ensuring a world class customer experience?
Rafeeq has both bike riders and car drivers that we hire inhouse and sometimes outsource from suppliers. We put our riders through a screening process to shortlist them. Then we give them theoretical and practical training to inculcate a sense of dedication. Our fleet consists of riders of different nationalities and cultures. They are monitored 24/7 and the issues are dealt with as they occur. The field team is distinguished because we have a clear work policy and terms and conditions. The drivers are committed to the rules and regulations and the cars are modern, with good specifications.

Asfar as the delivery culture is concerned it is composed of three elements: (i) Solutions that solve actual problems, (ii) Design-led development and (iii)Structures that promote continual delivery

Creating a culture means adopting a new mindset and a whole new way of working. It is certainly worth the effort. It allows us to keep up with our customers' ever-changing demands. It also helps us prove our solutions' viability early on, adapt them as customer expectations evolve, or abandon them if they don't work out. Our field-force looks after our frontline team, supervises performance tracking, and focuses on implementing initiatives that improve the customer experience. It ensures seamless internal communication, fast delivery & response times and exceptional customer support.

What's your future vision for Rafeeq?
We want Rafeeq to transform into a holding company, which is in the works now, and expansion is under way

Based on your rich professional experiences, what would be your advice to budding logistics leaders?
I wouldn't call it advice, but I would like to share a set of ideas and visions with other entrepreneurs. I believe success in any industry requires a mix of effort and innovation, and leadership requires enduring difficulties and having a clear vision and goals. One must not despair of hardships since it's courage and faith that helps one to achieve one's goals.

Abdullah Thamer Alhemaidi, CEO, Rafeeq
Abdullah is a Qatari foodpreneur and owner of multiple restaurants. A serial entrepreneur and passionate food lover, Abdullah set Rafeeq on the success course, banking on his startup experience and democratizing good food.