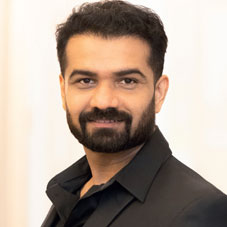 Fintech is hosting a dramatic trans formation the world over.But comprehensive financial inclusion is still miles away. Identifying the gaps in the FinTech ecosystem of Japan, Paidy a software platform that allows consumers to buy online without a credit card or pre registration came into existence and is today improving financial inclusion in the country. Abhijeet Pawar, VP Program Management Office, Paidy joined hands with the organization with a mission to spread trust through society, develop securities across financial sectors, implement innovations in financial products and allow people to dream big. The Young Turk has been able to coordinate with global companies,study the behavior of diversi fying consumers, and implement effective strategies. His passion for innovation has led him to build multiple startups and he also took two successful exits in entrepre neurship in India. With his futuristic insights, Abhijeet is pledged to make Paidy the number one FinTech company in Japan. He aspires to create a 40 million user base for the company and generate a revenue of $40 billion in the coming years. Let's hear it from him.
Take us through your successful profes sional journey and the motivation behind it?
I have a diploma and B Tech in Computer Engineering. After my B Tech from VJTI, Mumbai. I got a job at Rakuten, Inc., which is based in Tokyo. I worked for six years and retired as a global manager responsible for SaaS products that were used by the entire company globally. I went back to India to pursue my startup ambitions and have built, learned, and successfully exited from various startups. Before quitting my job at Rakuten, I also studied Entrepreneur ship at Draper University, San Mateo, led by Tim Draper who is a well known VC in Silicon Valley. I had scaled my last startup to $25 million in 2019. I launched my startup, Opet Foundations, Initial Coin Offering (ICO) in 2018. However, as the laws for blockchain were blurred back in 2018, I had to shut down my last venture. I joined Mercari, Tokyo as the first Program Manager to build the foundation of Program Management. In August 2021, I left Mercari as a Head of Program Management on a happy note to join Paidy in 2021 as the VP of
Program Management Office (PMO). The journey has been good as I enjoyed working for the big corporations and helped a lot of consumers. I like to work on exciting financial products that have the potential to bring a positive impact on society. Learning new things, implementing them, and giving back to society is what keeps me motivated.
I got two important insights for an organi zation to be successful. First, people are the most important asset of an organization. Second, maintaining transparency and aligning people's efforts to the organi zation's vision can create wonders
Where is Paidy positioned in the market and what are the unique services that it provides to its customers?
Japan being a country with strict financial institutions, it becomes very difficult for the people to get a credit card. Paidy identified this problem and came to the market providing a Buy Now Pay Later(BNPL) service. Paidy has around seven hundred thousand merchants including amazon, apple, and other big giants and nearly seven million consumers. We are the bridge between the consumers and the merchants in the financial space. We allow people to shop without paying a penny in advance. Paidy also increases the revenue for the merchants by reducing the number of incomplete transactions and helps boost the average order value by facilitating repeated purchases. We recently got acquired by Paypal for approximately $2.7 Billion, which now allows us to leverage Paypal's existing ecosystem and contribute to its business. This is the biggest acquisition in the Fintech space of Japan.
What insights did you develop during your professional journey and how did those help you in tackling the challenges coming your way?
While working at large organizations and at startups, I got two important insights for an organization to be successful. First, people are the most important asset of an organization. Second, maintaining transparency and aligning people's efforts to the organization's vision can create wonders.
While working as a global manager, I was responsible for managing teams in 17 countries across 5 continents consisting of 110 mem
bers. The formation of a Center of Excel lence(CoE) with strong leaders played a key role. CoE was pivotal in enabling me to establish a communication pipeline and chain of command that helped me to align everybody'sefforts with the organization's vision. This was a key in leveraging synergies across teams to deliver the best results. I was able to deploy global products such as a common SaaS platform that is generating billions today to strengthen the organization's ecosystem.

While running my startups, I had prepared a small team with talented members. Having a strong team is of paramount importance to a startup.I was able to achieve success because of the aligned efforts of my team mates to achieve a common goal.

Having worked in both Indian and Japanese markets, how would you compare the two? Also, what would be your advice to budding entrepreneurs?
The FinTech market in India is more mature as compared to Japan's Fintech market. But India is still witnessing a huge shift from a traditional to a technically advanced business approach, which makes it difficult for the entrepreneurs to establish a profit making startup in India. On the other hand, the FinTech market in Japan is not yet advanced. It is undergoing a lot of innovation. And the good thing about Japan is its active internet user base that can adapt to new and innovative products and services quickly, which enables startups to gain popularity easily. Both countries have their own challenging grounds, but the most important thing is to have a thorough knowledge about the market before establi shing any venture in any country. Also, your network of VCs, founding partners, and entrepreneurs play a major role when it comes to launching a new venture. So, if your network is good in India, that's your play-ground. For me, it's Japan.

Abhijeet Pawar, VP of Program Management Office, Paidy
Having a B Tech in computer engineering and studying Entrepreneurship from Draper University, San Mateo, Abhijeet has been a Global Manager at Rakuten and the Head of Program Management at Mercari prior to being the VP of PMO for Paidy.

Hobbies:Playing Football, exploring new places and cuisines.
Favorite Cuisine: South Indian.
Favorite travel destination: Vienna, Austria and Kasol, India

Awards & Recognition: Multiple project and leadership awards in various organizations including Most Impressive Person of the Year at Rakuten, Also, nominated for entrepreneurship awards in Maharashtra, India.