ACCA Amit Kumar : An Edupreneur Showing A Unique Career Path To Aspirant Chartered Accountants Or Entrepreneurs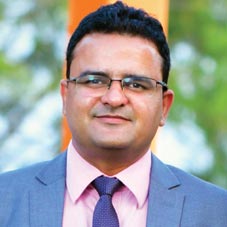 Sri Ganganagar, a beautiful city in Rajasthan, is also called the food basket of the state. Born at Raisinghnagar, hailing from the outskirts of Sri Ganganagar, ACCA Amit Kumar (Founder & CEO, Pramisha Business School) had long buried his dream to do graduation abroad as his family expected him to build a career in India or manage farms. But he broke the convictions, turned out to be a go-getter in his life, and eventually ventured into edupreneurship.
Amit today is the founder of one of the leading institutes in the country providing ACCA (Association of Chartered Certified Accountants) courses. This elite business qualification makes you a global chartered accountant capable of choosing the place of work anywhere in the world. Till date, Amit has trained & prepared more than 5000 CA professionals for IFRS/Ind AS/ACCA adding an experience of more than 10,000 training hours under his belt. CEO Insights interviews Amit to explore his journey.
When you look back, what's the biggest lesson that you have learned from your life?
It in fact goes way back. Right after my school life, even though I dreamed of going abroad and pursuing a career there, my family thought differently, and thus I dropped the idea. I thought the bachelor's degree in my case is just to pass time and will not give me returns since I am going to go back home to drive a tractor. I was confident of passing the degree and achieving the qualification, even if I studied at the last minute.
But when my first year B.Com results arrived, I was bombarded with opinions and doubts, comparing my ability to score 58 percent with the ones who achieved first-division (marks 60 percent and above). By that evening, I learnt the biggest lesson of my life: one needs to live life as s/he wished not as per the opinion of others. Opinions keep on changing.
I have shared the lessons learnt in
life through my story titled `We are what we think, our thoughts make our life'.
What was the turning point in your life? How did you end up in ACCA?
Even though I scrapped my dream to go to Australia due to the unfavorable conditions out there, I went to collect my IELTS certificate from British Library, Chandigarh, since my village was not on their delivery list. That day is the turning point of my life.
I decided to develop people who are prepared in such a manner that the industry welcomes them with both the hands
I picked up a book named `A-Z Careers in the UK' from the library. When I shuffled through the first few pages, it read about Accounts Manager, Auditor, Accountant explaining the salaries, degrees, and bodies related to the profession. I could read the word ACCA in almost all the jobs in the first few pages. The very next morning, I opened the newspaper to see the advertisement: `Do British Accountancy in India'! I thought I should know about it more and there began my journey.
After your stints with KPMG, Viviana Business School and BDO India, what inspired you to start Pramisha Business School at Dehradun?
While I was working as the Director, Accounting Advisory Services, BDO India, one of the tasks on the job was to fill the talent pool requirements from BDO network firms across Australia, Canada, Bahrain, Mauritius, and Seychelles to name a few. Being an ACCA member, I was in a position to invite applications from ACCA students & affiliates to apply for the short term contract jobs. I was surprised to see the lack of clarity and ignorance about the skills needed in the industry to build a successful career.
The whole interview process and dearth of talent pool inspired me to bridge the gap between whatstudents know and what is actually required by the industry. I decided to develop people who are prepared in such a manner that the industry welcomes them with both the hands. Based on continuous learning & insights on the demands of the industry globally, I decided to set up Pramisha Business School at Dehradun and once again decided to
disrupt a well settled life & job.

Pramisha Business School will serve as a starting point for school leavers after X & XII to build a global career in business and finance through ACCA and will be more like a school with a holistic approach to grow an aspirant into an industry ready corporate professional. The students will be groomed in technical skills, communication, corporate etiquettes, public speaking, and learn to grow as an entrepreneur capable of managing their own business or serve the corporate world in any corner of the world.

I will continue to serve corporate professionals through Viviana Business School for delivering trainings and consulting on IFRS & Ind AS and ones willing to pursue ACCA, will be served on weekends live online or through recorded lectures.

Going forward, what are the goals that you are trying to achieve through Pramisha?
The goal isn't to live forever. The goal is to create something that will! I declared my goal through Viviana Business School, the values and mission remains the same.

Through Pramisha, I wish to write another successful story of a life enriched with experiences of overcoming challenges and enjoying the journey of winning every moment! Pramisha means the `goddess of knowledge, which blesses me with an opportunity to be a medium to share knowledge and experience to help future generations to learn, know, excel & rise in life.

The goal is to enjoy success, to enjoy the transformation of ordinary to extraordinary, to see the smiles on the faces of mentors, to see hope with blessings of parents, to see confidence in the eyes of achievers, to feel moments of pride, and to create moments of joy & happiness.

Amit Dharnia, Founder & CEO, Pramisha Business School & Viviana Business School
Amit is a member of Association of Chartered Certified Accountants (ACCA, UK). He has previously worked with KPMG India (Accounting Advisory Services), Axis Risk Consulting (Audit & Accounts Support Group), TMF Group (Corporate Accounting & Taxation) & Piron Corporation (IFRS Consulting & Training). He is also the author of Ind AS book for accounting & finance professionals known as "Ind AS Concepts in One Day".