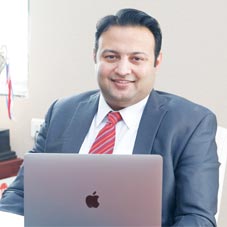 Multiple researches have proven that prior exposure to role models have greatly impacted on the lives of entrepreneurs and their careers. Someone once wisely said that role model is a mentor whom you see on a daily basis and learn from them. The entrepreneurial story of Deepak Sharma, the esteemed Director of three prestigious schools – Central Public School (CPS), Rockwoods High School, and Rockwoods International School (RIS), revolves around this phrase. Deepak's greatest inspiration and role model has always been his mother – Alka Sharma, who has been very passionate about providing world-class education to children. This indeed created a strong inclination in Deepak towards harnessing the best education pedagogies and inculcating the best value education among young minds. In fact, the sagas of both Deepak and Alka undoubtedly stand as the biggest sources of inspiration for the budding edupreneurs today.
Delve into the following excerpts of an exclusive colloquy between Deepak and CEO Insights to learn more about their sagas!
What triggered you to plunge into the education industry?
Since my childhood, I grew up by witnessing my mother's strong fervour for children and education. Right from grade five, the idea to establish her own school was deeply rooted in her mind, and thus kindled her to incorporate CPS in 1989 across a rented building with 85 students and seven teachers. This wasn't an easy feat for her! I still remember her putting-up our home as collateral for mortgage to purchase hardware for CPS' computer lab. Her perseverance to pursue her passion is what triggered me to follow her footsteps and plunge into the education industry.
How did you kick-start your entrepreneurial journey amidst a well-settled corporate life?
Let me start with my educational background. I pursued schooling from Udaipur, B.Com from B.M.C.C. Pune, and MBA in Marketing from Symbiosis International University. Soon after my post-graduation, I
was offered the Management Trainee role at IFB Industries and soon got promoted to Senior Area Sales Manager. My career also includes a short stint at Houseful International as Head of Sales – Consumer Durables. But it was while working at Whirlpool of India as Branch Sales Manager my life had the biggest turning point. Despite relishing a good remuneration and huge responsibilities at the organization, I felt no satisfaction from inside and that something was missing in life. In 2009, I put an end to my corporate life and returned home to be a part of my mother's journey at CPS. Later in 2011, I decided to take the legacy forward by laying the foundation for Rockwoods High School with state-of-the-art infrastructure and pedagogical practices.
While Rockwoods High School as well as CPS is affiliated to CBSE curriculum, I was always fascinated by Cambridge curriculum, as it focused on application-based learning
Walk us through your journey from Rockwoods High School to setting-up an international school.
When I set-up Rockwoods High School, my main aim was to provide holistic education including all co-curricular activities. I strive to instill team spirit, discipline and interpersonal skills in all students by leveraging my experiences in Cricket, Table Tennis and Athletics, and also play with them regularly. While Rockwoods High School as well as CPS is affiliated to CBSE curriculum, I was always fascinated by Cambridge curriculum, as it focused on application-based learning. This indeed propelled me to setup RIS in 2016 with international curriculum.
Could you cast some light on the idiosyncrasies of these three schools that you spearhead?
My foremost goal behind all my schools is to equip my students with 21st century skills and shape them into global leaders. What lies common among all three schools mainly is their deep-rooted focus on eight principles – Spiritual, Emotional, Physical, Language, Social, Habitant Daily Routine, One Skill Development and Mental Development.
CPS and Rockwoods High School adhere to the principle - 'Learning is an ongoing process', while infusing
gratitude and sense of belonging attitude in all students. We also rigorously train our staff through diverse workshops, seminars and erudite sessions to keep-up with this principle. On the other hand, RIS is focused on creating global, life-long learners with positive attitude and respect for internationalism through curriculums including Pre-Primary, Primary, Middle School, IGCSE, A Levels as well as Theme-based Global Studies.

Today, I take utmost pride in CPS being ranked No.1 School in Udaipur, No.3 in Rajasthan and 26th Nationally under Co-ed Day-Cum-Boarding Schools category by EW India School Rankings. Also, Rockwoods High School (2000+ students) has been ranked No.10 in Rajasthan under Day Schools category, and RIS (250+ students) No.1 in Udaipur and No.2 in Rajasthan under International Day Schools Category.

How has your family supported in your career so far?
As mentioned earlier, my mother has always been my biggest support and strength, while my father has given me constant support throughout my career and life. I learnt to become a go-getter with humble, calm and composed nature from my father and also that every mistake and failure is a learning experience. Since all of us are passionate about our works in education, we find a lot of time for personal interests as well.

Do you participate in conferences or seminars?
Yes! Being an active member of FICCI Arise, I participate in their conferences and seminars, besides being a panelist and speaker at other educational conferences. I also conduct community service events at the Round Table of Udaipur Chapter.

Deepak Sharma, Director
Deepak boasts a demonstrated history of establishing and running schools in India along with strong professional skills in Marketing Management, Negotiation, Business Planning, Operations Management, and Sales.

Favourites:
• Hobbies: Playing Basketball, Cricket (All-rounder) & Table Tennis, and riding Harley-Davidson bike across all terrains of India
• Cuisines: Indian Cuisines & Desserts
• Travel Destinations: Europe, Middle East & South Asia

To the Budding Edupreneurs:
Learn, Unlearn & Relearn constantly and embrace the emerging changes in the industry!