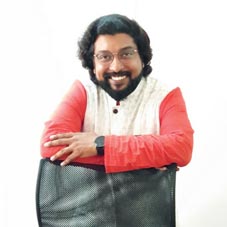 Despite India being the youngest nation of the world, several statistics say that we are the suicide capital of the world. Over the past three years, more than 26,000 students have committed suicide across India; almost two students a day! Statistics also claim that in a single class, 20 percent of the students suffer from anxiety and depression due to parental, academic and peer pressure. On the other hand, conversations with counsellors revealed that young people find it difficult to cope with failure in examinations and careers. Adding to these woes are the commercial coaching centres that guarantee success in professional exams, whilst pressurising students into striving for unrealistic goals. A really worrisome situation for a young nation to deal with!
There are over 80 million students in India who need right career mapping. With a mission to train the ecosystem to change the life of a student, G S Sreekiran created a tool called Career Potential Assessment Test (CPAT) for identifying right career potential and interest of a child, and empower them to take informed decision. Through his company CLAP (Centre for Learning and Advanced Practice), Sreekiran has helped over 160,000 students to do their career mapping (planning their higher education, specialization, skills and future career in advance) apart from providing coaching, training and counselling of parents, students and professionals for more than 50,000 hours. CEO Insights speaks with Sreekiran to understand more about CLAP and how he is working towards brining sunshine in the lives of students. Below are the excerpts -
Tell us about your education background and how that helped incept CLAP?
Hailing from Kerala, I did my schooling there, completed my MBA in Marketing & HR with a specialization in Training & Development from TKM Institute of Management, Kollam. I started my career as a trainer in BFSI segment. I took the bold decision to break my career to pursue my second post-graduation in Training &
Development from Singapore Human Resource Institute, just a year after my marriage. I worked as an L&D specialist, consultant, management academician in various capacities, and my last profile before venturing into entrepreneurship was Dean of one of the leading B-Schools in India.
The learning was quite helpful in designing our venture, as I took best of everyone and blended with our unique model. As the Founder & Director of CLAP and CLAP International School of Business, I currently take care of new product development (career mapping, skill auditing, unique training programs) and international collaboration.
Every child should get the opportunity to understand their potential, take informed decision about their higher education, and build their career by choice, not by chance!
What led to the inception of CLAP and how has been your journey till now?
During my sessions across the country and abroad during my academic career, I found that people land in their job by chance and not by choice. This reduced their job satisfaction, performance and an increased stress level, affecting the total output of the company. Hence, I along with other founders Swati Bondia and Jithin Sali researched to identify the root cause of it and found that it lies at school & college levels, where they always get forced to chase someone else's race – be a doctor, an engineer or others. Hence, CLAP was born under the parent company Next Best Solutions. We founded CLAP as a career mapping and employability enhancement organization with two indigenously developed tools for career mapping and skill auditing.
Tell us about your tools and how is it shaping the students' future.
Our CPAT tool has received amazing response for the accuracy of results, as we conducted the feedback survey after three-four years of assessment and found that 96 percent of the students chose their career as planned, while four percent gave-up to the parental/peer pressure. We want 100 percent of the children to learn and build their career by choice.
We will soon be launching the first ever fully AI-powered career buddy for children named QBO, which uses our proven CPAT protocol along with
active discovery and self-concept model. It will act as your online career buddy and mentor them to identify and mould their career. We are all set to go to market with one focus 'Every child should get the opportunity to understand their potential, take informed decision about their higher education, and build their career by choice, not by chance!'

We are also the first to launch AR-based brochure for placement, where the recruiter can scan the image of the student and see him/her presenting themselves – a very interactive and engaging resume. We have now collaborated with an organization in integrating blockchain technology in a unique way for creating certificates which will be counterfeit proof.

Our CLAP International School of Business provides management & employability coaching on a collaboration and asset-light model, where we select students based on their dream and attitude to grow. We coach average students who scored 50-80 percent marks during the graduation. We have designed and developed an amazing delivering tool which takes care of holistic development of the student. Today, we have 120 students in our campuses in Bangalore & Kerala, with CLAP centres across Bangalore, Cochin and Malaysia.

Family plays a vital role in every entrepreneur's life. How was their support to your every endeavour?
The best managers & motivators I have seen are my parents, and my two sisters and families always play a pivotal role. They together celebrate even my smallest of successes. My wife Ravina is the backbone of my dreams. She was quite incremental in helping me to take the career break and go for studies, and even in taking the very crucial decision of exhausting all savings to be an entrepreneur. My seven-year old son, Vaishav is my new teacher.

I always believe 'we are a million pieces of others'; so I carry a piece of everyone whom I meet, including you! So my family, friends, my students and all those whom I meet is what I'm, not philosophically but practically.

G S Sreekiran, Founder & Director
An edupreneur, Sreekiran is training the ecosystem to change the life of every student to ensure they choose their career informatively and not with peer/family pressure.

Favourites:
• Hobby: Watching movies, reading books, telling stories to his son
• Travel Destination: Bhutan