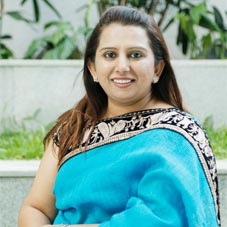 Entrepreneurship is a less desirable career avenue for the young in India. According to Global Entrepreneurship Monitor (GEM), only 39.9 percent in India think entrepreneurship as a good career choice. On the other hand, several surveys further claim that around 90 percent of our graduates are unemployable. So what is holding the youngest country of the world in becoming the global entrepreneurship/skill epicentre? It is the lack of entrepreneurship and practical-teaching culture that the country is dealing with. However, our institutes too did not take any step to create entrepreneurship/skill-based programmers to instil this culture within the young minds right from the school days. But at ISME, Meena Desai (Associate Dean) is working on bringing a change in the thought process through immersive and practical learning.
Meena, with a teaching experience of 17 years, has been instrumental in being a pioneering member of a new age institution for undergraduate and postgraduate programs with a focus on management & entrepreneurship. In the last three years, since ISME's inception, she has worked on transforming the lives of over 7000 students with specially curated workshops in design thinking, leadership, creativity and entrepreneurship. Meena has also impacted over 3,000 educators with similar workshops to enhance the 21st century teaching-learning.
Let us talk to Meena to understand her more including her strengths, strategies, and her future roadmap.
A M.Com graduate, what persuaded you into academics?
I got into academics by accident. I was offered a short assignment straight out of M.Com to teach undergraduate students at the prestigious HR College of Commerce & Economics in Mumbai while looking for opportunities to work in organizations within the Human Resource field. 17 years later, I feel this was the best decision of my life to be able to impact young adults at the undergraduate level.
Tell us more about your educational qualification & experiences, and how it is enabling you to offer the best to your students?
I completed my B.Com from HR
College of Commerce & Economics and pursued M.Com from the University of Mumbai. Apart from being the recipient of a fully paid Capacity Building Scholarship for a Masters in HRM at the University of Westminster, London, I also hold a Post Graduate Diploma in Education Management from NMIMS University, Mumbai. Currently, I am pursuing my PhD from the University of Mumbai in the area of Corporate Social Responsibility.
Meena's understanding of the needs and aspirations of the young adults has led to the creation of unique workshops in the areas of Leadership, Management and Entrepreneurship
Having been associated with ISME since its conception, we have curated the undergraduate program at ISME which is Business Management & Entrepreneurship (BME). Currently, I lead the Admissions and Outreach Activities of the programs and teach Organizational Behaviour at the second year of the program. Besides, it has always been my endeavour to bridge the industry-academia gap by forging strong linkages with Indian and global corporate houses to organize conclaves, seminars, workshops and facilitate placements for students. My firm belief in action-based learning has ensured that all theoretical concepts are reinforced in a practical manner within the college ecosystem.
How are you creating a fertile ecosystem for entrepreneurship and skill-based professionals in the country?
We launched ISME with the BME program, which offers an experiential three years program with core subjects in Management, Finance, Marketing & Entrepreneurship. In 2019, we launched the Business and Liberal Arts (BLA) program – a unique program offering a blend of business along with liberal arts courses. Further, we are a corporate campus in the heart of Mumbai and are housed amidst a 109 leading corporates.
As a new age institution, we understand the needs of the industry and focus on skill-building that will bridge the gap between campus to corporates. We are working closely with the corporate and government organizations on projects which will create impact. As far as pedagogies are concerned, a practical learning approach is the need of the hour, and that is something we are leveraging through our strong corporate connect.
My understanding of the needs and aspirations of the young adults has led to the creation of unique workshops in the areas of Leadership, Management and Entrepreneurship, which in turn become wonderful learning opportunities and mind-set openers for career opportunities in these fields.

That's really impressive! Your journey too would have been a roller coaster ride. Kindly throw some light on it.
ISME has been a thrilling journey. It has pushed me beyond my capabilities. I thoroughly enjoy curriculum development, interacting with parents and the young students. The challenge though has been to keep-up with the expectations, especially since we are offering a revolutionary program which is unique from the conventional undergraduate programs available in the country. Entrepreneurship especially has been truly exciting – to learn, unlearn and to deliver it in the classroom.

What are the future plans in pipeline?
We aspire to attract students who are looking at education through a broader lens, which is multidisciplinary and allows the students to explore avenues in Management, Design, Media, Entrepreneurship and Liberal Arts. The focus is on providing a platform for students to either start-up their own entrepreneurial venture, scale-up their family business, or step-up the corporate ladder.

The way you indulge in uplifting the ecosystem requires huge time & effort. How do you manage this along with your family?
Nothing is possible without the support of your near & dear ones. I am blessed to be supported by my spouse, parents and my young twin girls who encourage me to don various hats. Over time, I have learnt to strike a balance between work & home, trying my best not to compromise on any of my responsibilities.

Meena Desai, Associate Dean
With a teaching experience of 17 years, Meena firmly believes in action-based learning and has been awarded the 'Emerging Woman Leader' by the Higher Education Forum in 2016. She strongly works to bridge the gap between industry-academia. Prior to ISME, she has been a full-time faculty and coordinator of the Unaided Programs at HR College of Commerce & Economics, Mumbai.

Favourites:
• Hobbies: Travel, Dance
• Destinations: London, New York & Goa

Words of Wisdom:
Take that chance, believe in your instincts and aim to create value in all that you do. Impact, Inspire, Involve – this is what always works for me!