Achintya Acharya: Refabricating The Semiconductor Space Of India & Japan Through The Advanced Technological Innovations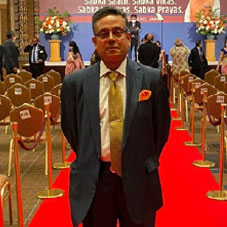 At a predicted CAGR of 12.2 percent over the projection period of 2022–2029, the Global Semiconductor Market is expected to increase from $573.44 billion in 2022 to $1,380.79 billion by 2029. Globally the exponentially rising consumer electronics device application is credited for driving the Semiconductor market's expansion. HTL Co. Japan Ltd. has emerged as a leader in the Semiconductor space with Digital transformation including designing its Electronic and Electrical equipments, Nanotechnology along long with its advanced Software development, which are approved and adored worldwide.
Established in Japan in 1994, HTL Co Ltd gradually cemented its international presence by covering many South east Asian countries, including India, America, Europe and Japan. The company owes its success to Achintya Acharya, an accomplished businessman, who established HTL. Co. Ltd with the aim of keeping up with the latest Digital technologies and creating products with the most advanced technology for the consumer benefit. By the virtue of his and his employees with expertise in Semiconductors, Flat panel display, 3D Printers, and its related Digital transformation Software, the company grew manifold in a short span of time supporting critical products for the Global customers for Semiconductors.
Here are some highlights from our interaction with Achintya Acharya.
With the ongoing chip shortage worldwide, you have been continuing to serve the Customers well; what other risk factors have you taken, & what is outstanding that you better serve customers?
We operate in an exclusively technologically-driven and dynamic industry. Advancing very quickly, technology is an ongoing market trend that has been evolving continuously. Often the company has to take significant risks like getting involved with new technology that we are still learning about. It does not just include research but also investing in it despite the recognition that it can very well fail. Fortunately, we are able to pick up the positive momentum and attack all the issues and adapt to the new technologies quickly. Further more, my engineers successfully predict the future business technologies that can
bring efficiency & productivity for my
customers and they continuously evolve with their system. Our Patented AI product on Defect Detection & Imaging Technology at a Nano level has high appreciation from our loyal customers worldwide. We are also quite fortunate that most technologies we adopt were able to be realized in real environmental production.
Our business is growing rapidly, & we have also jumped into the Make-in-India Initiative for Fabs of Semiconductors and Flat Panel Display
What is your advice to the new customers who plan to partner & collaborate with HTL Japan?
Indian businesses & businessmen are notorious for negotiating too much. It is, in fact, a prevailing opinion in the American and Japanese markets, which often leads to them not wanting to conduct business in India. There needs to be a middle ground. I always advise our customers that there needs to be a balance. Firstly, the time taken to negotiate, & get the budget approved needs to be reduced drastically . A lot of businesses take 2-3 years to close deals, & by that time, the technology is already old & replaced by new. Secondly, if prices desired & purchase budget are too low, then the machines delivered & the technology used in them would be affected. While it is important to have a budget, it is crucial to have realistic expectations. The core focus must be on getting the most advanced technology, even if at a higher price. We welcome our customers who look for productivity in their systems through our Digital Transformation technologies on High-tech Industria lEquipment Automation, AI-based Computer Vision, Image processing, Digital Twin, Deep Learning Neural Network Technology, Machine Controls & Learning, Data Analytics & Digital Manufacturing along with our Human Centric Society AI Solutions that can make their systems simple and bring in their
continuous growth.
What is HTL Co. Japan's technological Road map? Additionally, what activities have you devised to support the Make-in-India initiative?
HTL Co. Ltd was established in 1994 in Japan at a time when technological advancement was very high. Indian companies like Wipro were still in the primary development phase and wanted to enter the Japanese market. So, we were introduced to Wipro, who were asked to work with us by the Indian Embassy in Japan for them to gain handle on the Japanese market. We worked closely with Ashok Soota, Azim Premji to help them get started with their software
development in Japan with dedicated support by my partner Tetsuro Iida, President of Toyo Systems. Since I have expertise in the Semiconductors space, we were also contacted by various American, European, and Japanese companies to help with Hardware development as well. Now with the ability to integrate both the Hardware and Software technology, we were able to utilize the complete potential of our firm. So through this partnership, both sides were winning as the Indian companies were gaining expertise in new areas, and we were getting operational help through the Indian operations.

Our business is growing rapidly, & we have also jumped into the Make-In-India Initiative for fabs of Semiconductors, Flat panel display and 3D printers. HTL Semiconductors also appeared on the Indian media when our honorable PM Modiji was in Japan in May 2022. We are excited on his support for Semiconductors & Make-in-India. As discussed earlier we are committed with honorable PM Modiji's initiative and intouch with PMO, New Delhi on the same. Our clean room in Bangalore is the reflection of our passion for Make-in-India semiconductors & we are looking for corporate partners in India to join our hands in this Semiconductor initiative.

Based on your strong professional experience, what advice would you give to the upcoming leaders in the same industry?
The Semiconductor and Flat panel display space are a humongous project for India, so my advice would be to join hands, collaborate and work together and make sure we make India successful & also for our future generations. Our upcoming Semiconductor leaders need to continuously focus on the faster design cycles in the Semiconductor equipment, adopt to greater rate of change and have a multi-disciplinary collaborative approach to be successful. It is also important to buy brand new and latest equipment for their planned projects to be successful and not to bring in second hand old equipment into India.

Achintya Acharya, President, HTL Japan Co Ltd.
Achintya is an expert in Semiconductors, Flat panel display, 3D printers, Digital transformation, AI Digital manufacturing & its software development. After pursuing his Bachelor's degree at IIT, BHU in Varanasi in electronics and electrical engineering, he went ahead to complete his master's in Control systems and Instrumentation from IIT Delhi. Establishing HTL Co. in Japan in 1994, he entered the market at the peak of technological advancement and has been helping the company to grow exponentially under his masterly guidance together with his dedicated colleagues & support of family members, partners and customers.