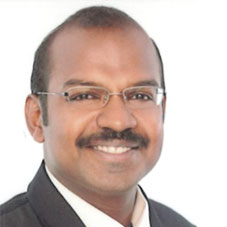 NTU alumni have achieved great success and made major contributions in their respective fields. These span from groundbreaking research to the creation of profitable businesses based on novel products and services. Alagappan Annamalai is an NTU alumnus who has spent several years at the forefront of Ja security and innovation. He earned a Bachelor of Engineering Degree (Hons) in Electrical and Electronic Engineering from NTU in 2003. He is a smart and resourceful engineer with an analytical mind and great people management abilities. Always on the lookout for new challenges. After working with MNCs such as Continental Automotive and Philips, he chose to launch his own company, VM Innovations, to grow a business of his passion.
In an exclusive interview with CEO Insights magazine, Alagappan walks us through his professional journey along with the unique traits of the organization.
Please elaborate on your professional background. What prompted you to establish Ja Security and Innovations?I graduated from NTU in 2003 which was only the early post-SARS period, and the job market was a little difficult at the moment.Eventually, I joined the Ministery of Education here in Singapore as a teacher and left after six months to become an engineer with my first company, which was a contract manufacturing company doing EMS. This was probably my first milestone because it was when I actually did what I had studied or been academically trained for. In early 2006, I began working for Continental Automotive as a product test, and validation engineer. During my tenure at Continental Automotive, I was trained in Germany for 6 months and gained a lot of knowledge about development.
Thereafter, in 2012, I joined Philips as a senior project and service engineer stationed in Singapore. That's when I realized I should start putting my skills to use and try to build something on my own. So I founded Ja Security and Innovations
in 2013, as a Cybersecurity service provider then eventually moved into GPS tracking and finally became an IOT (Internet of Things) company that handles application development and solutions for companies that need tracking, facilities management, and more towards emergency response systems.
Keeping the faith, upholding work ethics, & delivering on promises to clients has undoubtedly been my philosophy
How did Nanyang Technological University (NTU) Singapore help you become a successful industry leader?
I believe I learnt the correct engineering fundamentals at NTU since Nanyang Technological University have design courses that truly pushed us. I attended junior college before transferring to NTU. As a result, we lacked hands-on experience with engineering. But NTU bridged that gap by having design modules, which really allowed us to see how to apply what we learned from classrooms to actual day-to-day life situations, in laboratories, so I think I would have appreciated the engineering principles that were taught. I think NTU was really useful in developing that skill of understanding theory and converting and applying it practically into day to day life solutions.
What are your primary functions and responsibilities at Ja Security and Innovations as CEO? What is your company's distinct value offering to its customers?
Ja security takes pleasure in being application and solution providers. We specialize in Internet of Things solutions. Internet on Things is simply getting everything on the internet and trying to see things wirelessly. In Ja, we listen to our customers, understand our customers and their pain areas, and then we design solutions that satisfy the requirements and solve their problems. I believe that as an IOT company, we are one of the pioneers in producing IOT solutions. We were already developing beacon technology in the 2017-18 time frame. Our unique selling offer is that, as pioneers in IOT, we have solutions that are much more mature and proven in the industry.
Reflect on some of the major challenges you have experienced in your journey so far? How did you overcome them and what did you learn from them? What is your success mantra?
As an entrepreneur, I suppose failures and disappointments are inevitable, not only in the early days but also later on. Even as you mature the typical phrase is failure precedes success. In my professional journey thus far, selling concepts was one of the biggest challenges. When we started in 2013, I believe the trend was still not particularly towards IOT there are still a lot of prejudiced views about IOT being a dream but not being able to take on. It was difficult to convince clients and I believe that the key is to persuade one or two people before delivering the solutions that we had proposed. Once we did that, we were able to persuade the customers that we can provide solutions.

When it comes to my success motto, I would say it has been to endure regardless of the scenario or how difficult the going becomes. I think keeping the belief, maintaining the work ethics and delivering what was promised to the customers has definitely been my mantra. I think perseverance, and a mantra that frequently always comes into my mind is when the going gets tough, the tough gets going. So that's what I think I enjoy. I like to think of myself as a tough person who doesn't give up easily, and that's definitely my mantra.

What changes in market behaviour do you predict in the future and what possibilities do you see?
I believe market behaviour will follow suit with the new normals. And with the market reopening, I believe businesses are looking to make up for lost ground. So I see businesses approaching me to learn more about solutions and to put them into action. We want to ride this tsunami of opening up and,of course, create additional solutions. But now that individuals are coming into the office, they are more geared toward having upgrades, automation, and IoT come in to making people's life simpler. People's productivity while working from home has increased as a result of the IoT I believe those who wish to work from home will find it easier to do so.Thus, we find ourselves in the right place at the right time to ride this trend of giving solutions that are easily accessible online for everyone to access and then make decisions. So we intend to ride this wave and then develop with it.

Alagappan Annamalai, Director, Ja Security & Innovations
Alagappan graduated from NTU in 2003 with a Bachelor of Engineering Degree (Hons) in Electrical & Electronic Engineering. He is a resourceful and skilled engineer with a high learning curve, an analytical mind & exceptional people organizational skills.