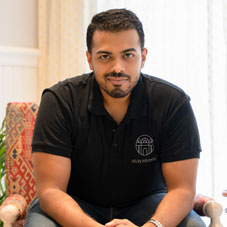 The private vacation homes industry has been rapidly growing in recent years as expenditure on travel, vacations, and accommodation among the millennials' generation is increasing. However, the industry has faced a major challenge in terms of consistency and professionalism. Many private vacation homes lack a high level of hospitality and service likehotels, which can make the vacation experience unpredictable and unsatisfactory. Ankur Mathur, the co-founder of Staymaster, recognized this issue and set out to solve it by creating a platform that offers not only a wide range of private vacation homes but also a high level of hospitality and consistency of experience. Ankur has done engineering from the University of Pune and also holds a master's degree in entrepreneurship and management from Imperial College London. We recently engaged in a one on one interaction with him, let's read.high level of hospitality and consistency of experience.
Give a brief account of your professional journey.
I graduated with a major in engineering from the University of Pune in 2012 and was awarded the prestigious British Chevening Scholarship to pursue a master's degree in entrepreneurship and management at Imperial College London. During my time in the UK, I gained valuable experience in entrepreneurship by serving as an entrepreneur-in-residence at a college technology incubator. Upon returning to India, I was offered a position to lead supply acquisition for Airbnb in the West-Indian market and assumed a leadership role at We Work. After a decade of working in the corporate world, I co-founded Staymaster, an online platform that offers handpicked private vacation homes for people to stay, host, or invest in.
What valuable lessons have you taken from the school and applied to your current professional life? What are the areas in your career where you feel these experiences have been beneficial?
I would say collaborating with a culturally diverse and international group of peers can provide valuable perspectives that enhance one's
professional and personal outlook. I learned how to cultivate a strong and balanced work ethic by observing their habits. Despite the long hours and hard work, they prioritized taking breaks, pursuing their interests, and recharging. I encourage myself and my team members to prioritize selfcare, spend time with their loved ones, pursue passions, and continuously improve their skills.
My aim is to establish Staymaster as a leader in the industry by creating unique and memorable experiences
Describe your leadership approach. What is your success mantra?
As a leader who values resilience and perseverance, I prioritize creating a safe, inclusive, and supportive environment for my team. I believe in building strong relationships with each team member by providing them with the necessary guidance and resources to help them realize their full potential. I regularly provide feedback to help them stay on track and encourage continuous learning and growth. To me, resilience and grit are more important than skills. I encourage my team to view failures as opportunities to learn and grow, to remain open to new ideas, to be adaptable, and to collaborate effectively.
What significance does the Staymaster play in the hospitality sector?
Staymaster is a technology-driven platform that offers a comprehensive solution for vacation real estate, enabling users to stay, host, and invest in private vacation homes throughout the country.
Our distinctive branded hospitality ensures that guests enjoy the comfort of home and the service level of a hotel, providing an unparalleled and genuine travel experience. Each of our homes are thoughtfully designed to meet all travel needs, offering exclusive and private spaces with numerous amenities and the highest standards of hygiene, sanitization, health, and safety. We also provide round-the clock guest support and concierge services, delivering a personalized level of service. We are revolutionizing the way people stay at Staymaster.
What factors do you consider while creating successful company growth strategies?
My approach to formulating effective corporate growth strategies involves a strong
emphasis on data analysis and a focus on developing profitable and sustainable solutions that offer significant value to customers. In my opinion, successful growth strategies are built around three critical factors: customer satisfaction, risk mitigation, and innovation. I believe that understanding customers' needs and feedback is essential for identifying and solving problems. Therefore, I prioritize delivering value to the end user and use Net Promoter Score (NPS) as a key metric for measuring the success of my strategies. In addition, I proactively anticipate potential risks and challenges and integrate resilience measures to ensure long term sustainability. Finally, innovation is a key component of my growth strategies, enabling my clients to create competitive advantages and identify long-term growth opportunities.

How can you foster a culture of learning among your team so they can gain important market insights
strongly endorse cultivating an inherent learning environment in my teams. I encourage my teams to make decisions fearlessly while guiding them through the process and ensuring that they learn from their errors and progress in their thought processes. I foster innovation, welcome fresh ideas, and assess the risks and rewards before implementing strategies. While we acknowledge our accomplishments, we concentrate on rejoicing and exchanging our learnings in a pleasant manner.

What is the future destination you are heading towards?
My journey is closely tied to Staymaster and my goal is to expand the company's services and teams across different regions, making it a successful and socially responsible hospitality company. My aim is to establish Staymaster as a leader in the industry by creating unique and memorable experiences, with the goal of making private home vacations more accessible and popular in the future. Apart from this, I also have the desire to mentor startup founders and share my knowledge and contribute to my NGO's efforts to improve education for marginalized communities.

Ankur Mathur,Co-Founder, Staymaster
Ankur is a highly accomplished business leader and strategist with extensive expertise having worked with some of the largest publicly listed tech unicorns like WeWork and Airbnb. He brings to the table meticulous attention to detail and an analytical approach, with a focus on innovation, customer experience and sustainable growth.