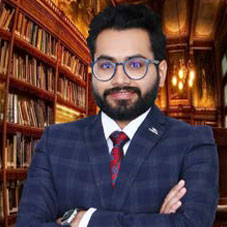 An educational institution's success is reflected through its alumni; the benchmarks they've set, and the path of change they've followed. Producing such leaders is only possible in an environment that cultivates the best minds, shaping them into leaders, change-makers, and achievers. It's no secret that Imperial College London promises to produce such new-age leaders. One such successful alumnus of Imperial College London is Kartik Dhawan, who brings a wealth of knowledge and expertise to his role as Director at Rockpecker. His unique combination of technical knowledge in engineering and business acumen has propelled the company to new heights, solidifying its position as a leader in the industry.
Join CEO Insights as we delve into the story of Kartik Dhawan, and discover the secrets behind his success and his vision for shaping the future of engineering.
Give a brief account of your professional journey.
My interest in engineering came from my family that has been in the sector. After completing high school in the UK, I gained valuable experience in the engineering industry during a gap year, working and traveling in various countries across Europe, Kuwait, Malaysia, Egypt, and more. This provided me with a solid understanding of the challenges in the field and helped me define my career goals.
I then continued my education and earned a degree in mechanical engineering from Imperial College London, all while working part time to keep up with industry developments. Upon graduation, I saw an opportunity to contribute to the growing engineering space in India and decided to move there to establish new engineering plants and a state-of-the-art Center of Excellence for Engineering. This move has proven to be successful, as we have seen rapid growth in the business and have even established joint ventures with international partners.
Our joint venture with Ecotile, industrial flooring has already resulted in exports to several
countries, and we are continuously exploring new opportunities to expand our reach and impact. It has been an exciting and fast paced journey. I am enjoying every single second of it and grateful for the opportunities and experiences that have come my way.
What are important lessons you inculcated from the Imperial College London and carry in your professional journey today?
Choosing Imperial to study is the best decision I have made in my academic and professional life. I say this not because of the curriculum or Imperial's prestige, but because of the culture, it ingrains in its students. The culture of focusing on the fine details of not cutting any corners of leading your industry onto new frontiers.
The company's mission is to push the boundaries of technology and innovation, enabling customers to achieve their goals through its cutting edge products
As part of my technical degree in mechanical engineering, the vital thing that I've learned is the importance of balancing theory and practical knowledge. In many engineering environments, the practical often overrides theoretical principles, which can affect the long-term outcomes often difficult to foresee at the time. I have made it a priority to ensure that at Rockpecker, everything we do is driven by theoretical logic, and grounded in scientific and engineering principles, resulting in better outcomes and more efficient processes.
Describe your leadership approach. What is your success mantra?
I am a strong advocate of bottom-up leadership and believe that empowering my team members is key to success. When every single team member understands and appreciates their role in the overall goals of the organization, they automatically take ownership of their work and the managerial work is eliminated. This is also far more motivating for the team members than being allocated mundane tasks and being micro managed.
At Rockpecker, we approach our business as a family, with every member playing a crucial role in the family. By fostering a culture of ownership and responsibility, I am confident that we will continue to achieve our goals and drive growth for the company.
Define Rockpeckers role in the Engineering space.
Rockpecker is a leading player in the engineering space, offering a diverse range of products and services through its three distinct business verticals drilling tools and accessories electro mechanical assemblies and Ecotile flooring. The company's mission is to push the boundaries of technology and innovation, enabling customers to achieve their goals through its cutting-edge products. The widespread availability of Rockpecker's drilling tools, with warehouses and product service centers in the UK, Australia, and India, is a testament to the company's commitment to delivering high quality solutions to customers around the world. Ecotile flooring in particular, has taken the industrial flooring sector by storm with its industry first 10 year warranty on tiles. In response to the growing demand for Ecotile in the MENA and Asia regions, Rockpecker recently inaugurated a new plant in 2022, further demonstrating its commitment to meeting the needs of its customers.

What are the sustainable practices you have implemented to ensure environmental responsibility? What is the future destination you are heading towards?
All new Rockpecker buildings are being made with carbon neutral construction materials. We are now constructing a state-of-the-art engineering excellence center in Punjab, India wherein sustainability is a huge focus. We believe in taking a proactive approach to environmental protection, which is why we are implementing sustainable practices across all areas of our business; while investing in renewable energy for our operations. In addition, our Ecotile flooring range is fully recyclable and we run a complete recycling program for our customers.

Currently, Rockpecker has six plants in India, two plants in the UK, and one in Australia. Our immediate goal is to expand our presence to Dubai catering for the MENA region and Texas-catering for the North American market. The motto of Rockpecker is to generate sustainable growth for all stakeholders including the public, staff families, and the environment. We are proud to be supporting 500+ families with our operations globally.

Kartik Dhawan, Director, Rockpecker
With his unwavering commitment to innovation and his dedication to his work, Kartik is a driving force in the engineering community, pushing the boundaries of what is possible and paving the way for a more sustainable and efficient future.