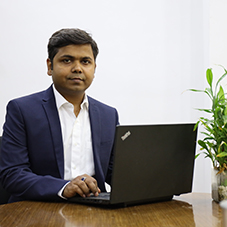 This void was aptly filled when Apis India, a leader in the organized honey trade in India forayed into the FMCG sector with its signature honey under the brand name of Apis Himalaya in 2016. Playing on its decades of industry expertise and large manufacturing capabilities, the company has gradually added a wide variety of dates, preserves, green tea and pickles to widen its roster of consumer products. Poised as the best value for money brand in its segment, within a short span of three years, Apis has become one of the top three players in the market in honey category. The CEO Insights team sat down with Pankaj Kumar Mishra, CEO, Apis India to gain an insight into the company's foray into the FMCG market, its marketing strategy and roadmap going ahead.
What factors influenced Apis India which was known to be a B2B player to foray into the FMCG market with its own brand?
For the last two decades, we have been a traditional B2B business house with expertise in sourcing, exporting and private manufacturing of honey for several Indian brands. By 2015, we had become the top player in the honey export segment and were experiencing 30 percent CAGR growth. The management then realized that in order to maintain our growth momentum and to reach our long term goal, we would have to foray into the consumer space. Thus, we launched our signature line of honey in 2016 under the brand name of Apis Himalaya and gradually added other products to our roster for most of which we have dedicated world-class inhouse production
capabilities.
Tell us about your products and what makes them different? How do you ensure the quality of products during the manufacturing process?
Honey has been our flagship product since the beginning, and we are immensely proud to bring a product to market that is procured through responsible sourcing through a wide network of beekeepers spread across 15 Indian states. While other players may have one or two variants in the honey segment, we have introduced about 10-15 honey variants which include organic honey, raw honey, acacia honey, honey with royal jelly, lychee honey, black forest honey and eucalyptus honey, among others. Several of these specialty honeys are exported to more than 29 countries including US, Canada and Europe.
We focus on localized BTL activities that help us create brand visibility, and the entire strategy is supported by an aggressive ATL campaign along with continued digital support
Other than our variety, our high quality products and manufacturing capabilities have helped us gain a stronghold in the industry. Owing to our presence in the international market, we adhere to international standards of quality such as ISO 22000, a certification forthe documented procedures that applies to Food Safety framed by International body besides ORGANIC, TUV, USFDA, KOSHER, EIC, APEDA, and FMCG certifications.
Once the honey procured from beekeepers reaches our facility, it undergoes over 50 tests to ascertain its quality. Another interesting facet is that we do not believe in selective sampling which is the industry norm but conduct 100 percent sampling. The honey also undergoes several checks during the manufacturing and processing phase.
In terms of our other products, we procure raw materials such as dates, mango, ginger and garlic from all over the world and send them to the factory where grading and quality checks are performed. From there, the products go to the cold storage and then to the deep freezer in order to eliminate any contamination and infection. Following that, the products
are moved to the processing line where cleaning, washing and drying is done post which it undergoes nitrogen flushing to improve the shelf life and packaging.

Who is Apis India's target audience and what marketing strategy is the brand leveraging to catch the buyers' fancy?
Our target audience is the average Indian women who run a household, and we have been investing heavily in order to increase our brand recall among our target audience. We focus on localized BTL activities that help us create brand visibility, and the entire strategy is supported by an aggressive ATL campaign along with continued digital support. Also, we believe that going forward, digital marketing will gain more relevance. Therefore, we are focusing strongly on digital platforms in order to promote our brand. We have worked on minute brand details such as consumer friendly packaging and consumer trails to gain more consumers through experience.

Already having gained one of the top spots in its segment, how is Apis India working towards accelerated growth in the years to come?
The market for health foods is only going to grow in the years to come, and Apis has put an effective supply chain in place to keep-up with this growing demand. In terms of products, we have been working on adding five new product categories in the next 18 months. In fact within next two weeks, Apis is going to launch Hummus in the Indian market. The product has a shelf life of 18 months, which has been unheard of in the Indian market.

While we already reign supreme in the export market, our next growth strategy is to focus on the European market to further grow our strong hold. Additionally, Apis is gearing towards setting-up a factory in Dubai which will be operational in next two quarters. The factory will help expand our control on the Middle Eastern, African and European markets.

On the domestic front, we have been growing at 100 percent YoY and are now looking to cut-down inefficacies in our system to maintain consistent growth. We are also in the process of procuring land for setting-up our biggest ever factory in UP which will be dedicated towards honey, dates and centralized warehousing and cold chain.

KEY MANAGEMENT
Pankaj Kumar Mishra, CEO
Offerings: honey, value added honey, pickles, jam, preserves, dates, green tea and macaroni

Offices: New Delhi