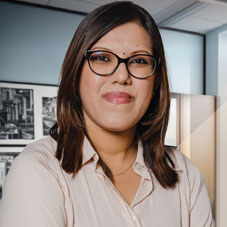 CEO Insights magazine recently had the privilege of having a one on one interaction with Ashvini Radhoa-Nowjee, where she shared more about her journey in this industry. Let's read to know more.
Can you please provide a brief overview of your professional background and experiences? What drives your daily routines?
I embarked on my professional journey in 2002 within the Finance department of an academic institution. In 2009, I seized an opportunity to relocate to Guernsey and assumed the role of senior analyst at an international bank. During my tenure there, I gained extensive expertise in fund administration and accounting, particularly in producing net asset values (NAVs) for various funds, including those listed in London. Returning to Mauritius in 2013, I joined an international corporate services provider, where I led teams delivering accounting services to diverse clients across sub-Saharan Africa, Malta, Luxembourg, the UK, the Isle of Man, Monaco, the British Virgin Islands, the Cayman Islands, and Latin America. Taking on the position of Chief Finance Officer and
Executive Director at Heimdall in 2018, I have been resolute in driving the company's progress.
What genuinely motivates me every day is my passion and dedication to go above and beyond for both my team and clients.
We strive to remain at the forefront of innovation, consistently seeking new ways to enhance our offerings
You have accumulated more than twenty one years of experience. What has been your path to achieving success, and what principles have guided you?
Throughout the years, despite my back ground in accounting, I recognized the significance of continuously acquiring knowledge across various facets of the financial industry. This realization has propelled my career growth and expanded my perspectives.
My success mantra revolves around embracing a strong work ethic. This entails whole hearted dedication, unwavering diligence, disciplined approaches, and a willingness to go above and beyond to deliver exceptional outcomes. Additionally, I prioritize fostering robust relationships with clients, colleagues, and industry experts. I consistently strive for self improvement, adapt to industry changes, and provide value to my team, clients, and organization.
Why did you choose Mauritius as the base for your company? How has the location supported your operations thus far?
Mauritius has emerged as a premier global financial services center, making it an ideal choice for establishing our company. Situated strategically in the Indian Ocean, it serves as a central hub for businesses operating in Asia, Africa, and the Middle East. The country boasts a robust legal framework, well-established regulatory institutions, and a reliable judicial system, providing a stable environment that instills confidence and security in business operations.
Mauritius offers enticing tax incentives, such as a low corporate
tax rate and no capital gains tax, which further enhances its appeal. Moreover, the absence of exchange controls facilitates the smooth repatriation of profits. The nation's thriving financial services sector, coupled with a skilled workforce and an attractive quality of life, contribute to the overall attractiveness of Mauritius as a favorable destination for conducting business.

How would you characterize Heimdall Mauritius as an organization and its current position in the market?
We firmly establish Heimdall as a leader in its industry, a recognition that extends beyond our organization. In fact, we have been nominated as the 'Best Financial Management Company 2023 - Mauritius' in the prestigious Worldwide Finance Awards 2023 hosted by Acquisition International. Our approach centers around placing our clients at the core, tailoring our services to meet their specific needs. We strive to remain at the forefront of innovation, consistently seeking new ways to enhance our offerings. Above all, we foster a culture of respect for both our valued clients and the members of our dedicated Heimdall family.

Share with us your approach to leadership. What principles or methodologies do you employ to guide your team?
I cultivate a collaborative work environment that values and appreciates the contributions of each team member. I place trust in the capabilities of my team and strive to grant them autonomy and the necessary resources to achieve their objectives. Empowering my team members is a priority, and I actively support their growth and development through mentorship, coaching, and training opportunities, enabling them to enhance their skills and reach their maximum potential.

I firmly believe that a contented work force is essential for maintaining a thriving organization.

What is the ultimate goal you are striving for in the future?
For the years to come, our primary objective would be to expand our client base, drive revenue growth, and broaden our service offerings by forming strategic partnerships with firms in different jurisdictions.