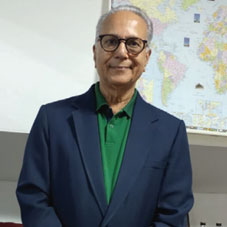 Driven by consumer preferences and changing market trends, the alcoholic beverages industry has experienced remarkable growth and transformation in recent years. According to the reports by Statista, the revenue in the Alcoholic Drinks market amounts to $ 1.6 trillion in 2023, and the market is expected to grow annually by 5.42 percent with a compound annual growth rate of 2023-2027.
As highlighted by Mintel's Global Alcoholic Beverage Trends, consumers are seeking unique and high-quality products that offer a distinct flavor profile and an immersive drinking experience. This shift in consumer preferences has opened up opportunities for innovative companies to thrive and capture a significant market share.
Within this competitive and rapidly evolving industry, one name stands out as a symbol of innovation House of Lords Beverages(HOL), located in Mer Rouge, Port Louis, Mauritius. At the helm of this esteemed organization stands Dr. Sukhbir Puri.
With over four decades of experience, Dr. Puri brings a unique combination of marketing and manufacturing & supply chain operations expertise specifically tailored to the alcoholic beverages sector. His deep understanding of consumer behavior, coupled with his strategic thinking and implementation skills, has earned him a reputation as a distinguished leader in the field. CEO Insights Asia is thrilled to interview him.
Could you please share your journey with House of Lords beverages?
Certainly! HOL is a brainchild of a friend & myself, and we laid its foundation in 2016. It has been a remarkable journey filled with both triumphs and challenges. One of the most gratifying aspects has been the opportunity to create and nurture my own brands and witness their growth in the market.
However, like any business venture, we also encountered difficulties in commercial matters, particularly in dealing with individuals or entities who do not honor payment terms. These situations have presented their fair share of ups and downs.
Never the less, despite the challenges, I can confidently say that I am genuinely pleased to be a part of HOL and driving it. I am driven to make it thrive; and witness the continued success and expansion of my brands in the inter-national market with most of them earning International Awards.
House of Lords Beverages remains at the forefront of innovation, deli-vering exceptional products and experiences to consumers while maintaining a strong commitment to profit-ability and sustain-ability
How would you characterize the current market position of HOL?
HOL holds a distinctive position in the international market, thanks to its exceptional portfolio of brands that have garnered widespread appreciation. Notably, we proudly stand as the sole company in Mauritius to possess the prestigious Fair-Trade certification, highlighting our commitment to ethical business practices.
Our reach extends beyond national boundaries, as we supply our products to esteemed markets such as Singapore, Sweden, France, and are eagerly preparing to venture into Norway. Furthermore, we have established strong partnerships with customers, expanding our presence in regions like Ukraine, India, and various countries across Africa continent.
How would you describe your leadership approach?
I actively engage with my team, working alongside them, understanding their challenges, and seeking solutions together. This hands-on approach provides me with firsthand knowledge of their concerns, enabling me to provide effective support. I prioritize accessibility, creating an environment where team members feel comfortable sharing personal and professional issues. Continuous development is crucial to my leadership style, as I believe in the importance of training and providing guidance regularly. Through ongoing training sessions, we enhance our skills and knowledge, staying updated and proficient in our roles. Consistent self-learning has been instrumental in my journey from a Foundry chemist to leading the Food & Beverage Industry.
What apart from this do you cherish as a leader?
I am proud to have been recognized as the "BEST MENTOR" for the Western region by Bhartiya Yuva Shakti Trust, an NGO aligned with Prince Charles Foundation. CSR activities continue at HOL, with Le Morne Mauritius Gold Rum contributing to Le Morne Heritage Trust Found. We prioritize environmental friendliness by reducing the weight of glass bottles and using sustain-able paper products. By engaging in mentorship and CSR initiatives, we aim to make a positive impact on our community and contribute to a sustainable future.

What are your expectations regarding potential market developments and opportunities?
In terms of market growth, I firmly believe that sectors such as food, clothing, and housing will continue to experience steady and continuous growth. Human nature drives us to explore new and exciting offerings, and this demand fuels the expansion of these markets. To capitalize on these opportunities, it is crucial to maintain an innovative approach and have a deep under standing of the customer profile we cater to.

At our company, our motto is to "make lips smile". When someone indulges in one of our brand's beverages and experiences genuine satisfaction, it brings a smile to their face. This customer-centric focus and commitment to creating positive experiences are key factors driving our success.

Furthermore, we pride ourselves on adopting the local culture wherever we operate. We are current company tag line is Mauritian at heart International in spirit the point being; while we are rooted in Mauritius and support the local economy by sourcing local ingredients and employing local talent, we also embrace an international spirit by getting the best of practices & ingredients to make our brands so unique. This unique blend allows us to leverage the best of both worlds, infusing international flavors and expertise into our products while remaining true to our Mauritian identity.

Dr. Sukhbir Puri, Managing Director, House of Lords Beverages
Besides being a business leader, He is dedicated in mentoring programs and philanthropic initiatives. He was recently awarded International Business Excellent Award – 2023 by Global India Business Forum apart from various awards during his professional journey in i973 from Escorts to Foseco India to Diageo to Tilaknagar Industries.

Dr.Puri holds Ph.D. degree in Chemistry apart from various certificates under leadership, management, finance, personnel etc.