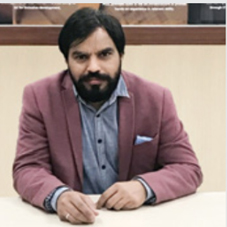 In 2019, India officially launched the 'The National Clean Air Program', aiming a national target of 20-30 percent reduction in PM2.5 and PM10 concentrations by 2024, while 2017 will be the base year for comparison. But Ashok Chahar, the Founder & CEO of AviZo – an indigenous air purifier brand, had on-boarded this national mission of healthcare in 2016 by launching AviZo and introducing a world-class air purifier with special anti-bacterial coated HEPA filter and a plethora of advanced features.
AviZo is best known for its product & service excellence, while its innovative features and international quality standards have also been on the limelight for a while now. This indeed has a great deal to do with AviZo's vision to contribute to the national healthcare, which also propels the company to offer its quality products at much better prices prevailing in the market. Placing customers at the center of the innovations and services approach, AviZo today is keenly focused on building long term relationships with its customers and representing the nation on the world forum in the next five years. To explore the inside story of AviZo, CEO Insights engages in an exclusive interview with Ashok.
What were the initial challenges you faced as an entrepreneur while launching such a niche product like air purifier in this competitive market, and how has your journey been so far?
The day-to-day operational & financial challenges are a part of every business. The main challenge for us was to face the blank mindset of people about Air Purifier as a product, how it works and why it is a necessity rather than a luxury. In addition, in the aftermath of customers becoming aware of this
dire need, the world of choices and making people understand how AviZo is the best fit among all others were other challenges. Hence, we took our focus beyond sales to customer delight through highly customer centric post sales services.

How well are your air purifiers designed to fulfill various customer segments' needs?
We are determined to transform every home and workplace into a clean air zone. Most of the people spend almost 90 percent of their time indoors, but aren't aware of the fact that indoor air can be two-to-five-fold more polluted than outdoors. Air purifier is the need of the hour, be it your home, office or even your car. We are offering a suitable price range starting of Rs.7,990 to cater to the diverse customer segment. The aim is to provide everyone healthy breathing air to have a peaceful mind and heart.

What additional benefits do your company's air purifiers offer to consumers that make them stand-out in the prevailing competition?
We are committed and work relentlessly to give everyone healthy breathing air by using True HEPA filtration technology with quality products at a very competitive price. Considering the need for fast paced technology advancements, we are also moving towards launching AI based Air purifiers. The advanced features of our products also include Super High CADR (Clean Air Delivery Rate), Digital LCD display, Protection Alert, Set & Relax Timer, High Precision Sensors, and Auto mode & Smart Night mode. Our products come with a premium & highly durable body and require ZERO maintenance. They also come with a smart remote controller.

How do you socialize profess- ionally?
I'm always eager and like to share my experiences & knowledge as an entrepreneur, and always willing to participate in all conferences & seminars, but often miss a few due to time constraint. I recently participated & exchanged views in one of the startup seminars, where I interacted with budding gen-next at Delhi Technological University. I do have a keen zest for creating a pool of entrepreneurs in India. So I constantly pay visits to various Universities, Colleges and Institutes.


Family plays an important role in every person's life. How has your family supported you in your career so far?
Right! Family & friends are always behind every success story. I'm also fortunate and feel blessed to have a few friends who are always there for me even before I realize their need; not to mention, a very supportive family. Family's support is very crucial and always works as my backbone, when I'm putting all my energy & time towards AviZo. One of my friends is like 'Sankkat Mochan' for me and is always there to advise & guide me in almost everything I do.
AviZo is best known for its product & service excellence, while its innovative features and international quality standards have also been on the limelight for a while now
Future plans?
We are working PAN India on a B2C model, majorly through online sales. Going forward, we are all set to start our B2B operations this year and cater to the needs of every stratum of customers. We want to add value across the customer segments.
Key Management:
Ashok Chahar, Founder & CEO
Ashok possesses 16 years of experience in different profiles, working with leading MNCs & Startups like Done by None and Amazon India. AviZo is his brainchild with the view of achieving immense height in the field of new technology that fights against pollution for a large customer base across India preliminary and world forum in the near future.
Favorites:
• Hobbies: Travelling
• Food: North Indian Cuisines
Advice to the budding entre- preneurs:
"Patience is the key of entrepreneurship. So keep trying and never quit the show till the time you achieve what you are aiming for. Meanwhile, keep yourself updated & open for amendments in all aspects".