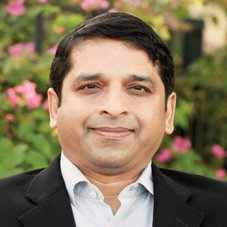 According to the World Health Organization, 91 percent of world's population lives in places with air quality exceeding its guideline limits. Strokes, heart disease, chronic obstructive pulmonary disease, lung cancer and acute respiratory infections are killing eight million people annually. And the cause for these diseases is none other than increased mortality due to 'air pollution'! Keeping ambient (outdoor) air pollution aside, household air pollution alone gulps 3.8 million lives annually.
A cardiologist by profession, Dr. Srikanth Sola (Co-Founder & CEO, Devic Earth) identified several cases of heart diseases, wherein exposure to air pollution was the only cause for the suffering. Filled with compassion on witnessing such a plight in front of his sight, determined & resolute, Dr. Srikanth set on his way to come-up with an innovative solution to take-on this dastardly disaster.
Devic Earth, the aftermath of his endeavours, is one of the pioneers in the world to offer 'Clean air as a Service' (CaaS). A green technology company, it manufactures products that reduce pollution in air, water, and soil. With sustainability as its part & parcel, and transparent & clear operations, it has created a brand value that has earned it celebrated clients such as Taj Palace, Tata Steel, Miraj Group, Alexander Architects, Airtel Delhi Half Marathon, IMA-PG India, and Procam International.
CEO Insights has the rare opportunity to interview the internationally reputed cardiologist and gain some insight into his 'environmental technology' firm, the niche market he serves, and Dr. Srikanth outside his clinic!
Kindly acquaint us with the major challenges that came your way in your entrepreneurial journey.
While the journey began in 2008 with the R&D of our products, it was only in 2018 that we could establish our 'clean technology' firm Device Earth and launch our products.
As with any new technology, customer education and convincing them of the value of clean air has been our major pain point. Educating people on the consequences of pollution, the need to address it, and the way technology works is both essential and exigent. As such, we had to provide demonstration to customers, share scientific & research journals about the technology with scientists around the world, and work with governments (both state & central), besides leveraging our strong marketing skills to cope-up with these challenges.

Please throw light on your innovative green technology products. What sets them apart in this competitive niche market?
Our unique & ultra-modern range of air purifiers, Pure Skies transmits radio waves in rapid pulses (analogous to ultrasound, but using weak radio energy) which works in the Wi-Fi spectrum, and accelerates the natural clearance of air pollutants. Contrary to other products available in market which use filters and ionization to clear environment, our technology enables us to purify much larger areas. For instance, where our competitors cover around 600-1,300 sq. ft. of area, our Pure Skies covers 150,000 sq. ft. indoors. Upfront and running costs for our products are much less. Additionally, the use of 'smart technology' in Pure Skies enables it to learn from its surroundings (temperature, wind speed, humidity, traffic density, population density, nearby pollution sources) and improve its performance over time, which is unheard from any competitor.

Coming to our product range, we offer Pure Skies 3000 (for homes), 6000 (for offices & buildings) and 9000 (for factories & heavy industries). Slim, light weight, silent, low energy requirements, simplicity (just plug & play), our products eliminate popular pollutants like particulate matter (PM2.5, PM10), carbon dioxide, nitrogen dioxide, sulphur dioxide, and volatile organic compounds by upto 80 percent.

Improving air quality by about 50 percent, they are capable of extending human lives by one year! Economically feasible as well, Pure Skies 3000 which covers 20,000 sq. ft. of area costs just Rs.200,000, while our most expensive machine costs Rs.30,00,000-50,00,000 and covers 13 square kilometers area.

Please tell us about yourself. Being such a busy man, how do you manage the work life balance?
I am fortunate to having graduated from some of the topmost universities in the world such as Stanford University, Emory University School of Medicine, and Duke University School of Medicine. A student of such repute, there were plenty of job opportunities open to me. I landed my first job at Cleveland Clinic, which is the world's best hospital for cardiology. But the desire to serve my country was always resolute in me. Hence, I returned to India and joined Sri Sathya Sai Institute of Higher Medical Sciences as a Cardiologist.
Contrary to other products available in market which use filters and ionization to clear environment, our technology enables us to purify much larger areas
On a personal level, I love meditation & yoga, vegetarian south Indian cuisines and playing with our three dogs! Also, I would to travel all the way to the jungle just to breathe some natural fresh air! Personal discipline is what empowers me to maintain the work life balance. Exercise, healthy diet, adequate sleep, and most importantly, spending time with family is my way of life.
Do you have any advice for the budding green technology entre- preneurs?
'Have a great product' and 'add value' – these are of foremost importance, for it is a great product with added values that a phenomenal customer base can be created.
Key Management:
Dr. Srikanth Sola,
Co-Founder & CEO
A cardiologist by profession, Dr. Srikanth has over a decade of experience in handling different patients with diverse cardiac diseases, including those that occur due to air pollution.
Offerings:
•Pure Skies 3000 (for home)
•Pure Skies 6000 (for offices & buildings)
•Pure Skies 9000 (for factories & heavy industries)
Office:
Bangalore