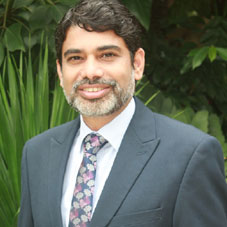 Capt. Sanjeev engages in an exclusive interaction with the team of CEO Insights.
Tell us about the journey so far at Landbridge Ship Management (HK) along with your current roles and responsibilities.
When I joined Landbridge Ship Management (HK) back in 2018, they didn't have any platform to manage their ships which means the lacunae of managing the Assets and Service sector industry. Having freshly completed my executive business education, to start from scratch and set up their shipping business, namely Landbridge Ship Management(HK). Starting from the
registration of the company to acquiring all the required certifications and building the process as well as the team for the company, I molded the company brick by brick to reach its current position in the third operational year. As the MD of the company, my responsibilities encompass overseeing the entire operations of our assets along with handling the entire company's CSR activities and environmental responsibilities. None of our operations are being disrupted because of this pandemic, as I specifically ensured that our people who have boarded the ships or are working in the office remain safe, mentally strong, and healthy.
In my journey so far, I have learned that anybody can run a company successfully, if he learns how to pass the credit, and secondly, learns how not to blame others and mitigate the debacle.From my view point, any successful business leader must have these two qualities.
I have always emphasized on creating a visionary team which played a major role in catapulting the success of the company
How does your vast experience across various domains help you to chalk out Business Operational strategies for Landbridge Ship Management(HK)?
Having spent a fair amount of my career sailing on ships, I gained a lot of insight regarding the operations happening on the ships and managing assets from the office. Since ships are considered as floating assets and they venture around the world through various destinations, it is genuinely a difficult task to operate and safely manage those ships without prolific expertise and experience. Owing to my previous experience, I had a fair idea about the commercial and financial aspects of the business, which helped me to understand and overview the entire operation from a bird's eye view.
I have always emphasized on creating a visionary team which played a major role in catapulting the success of the company. There was a situation when 2-3 of my key
members were stationed in China for months. In their absence, the rest of my team managed ongoing operations seamlessly to prevent the remaining assets from being jeopardized.

How are you adapting new tools/ techno logies to revolutionize your services to be at par with current industry standards?
Commencing my career fairly 25 years back, I have envisaged technological evolutions more intensely and I am quite sure that no one can turn his/her back towards the technological innovations happening around. The same goes for our industry as well and I have been very keen to experiment and implement novel innovations while managing our assets and carrying out our day-to-day operations on a larger scale. The pandemic has certainly compelled all of us to explore our technological limits. Integrating the available technologies to manage the assets of the organization to maximize profit was our major motto during the pandemic. Working remotely via personal laptops and mobile phones, our company started functioning entirely on a cloud-based system with streamlined communi cation and working smartly.

In your journey so far, which are the milestones that bestowed you with utmost satisfaction both as an individual and a corporate professional?
Getting command of the ship as a Captain at the age of 29 was the first milestone of my career. It sharpened my skillsets and enabled me to expand my learning horizon as a sailor. My decision to step aside and hang up my boots as a sailing Captain and switch my career to explore my future was a second milestone for me. Continuing my professional education to pursue my MBA while I was still working in Hong Kong in 2015 was the third and most important milestone of my career. It was a life changing decision and made a huge impact on me.

Capt.Sanjeev Verma, MD, Landbridge Ship Management (HK)
Capt. Sanjeev specializes in setting up new entity, getting quality approvals form the oil major companies, adapting to new technology and working towards decar burization and using green fuel.