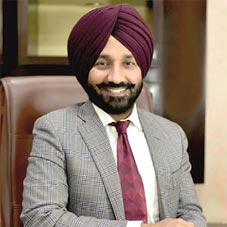 Owing to its repute of being iterative and obligatory for detailed investigation of an association's information with emphasis on measurable examination, Business Analytics is enormously supportive for organizations focused on information-driven dynamics. A perfect amalgamation of Data Analytics, Business Intelligence, Business studies and Computer Programming, Business Analytics is the investigation of information through factual and tasks. To cater to the rising demand for Analytics professionals, Chandigarh University is providing MBA with a major specialization in Business Analytics in association with IBM. Apart from this course, they have tried to add the value of analytics in all MBA Specializations by introducing Statistical Excel Modeling, Financial Analytics, Marketing Analytics and HR Analytics as core courses.
To know more about Chandigarh University, an exclusive interaction with Satnam Singh Sandhu, Chancellor is presented on behalf of CEO Insights highlighting some of the elite and unique features of the University.
Highlight the important aspects of Chandigarh University pertaining to the Business Analytics Programs of premium quality.
Chandigarh University offers MBA in Business Analytics in collaboration with IBM, ensuring many added benefits to be availed by the students apart from being well versed and coordinated with the current trends in the industry. The course focuses on developing a natural understanding of the data among the students by teaching all aspects of Business Analytics comprising but not limited to Excel-based analytics and data modeling, Descriptive Analytics, Diagnostic Analytics, Data Visualization, Predictive Analytics, Prescriptive Analytics, and many more. The curriculum covers some important tools like IBM Cognos, IBM SPSS Modeler, IBM SPSS Statistics, IBM Watson and Tableau. Apart from IBM tools, the curriculum and assessment pattern are a mix of theory, practical and industry exposure, enabling the students to learn imperative subjects like Python, Industry Analysis and Company profiling, Data Visualization for Business Decisions, Statistical excel Modeling, Functional Analytics, Digital Marketing and Web Analytics.
Throw light on the labs, libraries and other facilities provided to your Business Analytics students.
We have installed the 4 computer labs with all required tools like IBM Cognos BI, Python, IBM SPSS, IBM Watson, TM1 tools and more, as we are strongly committed to provide practical exposure and hands-on training to students to equip them with the best analytical skills. These labs are sufficiently placed to cater to all students and remain open for extra practices. Apart from these,
students are exposed to attaining real-world experience with different projects they undertake and use the tools they learn for making their research. Along with the regular projects, students undergo a Capstone project and an Internship project in the 2 years tenure. Apart from one central Library, all blocks have separate libraries flourished with the books as per the requirement of every department, analytics students are provided with the digital library open on all days to support them in all manners. We also encourage the students of Business Analytics to attend workshops that give them exposure to other tools also which might not be added to their curriculum like Tableau, R, Marketing Research and Analytics. During the complete tenure of MBA, these students get exposed to 5-6 such workshops, which are organized by the department with the industry experts.
Business Analytics comprising but not limited to Excel-based analytics and data modeling, Descriptive Analytics, Diagnostic Analytics, Data Visualization, Predictive Analytics, Prescriptive Analytics, and many more
What certifications and accreditations Chandigarh University has? Tell us about the uniqueness of the Business Analytics programs ensured by Chandigarh University.
Accredited with NAAC 'A+', Chandigarh University has QS I-Gauge Diamond Rating in 7 distinctive categories. Ranked Number 1 as a Single Institution in India filing Highest Number of Patents, the educational institution is recognized under Sec 12B of UGC Act, making it eligible to receive central assistance as per the approved pattern of assistance under various schemes. Currently, Chandigarh University has one of the most competitive fee structures in the country for specialized MBA programs at Rs. 90,000/- per semester. With this competitive structure along with a strong focus on placements, our students' ROI is one of the highest in the industry.
Enlighten us about training and placement programs ensured by Chandigarh University.
Our students go through a rigorous training and development program while studying at the University. Students also receive additional training and prep sessions specific to upcoming companies visiting the campus for recruitment. All this hard work is reflected in our placement statistics. For the 2020 graduating batch, 691 companies offered 6,617 job offers to our students, amongst which the highest CTC received for MBA students this year is Rs. 12.02 lacs.
What is the future roadmap for Chandigarh University?
Currently, the University is undergoing a Digital Transformation by exclusively focusing on recent technological innovations. We have invested in the World-Class LMS Blackboard Ultra, whereby, despite the pandemic, we have been running our teaching-learning processes excellently with great satisfaction from the student community. We
have plans to offer the Business Analytics program via online mode for working professionals in the future, adopting the best-in-class technologies to customize the program as per their specific needs. Going forward, we will continue to invest in technology to bring the world's leading facilities and opportunities to our students.
Satnam Singh Sandhu, Chancellor, Chandigarh University
An eminent edupreneur, visionary leader and philanthropist, S. Satnam Singh Sandhu is Chancellor of Asia's Fastest Growing University, Chandigarh University (Awarded by International Rating Agency, WCRC) and Founder Chairman of Chandigarh Group of Colleges. A great exponent of creative capitalism, he is a leader with a conscious who is constantly working towards bringing in reforms in education sector of India.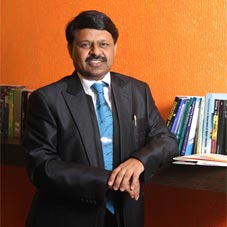 Strategic Positions he holds
• Mr. Sandhu holds the position of Vice President National at Education Promotion Society of India (Representative Body of Higher Education Institutions of India), a stupendous platform that brought together senior educationists, educational entrepreneurs, intellectuals, industry leaders who are working hand in hand towards bringing reforms in education sector in India.
• Mr. Sandhu also holds the position of Chairman – Education Committee with ASSOCHAM. In his endeavor to steadfast the Industry and Academia association he has been regularly engaging with policy makers such as Ministry of HRD, Planning Commission, Association of Indian Universities, and top corporates to bring the desired reforms in the education sector. Mr. Sandhu has actively advocated the role of private sector in imparting quality education and encourages entrepreneurs of education sector to effectively contribute to the education typography with the objective to bring about the desired sectoral reforms.
Prestigious Awards Conferred upon him
Satnam Singh Sandhu has been acknowledged by Global Institutions and Industry, he has been honored nationally and internationally for his contribution towards bringing reforms in education sector:
• International Leadership Award from ROME University
• Business Wizard Award 2014 - (India Today, presented by Hon'ble Chief Minister of Punjab)
• Top Edupreneur of the Country for transforming Engineering Education in India - (Presented by Sh. Shashi Tharoor, Minister of State, MHRD)
• WCRC Leaders Edupreneur of the year 2012-13 by KPMG as Chancellor of one of Asia's 100 Best & Fastest Growing Private Educational Institutions.
• Academic Excellence Award in Hospitality by Government of India
Mr. Sandhu's journey has taken from being a young reformist to a conscious business leader and a legend who has brought economic and social impact in the education sector and the State of Punjab.