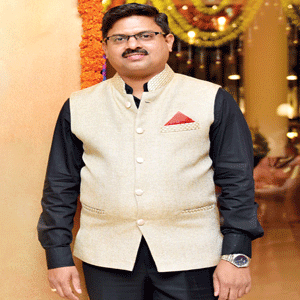 The restaurant industry is the most challenging sector due to manpower administration and stiff competition. Especially in Goa, most of the restaurants either offer good food with bad service, or vice versa; and most importantly, not to forget the soothing ambience, getting all three at a restaurant is a challenge. Identifying this lack of complete restaurant package as an opportunity to make a difference, Sachin Pai Bir in 2016 incepted Copperleaf – a truly Multicuisine Restaurant serving Goan, Indian, Tandoor, Chinese & Bengali Cuisines, in an attempt to do all the basics correct – good food, customer centric service, great ambience and customer happiness driven goal. His main focus was to give customers what they expect when they come to dine along with their loved ones and make it a memorable experience for them.
Sachin's motto of prioritizing customer happiness and ensuring great customer experience facilitated Copperlaef to rapidly emerge as Goa's Favorite Restaurant. Managed in a highly professional manner, it is already considered to be on the to-do list of most of Goans and visitors coming to Goa. Sachin, in an exclusive conversation with CEO Insights, divulges the secret sauce of Coppperleaf. Here are the excerpts:
Kindly tell us how your professional background and experience help you to mould strategic business modules for Copperleaf.
I work with the idea that 'You are your own competition. Whatever good you have done yesterday, you have to do better today'. The Engineering background gave me the edge in terms of mindset, problem solving and efficiently integrating automation wherever possible to make the operations
smoother and error-free. My experience in the corporate world of the IT sector not only taught me to exploit internet & social media for advertisement, but also to implement structured methods to simplify tasks, innovative ways to make the customer experience at Copperleaf even better and mainly to develop robust training sessions for all the staff members.

"The cordial nature of all the staff members along with their smiling faces makes the ambience positive and energetic"

Please tell us about the mouth-watering dishes provided across your unique food menu and the exotic blends occupying your bar menu?
Although we have numerous must-try items in our menu (Butter Chicken, Veg Jaipuri, Murg Peshawari, Cheese Stuffed Mushrooms, Murg Banarasi Kabab, Seafood Platter, Chicken Xacuti, Chicken Cafreal, Veg Diwani Handi, Dragon Chicken, Prawns Dangar, Veg Biryani, Murg Hyderabadi Biryani and so on), the one that made us a Brand for seafood lovers is our outstanding Fish Thali (available only in the afternoon).

We have a fully stocked bar with all varieties of liquor – Foreign as well Indian made. Besides serving 15 types of beers from around the globe, we have an exhaustive wine menu. Furthermore, we have a plethora of Mocktail and Cocktail options to satisfy the thirst of our esteemed customers.

Explain about your restaurant's ambience that makes it the perfect place for families and friends to meet-up and have a great time over meal.

Our restaurant seating is divided into two floors – Ground & Mezzanine, having a total capacity of 180 pax. The fully Air-Conditioned restaurant is designed to give a soothing ambience and a cozy feeling, which becomes even more lively with live Music on every Monday, Tuesday and Thursday nights. As a cherry on the cake, the cordial nature of all the staff members along with their smiling faces makes the ambience positive and energetic. At Copperleaf, we believe in making dining a celebration worth remembering.

Our private dining experience is one of its kind. We house a dedicated section at Copperleaf named
MINT, which can accommodate around 30 pax. People can book it for any private function or private dining experience. In addition to the restaurant, we have our own AC banquet hall named MAYFLOWER, having a capacity of 150 pax in cluster type seating situated on the first floor above Copperleaf, which is suitable for any event like Birthday, Anniversary, Naming Ceremony, Engagement Party, and so on.

Kindly throw some light on your team. How do you chisel their skills?
The whole Copperleaf team works with their full dedication and honesty to make the Brand stronger. Our Kitchen Team has qualified & experienced Chefs coming with various culinary experiences from restaurants across India. Our stringent selection process for the Steward recruitment ensures that our service team has the right attitude along with knowledge.

Continuous training is provided to everyone to keep them motivated, skilled and ready to take-on new challenges. We believe in keeping ourselves updated on the latest trends and processes by reading and visiting national exhibitions, which helps us in developing ourselves at all stages.

What are the future plans set for your restaurant?
We have recently tied-up with Swiggy & Zomato for home deliveries, and Dineout for table reservations. We are also working on making dining experience even better and convenient for our esteemed customers. Our goal is to expand nationally as well as internationally.

Key Management:
Sachin Pai Bir, Founder
Sachin always had an urge to start his own business and that too in Goa. A Master of Engineering in Information Technology, he had worked for IT companies like Mahindra British Telecom (Now Tech Mahindra).

Location:
Goa

Awards:
•Times Food Awards 2017 Goa Winner by Times Group
•Big Goa Pride Award Winner by 92.7 Big FM
•Business Goa Award for Corporate Excellence – 2017