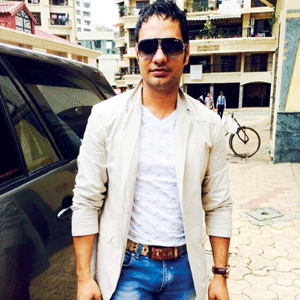 The past couple of years have witnessed the birth of a massive number of pubs, lounges and casual dining restaurants, owing to the skyrocketing number of working demography with disposable incomes and their increasing indulgence in socializing in a unique eatery rendering entertainment as well. Foreseeing the tremendous growth of this industry in 2008 itself, Harpreet Singh Ahluwalia (Founder & Director) incepted Rude Lounge in Mumbai with the perfect blend of extensive varieties of food & beverages, mesmerizing ambience and high-pitched edge to life.
Sachin Jawale (Founder & CEO) is an industry veteran with over quarter century of industry experience. He adeptly delegates the work to his 30+ managers and 600+ employees, so he can think of more ideas to acquire and retain the customers. Harpreet in an exclusive conversation with CEO Insights, illustrates the unique elements that facilitate Rude Lounge to shine among the competition.
Kindly tell us about the strategies you have devised to thrust Rude Lounge ahead of the competition?
Unlike most other lounges that don't allow children, Rude welcomes everyone with open arms. In fact, we predominantly have a family crowd on every Sunday. Rude is renowned for providing great offers every day of the week – Sizzling Sunday, Thursday: Beer Sheer, Friday: Wine Shine & Bollywood Night, Saturday: Bucket Shuket & Free Flaming Shots, Happy Hours, and one-on-one Draught Beer, among others, which are tailored to meet its customers cravings. Standing in sharp contrast amidst other lounges that merely serve finger food and beverages, we have concocted a full-fledged menu encompassing everything including the main
courses of Indian, Chinese, Continental & Tandoori cuisines as well – a menu you would rarely find at a night club.

Please tell us about the delicious dishes & diverse cuisines provided across your extensive food menu and the exotic blends occupying your bar menu?
Rather than fabricating some fancy new item that most customers would hesitate to try-out, we serve traditionally loved items that are cooked to perfection. Be it butter chicken, sea food, mutton seekh kabab, dal makhani, kadai subzi, fried rice, schezwan manchurian or garlic bread, we serve everything you can order in a family restaurant. We also have speciality kababs and curry/kabab combos. The exotic blends at the bar are overwhelmingly amazing with a variety of liquor, mocktails and cocktails. We periodically shake-up our cocktail menu, as we have a lot of cocktail hours. As against most bars that only keep higher brands, we serve everything from regular brand to higher.

"We have cooked up an odd, raw and rustic atmosphere and a unique wooden interior with different types of sitting arrangements"

What inspired you to embark onto the entrepreneurial journey and setup Rude Lounge?
I have always asked myself 'what's next?' Ever since I kickstarted my career in 1993, I have been gradually climbing-up the ladder in the industry. Having worked in all departments (from being an order taker, bartender, cashier and restaurant manager), I had garnered knowledge about the entire industry. I translated this knowledge to establish my own consultancy firm, which helped the customers to setup everything they need for a restaurant.

The next logical step was Rude Lounge. We see 'Rude' as an instinct and not a negative emotion. Named to catch the crowd's attention, we put a positive spin in the word 'rude' with our tagline 'spoils your bad mood'. From attracting just the demographic of youths (aged 20-30 years), Rude has come a long way to expand its presence across six strategically placed locations in Mumbai & Pune, catering predominantly(80-90 percent) to working class people from corporates. The credit can be
conferred to our remarkable sales & marketing team spearheaded by Harkirat Singh (Marketing Head) who constantly works on cross-branding, who have established tie-ups with more than 600 companies so far, whose employees enjoy discount at Rude.

Could you tell us more about your team?
Possessing 18+ years of industry experience, our COO – Vipin Singh maintains a growing network of industry contacts and has tremendous bar expertise, whereas our Chef Ram Singh is the magician behind our mouth-watering recipe and managing all the kitchen-related aspects. Our entire workforce is regularly updated on fire safety procedures on alternative months.

Explain about your lounge's ambience that makes it the perfect place for families & friends to meet-up and have a great time.
We have cooked-up an odd, raw and rustic atmosphere and a unique wooden interior with different types of sitting arrangements. We have live DJ playing our customer's choice of music, whether it is Retro, HipHop, Soft Rock, Commercial House or Bollywood. Besides having musical night on Wednesdays (monthly twice), we also conduct Zumba sessions every month, for which choreographers are invited.

Kindly tell us about your 3Forks App.
Our 3Forks App enables our customers to receive notifications on upcoming events, reserve tables, view outlet photos, check-out the brands' Social Media pages, keep a tab on their reward points & know what's hot on the menu. One point (equal to Re.1) is added to their app wallet for every Rs.20 they spend at Rude or Taste of Punjab, our buffet restaurant brand, which can be redeemed at any of our outlets.

Key Management:
Sachin Jawale, Founder & CEO
A denizen of the hectic PBCL industry, Sachin is a fitness enthusiast who enjoys gym time, jogging and long-distance cycling. A keen learner and traveller, he draws inspiration from restaurants & lounges from all around the world and implements a similar version that would suit his customers.

Locations:
Belapur, Malad, Powai, Viman Nagar, Hinjawadi and Ulhasnagar