Dr. Gururaj Guddappa Kulkarni: A Determined Leader Offering The Finest Research Findings To Improve Farmers' Lives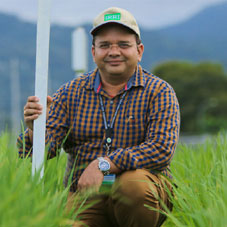 Developing nations are concerned about increasing agricultural production. Farming's ability to satisfy the needs of ever expanding populations, as well as earning foreign currency to fund domestic initiatives, is heavily influenced by the income farmers get. An essential role in fulfilling these goals is played by agricultural research, which develops many of the new technologies, inputs and methods of production that boost agricultural output. All agricultural producers and consumers benefit from a reformed agricultural research system, especially those in resource poor families in rural or urban settings. In recognition of the critical role that agricultural research plays in society, Dr. Gururaj Guddappa Kulkarni, an Indian origin worldwide research leader, has been in this sector for more than two decades.
Research leader Dr. Gururaj has the potential to build an exceptional scientific environment for the delivery of optimal research outputs that would alter farmers' lives and solve food security challenges. For business growth, he leads the R&D unit, which aims to enhance procedures and product offerings.
Below is an excerpt from Dr. Gururaj's interview with CEO Insights magazine.
What motivates you as a new-age leader?
The fact that we are attempting to meet a person's most fundamental needs strikes me as very significant. World's population is expected to reach 10 billion by 2050, to meet the food demand we need to produce more food with lesser resources as cultivation land is decreasing due to urbanization. Also, the world is facing new challenges as experienced recently whether it is climate change, malnutrition issues, especially in children and pregnant women, or the COVID virus, so technology is going to play a key role in finding the solutions to such emerging challenges. I am happy that I am part of such a research area and working for the international institute motivates me to work more as a new-age leader. We are dealing with many issues in this area, including the depletion of resources, such as land, water and labor, which are important for food production. In light of these shifts,
agricultural research's new technologies are the answer making head way and I'm glad we're working on agriculture research to provide food security for the world's population.
International Rice Research Institution is a worldwide research institute committed to rice research science and rice farmers' upliftment
Tell more about International Rice Research Institute and its affiliation with special focus on Bio-innovation Center, a new initiative for research partnership with private and public institutions.
IRRI is a non-profit autonomous international organization with the mission to reduce poverty and hunger improve the health of rice farmers and consumers and ensure the environmental sustainability of rice farming. It advances its mission through collaborative research, partnerships and strengthening of the national agricultural research and extension systems of the countries IRRI works in.
The International Rice Research Institute (IRRI) is a part of the CGIAR Institute. CGIAR's global network of 15 top class research centers contributes to an unrivaled mix of knowledge, skills, and research facilities able to respond to emerging development issues. CG Centers have a local presence in 89 countries with a deep knowledge of customers value and market operations in developing countries.
Bio-Innovation Center is a new research collaboration opportunity for public and private partners with IRRI using its resources and expertise to fast track their research on product development and solutions to new challenges. There are already members from the public and private sector who have signed with IRRI under this umbrella and initiated their research activities. "Partnership for Prosperity" is the mission of this initiative.
What are some of the most captivating difficulties you have encountered so far in your professional journey? What did you learn and how did you overcome those challenges?
My family members are always supportive of me and stood by me. From a humble background, I always had big dreams and to serve society as much as I can, especially the poor people. I began working in agricultural research in Delhi after getting my Ph.D. at Haryana Agriculture University. My responsibilities included product development and regulatory affairs and I remained there for three years.
Again, in agricultural science, I was also involved in the registration of novel molecules. Some pests and illnesses may harm crops and agrochemicals are one of the ways to control them. I was trying to get new chemicals into the market and was working to have those compounds approved for use. In other words it was a completely different experience.

After three years, I relocated to Mumbai to work for the same product development and regulatory affairs team at a major corporate office. When it came to protecting our goods from counterfeiters, we were the ones to innovate and register them in a novel way. An incredible invention it was one of the finest ways to keep the active components of multi national companies from being copied by others.

What has been the success mantra that constantly helps you arrive at positive outcomes?
Working at the global level in the institute is a great opportunity to meet a global community of farmers, students, and leaders from all sectors. This is a unique opportunity to learn from each other's experiences and challenges. We use technology advancements to find easy solutions to the challenges, so we are successful in finding the solutions with a higher success rate.

Taking involvement in the decision-making process seems to be the key to success. To avoid being personally involved in any of the choices, I made sure to consult others who might be impacted by them and enlist their input. Team members should be expected to deliver on their promises, and when it comes time for consolidation or standardization, they should be able to support that idea. As a result, I believe there is a commitment once it is accepted. That's why participative decision making has always been my mantra as a leader, and it's helped me achieve success in a variety of endeavors and choices.

Dr. Gururaj Gudappa Kulkarni, Director, Bio-Innovation Center & Global Head, Research Infrastructure, Operations & Regulatory
Dr. Gururaj completed his bachelor's and master's degree in agriculture from the University of Agricultural Sciences – Dharwad. After completing his doctorate degree (Ph.D.) with ICAR SRF fellowship at CCS, HAU, Hisar, Dr.Gururaj started his professional journey at Bayer CropScience in the year 2000(Delhi and Mumbai) and later he worked in Syngenta India at Corporate Office, Pune for a decade. Currently, Dr. Gururaj is serving as the Director of IRRI Bio-Innovation Centre and Global Head, Research Infrastructure, Operations and Regulatory in the Philippines since 2016.