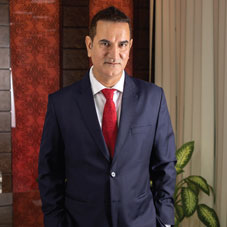 The UAE Organic Spices and Herbs market is expected to reach $53.48 Million by 2027. Globalization of regional culinary practices, the rapid rise of the internet are key factors that contribute to the growth of the market. Consumers are increasingly wary of chemicals and additives in foods and are seeking clean labels and organic products, despite higher prices. This trend is expected to have a long term impact on developments within the market but Arab India Spice is all set to meet the expectation of consumers.
The Arab India Spices LLC was established in 1986. Shortly after its inception, it grew and became one the first millers that catered to the entire middle east with a diversified variety of highquality pulses and ground spices. Arab India Spices is committed to their customer's expectations in every way to focusing on innovative approaches under the leadership of Harish.
Harish Tahiliani is the Managing Director of Arab India Spices. He has grown the business from being a small mall Indian spices and pulses trading company to a multinational company with a supply chain covering the Far East, Middle East, Africa, Asia Pacific, Europe, North America, and Australia. Tahiliani has been featured three times in the Forbes(ME) Top Indian Business Leaders. Apart from his business achievements, he does lot of philanthropy and has tied up with Human Appeal International to contribute a percentage of profits from certain product categories as proceeds to charitable organizations.
Below are small snippets from the interaction we had with Harish Tahiliani.
Take us through your professional background and experience. How has been your journey so far with Arab India Spices and what drives you today as an industry leader?
I hail from a business family from the state of Gujarat in India. We have been in the trade, and marketing of spices products since 1947. As demand grew over the
coming years, my father and his brothers expanded the business into the UAE. A large chunk of food grains was being imported into the UAE from South Asia, especially India, for consumption within the UAE. However, there wasn't any grinding mill or processing plant in the UAE. So, he saw this as an opportunity and decided to invest in the UAE to fill this gap.

Initially, we started the company at a 400-square foot facility in sharjah with four people and began importing products from India under the Arab & India Spices. In 2007, we shifted our base to Ajman. It was an uncertain time and many people left the country in fear. But we stayed on and decided that the risk we were taking would be worth it. And today, I can proudly say that it was worth it. In 1994, as the business was growing exponentially and my father needed more helping hands. So, I had to give up my studies and formally joined the business.

Since the year 1994. We grew over the years, In the year 2020 we commissioned 12 storage silos which have an aggregate capacity of 52,000 Metric Tons, which is the first and one of its kind in this region for storing pulses. We have recently launched our B2C brand and already have a significant presence in all classes of supermarkets and also have a presence on leading online platforms. Apart from this, We also ventured in ready to eat segment and are adding new products to our inventories.

How would you define Arab India Spices as an organization and its position in the market?
We can confidently say that no other miller in the nation has the capacities that can match or exceed our production capacity of 700 Metric Tons per day because we have been in the market for lentils for the past 35 years and were one of the first to process lentils.

Tell us about your flagship offerings and what value additions customers can expect from your products.
We have a couple of flagship brands that are available throughout various classes of super markets. We pride ourselves on the exceptional quality of our products, which sets us apart from the competition.

We are constantly searching for new methods and technologies that will enhance the quality of our Product.

Tell us about your leadership approach. What are the guidelines you follow as a leader?
I strongly believe that a leader is only as powerful as his team and I am fortunate to have a strong one. Our management has a very
effective hierarchy structure, which is crucial for efficient operations, in my opinion. Not only that I also strongly believe in swift and wise execution and I make sure that all my senior staffs are on their toes all the time.

What are the changes in market behaviour that you anticipate and what are the opportunities that you foresee?
I must say that even though the last couple of years were difficult they were also very exciting in terms of the growth of our sector. Due to the disruption in supply and demand, we have seen unprecedented growth in demands from countries that were not regular buyers from UAE and they have slowly shifted their loyalties to UAE. We are planning to further add to our storage so that we can be more efficient and tap potential clients from many more countries.

I also believe the pandemic changed our lifestyles. Many people now consume plant-based protein, we are seeing a surge in demand from many new industries. We have already initiated a pilot program where in we have collaborated with a company that specializes in the extraction of proteins from non animal based sources, our next step would be to do this ourselves so that we can be the forerunner to cater to this new segment.

As an industry leader, what advice would you give to budding industry leaders?
I Always tell people to follow their passions because it's impossible to be effective at what you do if you don't have the drive and perseverance to put in the effort. You need to push yourself to achieve your goals, and I think that passion is essential for that. To succeed in any industry, one must first have a thorough understanding of it, and to flourish, one must have a vision and the commitment to see it through.

Dr.Harish Tahiliani, Managing Director, Arab India Spices
Dr. Harish Tahiliani is the Managing Director of Arab India Spices. He has grown the business from being a small mall Indian spices and pulses trading company to a multinational company with a supply chain covering the Far East, Middle East, Africa, and many more countries.

•Hobbies: Cycling, Yoga, Driving, and Listening to music
•Favorite Cuisine: Thai
•Favorite Book: The Story of My Life by MK Gandhi
•Favorite Travel Destination: Paris
•Awards & Recognition: Top Indian Business Leaders in the Arab World in 2016 and 2017 by Forbes.