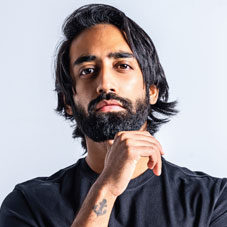 With most companies focusing more on strategic design, the demand for design agencies has been rising. Jayant Rao, the founder of Neue World, aims to deliver results through a scripted mixture of creative designs while achieving the client's vision. Neue World, while a UI/UX agency, lays heavy emphasis on consumer behaviour of every output they produce.
The goal is not to just make an aesthetically pleasing website but to give people an experience that makes even muscle memory look effortful. The firm is led by Jayant Rao, an ardent designer who chooses not to present half baked content to anyone internally or externally, with his strength in knowing what a user wants and what is good enough.
CEO Insights Magazine recently engaged with Jayant to discuss his journey as an entrepreneur let's hear from him.
What inspired you to establish Neue World, and what drives you today?
Establishing a design company has been a dream since I was 18, but I only had a little experience then. Before starting something of my own, my mother urged me to learn and that's what I did. I consulted as a freelancer for multiple companies along with working three jobs over ten years.
Before COVID-19, I was let go from a corporate company with five to six years of job experience. Within one week, it was the beginning of the pandemic. I saw my situation as an opportunity, and venturing to start my agency was a great way to relish success. Even with financial and other restrictions during the pandemic, we pushed through and grew from a solo founder to a team of 12 people working full time globally.
Tell us about your flagship offerings and what value additions customers can expect from your offerings.
At our agency, we are passionate about creating beautiful and user-friendly designs for websites and mobile apps. We have built our
reputation on being experts in UI and UX, and it's not just a job for us it's our true passion. We take the time to understand our clients' vision and build a personalized process to bring that vision to life.
We have a track record of working with early stage startups and helping them build designs to facilitate for their next round of funding, as evidenced by the fact that several of our clients have gone on to raise millions of dollars. Our goal is to not just design for our clients, but to be a business consultant to them, forming a part of their team and utilizing our design insights to help them grow and succeed. Our team is also dedicated to just one project at any given time, it's rare that our team ventures into working on two simultaneous projects.
We are a design agency prioritizing the need rather than the want
Tell us about some of the toughest challenges you have encountered in your journey?
I have extensive experience in the design industry, starting as a Digital Designer and eventually becoming a Product Design Lead. My professional journey began as the Digital Head of a company with mostly offline operations, where I had the opportunity to prove myself and lead the brand's transition into a digital oriented company. This experience taught me the importance of building a personal brand and reputation, as well as the value of networking and being known for my skills and expertise.
I spent four years working at a startup, where I traded a stable salary for equity, and realized the potential for growth through persistence and continued learning. This experience has helped me to understand how to build products and has been invaluable in the creation of my own agency. One of the biggest challenges I faced was starting my own agency bootstrapped and making it profitable while also being able to help my clients achieve success. This required me to develop my skills in managing people and projects, as well as learning how to effectively balance the needs of my clients with the needs of my business.
How would you describe your leadership approach? What are the traits that best define your leadership style?
My leadership approach is centered around empathy and autonomy. I believe in giving my team the
freedom to work in a way that best suits them and their strengths, while also setting clear deadlines and expectations for the work that needs to be done.

I avoid micro management and instead focus on fostering a culture of trust and respect. I encourage flexible work hours, so team members can be productive at the times when they work best. We have a daily 15-minute check-in, but other than that, team members are free to work in whatever way they prefer, as long as the quality of the work is maintained.

I believe that it is important to find the right people for the team, regardless of cost, and then give them the autonomy to work without constant oversight. I understand that the creative process can be draining, so I support the team by implementing an unlimited leave policy, so they can take a break when needed. My goal is to help each team member double down on their strengths while helping them improve in areas where they may be weaker.

Going forward, what are the changes in market behaviour that you anticipate and what are the opportunities that you foresee?
We're thrilled about the changes happening in the market behavior in the Middle East, specifically in the UAE. The region is experiencing a significant growth in fintech and blockchain, which is incredibly exciting for us as a UI and UX agency because we have a deep understanding of these areas. We anticipate becoming a more recognizable and respected brand within the next 1-2 years as we see a shift in clientele from the US to the Middle East.

Data shows that UAE has seen an increase in funding and internet penetration, which is driving the growth of the digital and technology market in the region. This presents a wealth of opportunities for us to work on cutting-edge projects in areas such as Web3, NFTs, Crypto Fin Tech, and other web3-focused technologies that are entering the UAE market. We're passionate about pushing the boundaries of what's possible in these areas, and we can't wait to work on projects that will shape the future of the industry in the Middle East.

Jayant Rao,Founder & CEO, Neue World
Jayant is the founder of Neue World, a design company, and has worked at Ogilvy as a Research Associate, Creative Head at Feather lite, Web Designer and User Experience Designer at The List, and Lead Product Designer at Emaar Next, over the span of ten years.