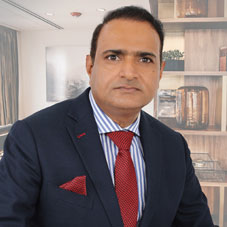 The delivery services industry has undergone significant changes in recent years, with a focus on providing reliable and efficient services to customers. One of the key leaders in this sector is Manoj Tiwari, who is the Founder & Managing Director of Express Vulcan Delivery Services. His company is based in Dubai, UAE, and has a strong reputation for providing high quality logistics and delivery services to clients. Manoj is a highly qualified individual, having obtained a master's degree in engineering from Ukraine in 1996. With over 25 years of experience in the industry, he has developed a deep understanding of the challenges faced by logistics and delivery service providers. Under his leadership, Express Vulcan has grown into a top-performing company, delivering services that meets the needs of its clients efficiently and effectively. Learn more about him and his journey to success in below interview snippets.
You have more than 25 years of professional experience. What has been your strategy for success, and what does it consist of?
In my opinion, the determination to persevere in challenging circumstances is essential for achieving success. I have been able to oversee the entire operations of multiple companies in various countries, starting from the ground up and actively participating in every aspect of the work. There were times when I had to take on all the responsibilities of these companies. It's important to adopt an entrepreneurial mindset in order to make any endeavor successful and profitable when you take charge of the work personally.
How would you define Express Vulcan Delivery Services as an organization and its current position in the market?
ExpressVulcan is a company based in Dubai, UAE that specializes in logistics and delivery services. Our
goal is to provide highquality delivery services that are reasonably priced and carried out by well trained staff who deliver packages directly to customers' doors. Our organization was created with the purpose of providing excellent experience to all parties involved in the delivery process. We are one of the few delivery companies that place a strong emphasis on corporate governance and adhere to full compliance with regulations.
Our primary objective is to provide the best delivery services, which is reflected in our ranking as a top 5-10 company in various segments of last-mile delivery. We focus on providing dedicated riders to several aggregators, like Deliveroo, Ubereats, Talabat, Careem, Eateasy, and Carrefour. The journey which started with Filli Café which is now a multinational chain, has led us to be chosen as preferred partners for several platforms. Now, with the help of more than 1000 devoted riders and car drivers, we successfully deliver services across five emirates.
Its important to adopt an entrepreneurial mindset in order to make any endeavor successful and profitable when you take charge of the work personally
Tell us about your main products and what benefits customers can expect from using your services.
We continue to focus on providing our clients with dedicated delivery choices. To improve faster deliveries and customer satisfaction, we are currently discussing with clients how to combine our delivery fleet with tech platforms. The engagement and improvement of tailored last mile delivery solutions is a continuous process.
Could you think back on some of the most difficult obstacles you have faced thus far in your journey? What did you learn from them and how did you overcome them?
My late Mother and Father's blessings and support of my wife and family have been a source of strength for me in overcoming obstacles. The COVID-19 pandemic posed a significant challenge as the movement was limited and our business was classified as an
essential service. As a result, we had to work tirelessly to ensure the delivery of food and groceries to customers around the clock. Despite these difficulties, we were able to overcome them and expand our fleet and business with the help of our clients. Our success has heightened exponentially.

What is the future destination you are heading towards? What guidance would you offer the aspiring industry leaders in light of your considerable industry experience?
We have been recognized as the best delivery partner for various platforms. However, the short term goal is to grow our company throughout the Emirates and establish operations in one or two additional GCC nations.

A concentrated effort on the fundamental aspects of your business and collaborating with leaders in your industry to develop solutions that cater to their requirements is crucial. Establishing trustworthy partnerships is an effective strategy for fostering long-term growth in your business. It's important to consider the bigger picture rather than just the cheapest option when you have a long-term vision for your business. Cultivate trust with your partners, collaborate with them, and strive towards achieving greater success together. Most important aspect is to focus on making business profitable. Make startups with focus to make them Proficorns (profitable venture) in near term and grow sustainably without burning investors' or personal money. Also, when we expect our payments on time, similarly always pay to your vendors on time and make it a habit.

Manoj Tiwari, Founder & Managing Director, Express Vulcan Delivery Services
Manoj is the Founder & MD of Express Vulcan Delivery Services a logistics and delivery services firm in Dubai, UAE that provides highquality delivery services. He has done masters In engineering from Ukraine in 1996 and has 25 years of working experience.

Hobbies:Indian Movies, Travelling, Cricket, Table Tennis, Swimming
Favorite Cuisine:Indian, Thai, Ukrainian, Georgian
Favorite Book: The Monk who sold Ferrari, Immortals of Meluha
Favorite Travel Destination: Mauritius, Ukraine, St. Petersburg and plan travel to cleanest lake in the world Baikal in Siberia.