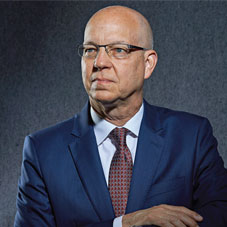 One such maven who is driving unprecedented breakthroughs that will future-proof our society is Dr. Ray O. Johnson, the CEO of Technology Innovation Institute (TII). With over four decades of global experience, Dr.Johnsonholds a track record of leading large organizations, developing & executing growth and technology strategies, & achieving operational excellence in diverse business environments.
In an exclusive conversation with CEO Insights, Dr. Johnsonshares interesting aspects of his journey. Kindly pursue the valuable nuggets from this meticulous leader
How has your journey been so far with Technology Innovation Institute?
It has been an exciting journey because I have the honor of working with talented teams, currently comprising over 550 researchers, scientists, and engineers across our 10 research centers. From quantum computing & advanced materials to autonomous robotics, AI, & biotechnology, my team is developing innovative solutions to some of society's greatest challenges. In just two years, our parent entity, the Advanced Technology Research Council (ATRC), has helped build an innovation ecosystem while attracting global and national talent national priorities for the UAE.
For over 40 years, I have been able to gather varied experiences.However, the applied R&D happening here at TII is the most exciting of my career. It is a privilege to contribute to shaping the next phase of this nation's
growth as it transitions from a commodities based to a knowledge-based economy.
Reflect on some of the major challenges you have encountered so far. How did you overcome them and what did you learn from them?
Technology by its nature is a challenging field because it is always prone to disruption, and it requires one to continuously relearn concepts. There is only one thing you know for sure; tomorrow you will face a new challenge. I strongly believe that becoming a lifelong learner is necessary to successfully navigate this dynamic landscape.
Unde Dr. Johnson's leadership, TII has grown into one of the world's leading research institutes pushing the frontiers of knowledge, attracting the best global talent, & pioneering R&D break throughs across new technologies
Enumerate the technologies deployed in your services and what are your plans to innovate your offerings further? How are you adapting new tools/technologies to stay at par with current industry standards?
As part of ATRC's mandate, our goal at TII, ASPIRE, and Venture One is to help society solve some of its biggest challenges. So far, we have launched the region's first electromagnetic compatibility labs, started work on building the first quantum computer in the Arab world, established the first Impact Lab in the region to test & manufacture advanced materials and composites under extreme conditions, developed NOOR, the world's largest Arabic natural language processing (NLP) model, built the UAE's first national & sovereign cryptography library, developed variations of a post-quantum cryptography library, & most recently, built a state-of-the-art directed energy facility that offers advanced pre-qualification testing here in the UAE.
Thanks to the visionary leadership of the UAE, we have the priority and resources available to facilitate break through innovations such as these. The world is ever changing, so our focus must adapt accordingly. In addition to the initial seven research centers, this year we added three more centers in the fields of biotechnology, renewable and sustainable energy, & propulsion and space.
Going forward, what are the changes in market behavior that
you anticipate& what are the opportunities that you foresee?
Technology is constantly evolving, and the pace of change is accelerating. The year 2020 was a significant milestone for technology with the pandemic forcing many organizations to update their internal systems and processes. The result was a catapult leap forward in global digitalization.

Overall, many industries have continued to embrace emerging technologies, and they are excelling in their post-pandemic digital journeys. The willingness of these companies to transform their businesses results in their ability to reap greater rewards & opportunities. Cybersecurity enhancement & optimization, AI integration to improve productivity, and sustainable energy usage are just some of the immediate opportunities that companies can leverage to maintain business continuity & drive further growth.

What advice would you give to budding entrepreneurs in this domain?
Pursuing a career in science and technology can be a very rewarding experience; it provides you with an incredible set of skills. There are various important STEM fields, & it is important that you find what interests you & where your skills can be best applied.

Crucially, align yourself with an experienced mentor to share insights & industry knowledge. Get advice from role models in the same field, who can provide the most impactful & significant career-building guidance and counsel.

Last, it is essential that you take the initiative to ask questions, research further, and gain as much experience as possible participating in workshops, online courses, research teams, & internships at labs are a great way to position yourself strategically in line with your STEM career goals. In short, develop an unquenchable thirst for knowledge, and never stop learning.

Dr. Ray O. Johnson, CEO, Technology Innovation Institute (TII)
Dr. Johnson has accumulated over four decades of experience in global technology leadership, making strategic investments in disruptive technologies, & developing corporate strategies that have resulted in several new billion-dollar lines of business.

His prior experience spans being an Operating Partner at US venture capital company, Bessemer Venture Partners, to Corporate Senior Vice President and Chief Technology Officer at the Lockheed Martin Corporation, USA, where he was responsible for engineering, technology,& operations.