Dr. Rishi Jain: An Industry-Leader Striving To Be A Change-Agent In The Global Pharmaceutical Industry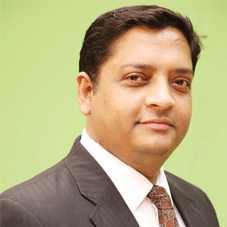 Dr. Rishi Jain is one medical professional who has been able to create a name for himself in the global medical fraternity within a short span of time. His eye for detail and his patient-centric approach to offer the best available medicines for the patients has created a niche for him in the industry. This passion to be a change agent in the industry has also helped Dr. Rishi bring novel medicines for ensuring better healthcare for the patients. This coupled with his dynamic personality and his constant endeavor to improve has also helped him to scale new heights in the pharmaceutical industry.
In an exclusive interview with CEO INSIGHTS, Dr. Rishi talks more about his professional journey and how he has been able to cement his legacy as a pioneering medical professional.
1. Can you talk more about your educational and professional background and the roles and responsibilities at your current company?
I am a qualified medical professional. I completed my post-graduation from AIIMS which is the apex medical institution in the country known for its best in class medical education. I am also an ECFMG certified medical professional. It is a US association which certifies foreign medical graduates. Despite getting this certification, I decided to stay back in India to improve access of innovative medicines for patients. After my education, I trained in various medical schools and I have also worked as an observer at the internal medicine department of the University of Mississippi.
I started my professional journey working as the regional medical advisor with MSD which is an American company. Then I moved to BMS which is another company from the US. Here I was instrumental in launching the novel DPP4 Inhibitor Saxagliptin for the first time in India. After that, I have worked with various Indian multinationals such as Glenmark Pharmaceuticals where I was heading their medical affairs for Africa and the Middle east. I was later heading the cardio-vascular and diabetes medical affairs of the company and was instrumental in launching Teneligliptin. Post Glen-mark, I Joined Italian firm Menarini
Pharmaceuticals as Head of Medical Operations for India. Later i moved to Emcure Pharmaceutials and was instrumental in leading various new medical affairs initiatives.
The entire medical affairs & Clinical operations team grew under my leadership and this was followed by a move to Wockhardt pharmaceuticals as their Vice President for Medical Affairs, Clinical operations, Regulatory Affairs, PV and Quality Operation for India and Emerging Markets. Later I was given additional responsibility for business development. I was instrumental in the company launching its first Novel Chemical Entity Anti Biotic EMROK, making it the only company in India to launch a Nobel Antibiotic researched and developed in India.
I joined AbbVie in January this year as Director of Medical Affairs for the therapeutics business in India. I will play an instrumental role in bringing various novel patented medicines of the company into India. AbbVie is one of the top 5 pharmaceutical companies globally and we are striving to come up with products that are going to benefit the patients.
The pandemic has changed all our lives but looking at the bright side, we have been able to go virtual which I believe is the way to move forward
2. What were the initial challenges that you faced in the industry?
On joining the Industry I realized that people were working in Silos and there was a lack of ownership for the projects which was adversely impacting the quality of work and timelines. To solve this issue, I started fixing the responsibility for the projects with well-defined roles for the team members. I worked constantly to get my team motivated and work like a well-oiled machine by doing regular engagement activities, giving them development opportunities and recognition. I also worked on creating a good network between the various stakeholders within the organization this helped to smoothen the rough edges and streamline the projects.
3. As an industry stalwart, can you tell us about the various revolutionary changes that you have made in the industry?
The medical function started its journey as a support function. I encountered the same mindset and approach in the initial years. I realized that there is enough scope for Medical Affairs to be an important Business Partner and a key contributor towards the growth
of the organization. I made conscious well directed efforts to bring about this change. Previously, medical affairs were just being roped in during the execution of the projects and they weren't driving their own projects. Under my guidance, what we do now is, we own the project, drive it, and take it to final execution. I strive to create the scientific brand image of the organization which is crucial for a pharmaceutical company and this helps the organization to build a positive reputation in the industry.

4. How are you developing successful business strategies for the company amidst the pandemic?
My success mantra is ensuring fair and transparent communication within the organization. We have been working from home for the last one and half years, but our productivity has increased during the same period. We took the digital approach and that has helped us perform in a much more efficient manner. Also, because we were agile we could quickly adapt to changing scenarios quickly which has immensely helped us during the pandemic. The pandemic has changed all our lives but looking at the bright side, we have been able to go virtual which I believe is the way to move forward. In every challenge I try to see opportunities, and this has helped me to move forward and achieve success.

5. In your professional journey so far, which are the milestones that bestowed you utmost satisfaction?
Launching multiple products first time in country like EMROK (Levonadifloxacin), EMROK O (Ala levonadi-floxacin), Saxagliptin, Teneligliprin, Azilsartan was a moment of great joy for me and my team. Also, growing my portfolio and expanding my industry expertise is also a milestone that bestowed me utmost satisfaction.

I have had the opportunity to win various awards throughout my professional journey. In BMS I was awarded CBB award which is the best medical advisor award. In Glenmark, I was nominated for Chairman's Excellence award. In Emcure, I was awarded for change management and execution excellence. I received the Pride of Wockhardt award during my stint over there. During my academic life, I was awarded the best MD student at AIIMS.

Dr. Rishi Jain, Medical Director, India, AbbVie
Has as more than 50 research publications to his credit and he has done lots of orations in both national and National / International conferences. Apart from that, Dr. Rishi has also authored a series of books as well for MBBS students.

Disclaimer
Opinions expressed are solely my own and do not express the views or opinions of my employer.