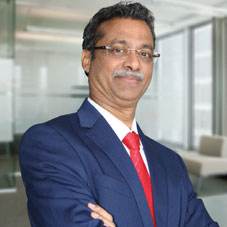 "Publishing of the pioneering book by Palgrave McMillan UK on Risk Management in Islamic Finance was a major milestone in my research journey"- Dr. Sunil Kumar K
Constant FinTech innovations enabling the CFO's office, in addition to improving business processes such as Financial Consolidation, Budgeting, Planning and Forecasting, Financial Analytics are the main motivators for Dr. Sunil. With its three offices in Dubai, UK and India, and projects covering almost the entire world, SAM Corporate provides expert solutions with a high degree of sophisticated implementations and support to its clients across world. In an exclusive interview with us, Dr. Sunil talks about his experience as a leader in his company.
Take us around your professional background and experiences. What pulled you into the financial services industry and what drives you today?
Carrying a legacy of madness from IIT Bombay and finding new, better and improvised ways of doing things, FinTech has been the area of focus from early career. It has been like dreaming the dream in dreams! From my early career days, I have always been pulled towards large and complex data with a specific focus on RTGS Systems. Gross under utilization of business applications pulled me into the FinTech Service industry. Providing the right tools which can be used by the CFO's office with minimum dependency on IT support, exploiting the existing tools to its fullest capacity thereby improving the ROI and reducing the decision making cycle are the major drivers today.
You are a financial expert with expertise spanning across CPM and Risk Management, what is your style of steering the ship towards successful outcomes in your current role?
I strongly believe in driving the team with positivity and participation. Focusing on four core values of SAM Corporate, Quality, Innovation, Openness, and Satisfaction, the
team is led to believe in these and deliver it. Providing the team with right environment for achieving the above core values and driving them with team work, empathy safe and family environment, mentoring and continuous upskilling are the building foundations of our successful team and growing organization.
My biggest award is my brilliant team, both at home and atthe office, and therein lies all the strength and success
How would you define SAM Corporate as an organization and its position in the market?
SAM Corporate is an ISO ­9001: 2015 certified leader in the EPM/CPM market, with deep domain expertise in the Financial Consolidation, IFRS9, IFRS16, IFRS17, Budgeting Planning and Fore casting, Financial Analytics and forward looking Financial Planning. We currently support several top solution providers with highly skilled experts on Financial Consolidation, Budgeting Planning and Forecasting etc. Moreover, SAM is agnostic to solutions and therefore provides fair and correct advice to customers on the optimal solution.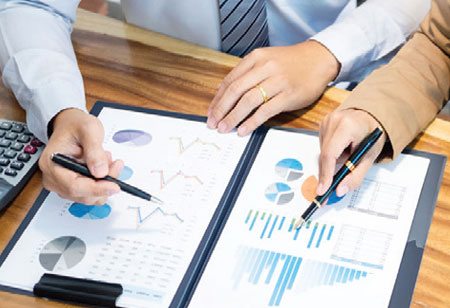 What are the company's portfolio of solutions and which among them does it consider as its flagship offering? What is its USP?
SAM offers complete range of solutions for the office of CFO covering everything which sits on top of any ERP. Solutions covering all the requirements of CFO's office, ranging from simple Financial Reporting to more complex Consolidation and Planning/ Fore casting to compliance related such as IFRS9, IFRS16 and IFRS17, with specialization in complex Consolidations. SAM's USP is in independent and correct advice on the solution combined with strong implementation with a team of certified and experienced experts. Four ingredients of a successful implementation are SDDS Scope, Data, Delivery, Support. Starting from correct advice on Scoping, requirements mapping, gap analysis, to keeping the excitement in control, are some of the starting points when a CFO asks us for a support on system selection. With that,moving to accurate Data under standing and mapping, risk analysis
for the projects and working on business oriented implementation plans is the script for a successful outcome of a EPM project. Next is, tightly controlled Deliveries with an eye on every detail, foreseeing any issue which might be arising and taking corrective actions to ensure timely and perfect delivery. Finally, ensuring proper Support with hand holding training and excellent documenta tion with ongoing maintenance to ensure recurring and consistent usage of the system. Doing it right every time allows us to repeat the success again.

In your professional journey so far, which are the milestones that have bestowed you with utmost satisfaction both individually and professionally?
Publishing of the pioneering book by Palgrave McMillan UK on Risk Management in Islamic Finance was a major milestone in my research journey. Moving ahead, the development of the Khaled Khandelwal (KK) Model for Rating of Islamic Financial Institutions was another key milestone. Receiving the appreciation from the Ministry of Health, UAE while providing services as Chief Strategist and Architect has been a coveted recognition. Some noticeable landmarks in the journey have been regular publication of articles in top rated research journals, speaking at several seminars and conferences globally and delivering over two hundred training programs. Glad to add that exponentially growing SAM Corporate into a renowned power house of EPM Expertise with a team which is a second family has been the biggest professional achievement so far and continues to be so.

Dr. Sunil is an innovator at heart and a global FinTech leader. On the personal front he is an avid reader, his current favourite being 'An Autobiography of a Yogi'. Indian, especially home made, food is not only the fuel for his body and mind but also the way to his heart and soul. Sharing a deep connection with nature, he loves traversing the off beat track. Without a doubt, his professional journey and leadership style truly reflect the essence of his person.

Dr. Sunil Kumar K, Co-Founder & Managing Director, SAM Corporate
Dr.Sunil is an expert in Risk Management and has co-authored the book named 'Financial Risk Management for Islamic Banking and Finance'.With impeccable skills in Budgeting, Consolidation, ALM, MR, CR, Basel, ICAAP, and Islamic Banking, Dr.Sunil helps in pre sales, sales support, consulting and implementation expertise in CPM solutions.