Dr.Anand Anandkumar: A Phenomenal Persona Spearheading The Biotechnology Domain With Novel Antibacterial Products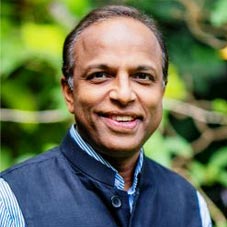 Remaining one of the most uncatered and unexplored domains, no novel class of antibiotics have appeared since the 1960s and the existing ones are running out of steam, owing to rampant Antimicrobial Resistance (AMR). Almost one million people lose their lives per year, mainly via hospital-acquired infections in which a sizeable portion of this mortality is children and neonates.
With India having one of the highest AMR induced mortality rates, owing to many reasons including the lack of proper antibiotics, AnandAnandkumar and his co-founding team started Bugworks, to invent a completely new class of broad spectrum antibiotics that could save lives in India and all over the world. Anand was one of the co-founders of Cell works (a Bangalore/Silicon Valley start-up) using mathematical simulation methodologies to study cancer pathways, to provide 'Personalized cancer solutions' to patients who do not respond well to first-line Oncology treatment.
Bugworks was created within Cellworks and spun out in early 2014 to focus on the huge unmet area, namely the lack of novel antibiotics to solve the global problem of 'superbugs.' A space that is extremely difficult both from a science and economics angle, hence shunned by most pharma companies, but Bugworks is determined to bringing differentiated solutions to the globe at large.
Engaging in an exclusive interaction with CEO Insights, Anand highlights the distinctiveness of Bugworks addressing one of the highest unmet needs in the world.
Kindly throw some light on your professional background and experience that directs the company's progress and helps in moulding strategic business modules for Bugworks Research.
Since drug-resistant superbugs are a global problem, hence the required solutions should be global. Owing to my deep experience working in most corners of the world, coupled with learnings at Cellworks, has allowed to co-found Bugworks and mould its trajectory. Our professional collaborative connections to various facets of both the Indian and US government, have played a huge role in providing Bugworks with unique drug development platforms.
The opportunities I've had in being part of organisations such as ABLE India, G20 Health and Development partnerships, AMR Industry Alliance, Bio-USA etc have helped me to get Bugworks plugged into the global AMR ecosystem, and afforded our company an opportunity to be a recognised global innovator of AMR platforms.
What were the initial challenges at Bugworks Research that taught you some crucial lessons of company operations?
Putting together a world-class team to do Antibiotic drug discovery and raising the necessary funding to get this project off the ground is one of the biggest challenges I have faced. Initial seed funding came from the Government of India's Department of Biotech (DBT), post which we had to raise several rounds of funding.
The only numbers worth keeping a close watch on, are the number of lives you've positively influenced
To date, we have completed a seed round and series A, B1 rounds of financing, and are a recipient of the prestigious CARB-X global AMR grant. Crafting a deep science company out of India is an extremely challenging task as there are no mature local ecosystems to enable such high end and long-gestation orientated work. The ecosystem challenge was partially solved by the government incubator CCAMP (Bangalore) where Bugworks is incubated.
Tell us about your achievements at Bugworks Research and the business transformation you led via those achievements?
The major business transformation we did was to invent a platform that looked at bacterial drug resistance in a completely new way. By putting together a world-class team to work on Intellectual property to advance our research, we brought in simulation and mixed it with classical pharma techniques through a globally reputed scientific advisory Board. Bugworks not only became the first company in life sciences in India to be funded by a Japanese investor University of Tokyo Edge Capital (UTEC Japan) but also the first company in the Asia Pacific to win the coveted CARB-X award for global innovation of Antibiotics.
Winner of the Economic Time best innovative company award in 2017, Bugsworks was one of the handfuls of companies chosen as 'Game-changing companies' in 2019 by CB Insights. We were the only company to be invited to the G20 Health Development partnership AMR meeting in Tokyo in 2019. We are humbled by these milestones, but realise that we have a long and arduous journey ahead, to bring innovation to needy patients all over the world.
Elucidate on your USP and the
various services you provide to uplift agricultural growth.
We do not work in the Agricultural growth area, but are working to help India and other countries to counter bacterial superbugs, be they in Hospitals or community infection settings. The USP of the company is that it's the first truly novel broad spectrum Antibiotic , available in IV and Oral since many decades, and that can have several applications in public health and Bio-defense areas.
In your professional journey so far, which are the milestones that bestowed you with utmost satisfaction?
As an individual, to go after such a BIG global problem with few solutions over decades, overcoming science and funding issues to get to this stage, makes me feel humbled and deeply thankful.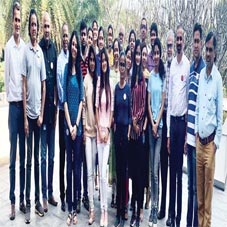 Team Bugworks
As a CEO, leading a biotech start-up that is a globally recognised innovator, I feel deeply honoured and humbled. Envisaging the company in global stages wherein work from India is appreciated and rewarded by global governments is also a matter of pride for us from India. To work on areas that can have such a profound impact on humanity and help save millions of lives over decades, makes me feel fulfilled!
Dr. Anand Anandkumar PhD, Co-Founder & CEO, Bugworks Research
A professional who worked nearly 15 years in the Semiconductor area, AnandAnandkumar made a dramatic switch to the Biotech arena mid-career. In the first part of his career, Anand used to design computer chips primarily based out of the USA (for globally reputed companies like Hughes Network Systems and Cadence), with work experience spanning EU, UK and Japan.
Post returning to India, he got the fabulous opportunity to start and successfully run the India Operations for two silicon-valley based computer chip design companies, during which he also got working experience in China running high speed chip design groups. One of the co-founders of the India semiconductor Association (IESA) which allowed India to organize itself in this sector, Anand co-founded his firm Cellworks to study cancer pathways, which then subsequently lead to the founding of Bugworks to focus on novel antibiotics.
Hobbies:
Music and Yoga, deeply passionate about philanthropic activities that involve helping children from marginalised parts of society.