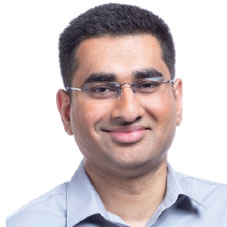 In an era characterized by rapid technological advancements, the ability of businesses to stay ahead of the competition hinges on the caliber of the technology leadership. Typically, the role of spearheading technological initiatives and strategies falls under the purview of the Chief Technology Officer(CTO). A true CTO is one who can illustrate how technology helps drive the Enterprise Value of the company they work in. One such promising CTO leading innovation and technological transformation is Gaurav Sharda, a multitalented CTO of Beacon Mobility. Gaurav is shaping the future of Beacon Mobility with his ability to adapt, innovate, solve problems, and collaborate. Using his extensive knowledge and expertise, Gaurav spearheads the company's technological advancements and drives innovation in the ever-evolving mobility industry. His mission is to utilize technology to help create a bestin-class people experience and partnerships with people to help create a positive impact on the society is what keeps me going!
In this interview with CEO Insights, Gaurav Sharda is going to walk us through his career journey and how he turned his visions into reality.
Could you give a brief account of your professional background and experiences?
I'm a passionate technology and people leader dedicated to making a positive impact on society and businesses through the use of technology. Currently, I hold the position of CTO at Beacon Mobility, where our aim is to become the top high-needs transportation company in the United States. Prior to joining Beacon, I served in technology leadership roles at Life Time, Inc. and General Mills, spearheading digital transformation initiatives across various departments to support rapid company growth and create exceptional employee experiences.
I also worked as a consultant for Microsoft, Comcast, and St. Jude
Medical, providing my expertise in HR technology, both in terms of technical implementation and functional aspects. Before embarking on my professional career in consulting in the United States, I completed my Bachelor of Engineering in Electronics & Communications Engineering in India and pursued a Master of Science in Computer Engineering at the University of Iowa.
If you want to go fast, go alone. If you want to go far, go together
What are the guidelines or methodologies you follow to lead your team?
I lead with the principle of people first. I care about my team members, understand their motivations, and blend them with the organization's needs to create the best working environment. In such an environment, people can be their best version which helps them achieve success and growth. Trust is another key factor trusting people to do the right thing and being there to guide through tough situations & removing roadblocks is another guiding principle I use.
How would you define Beacon Mobility as an organization and its current position in the market?
Beacon Mobility is a growing family of companies committed to serving the diverse needs of our customers. Experienced, compassionate, and inspired, we take pride in our ability to create customized, mobility-based solutions that empower people to get where they need to go. Our purpose is to enable 'Mobility without limits: Transporting people to live, learn and achieve.' We are dedicated to providing those we serve with the opportunities, resources, and support to confidently move ahead. We support safe, compassionate, and inclusive environments that provide our communities with the mobility solutions they need to flourish and succeed. Our core values are the foundation of who we are and act as a beacon to guide us toward who we want to become. Our core values are: We care, We do the right thing, We collaborate and We have fun.
Could you reflect on the challenges you have encountered in your journey so far and how did you overcome it?
Throughout my professional experience, I have been involved in numerous digital transformations with organizations at various stages of development. Along this journey, I have gained two important insights.
Firstly, I have come to realize that the success of these transformations relies more on effectively managing people and change rather than solely focusing on the technology itself. It is crucial to continuously emphasize the reasons behind these changes and the benefits they bring to the intended audience throughout the entire transformation process.

Secondly, it is not only about the actions you take but also about how you execute them. Engaging people and fostering a collaborative approach are key factors in achieving long-term success. Ultimately, it is the interactions between individuals that drive progress. As the African proverb wisely states, 'If you want to go fast, go alone; if you want to go far, go together.'

What advice would you give to the budding industry leaders?
Be true to your principles, know what motivates and excites you to bring the best version of yourself every day, keep learning and stay challenged is what I'd advise. Enjoy the journey vs. solely focusing on the destination that's been one of my learning and would encourage people to do more of the same.

What is the future destination you are heading towards?
I'm dedicated to supporting Beacon Mobility in its pursuit of becoming the leading provider of high needs transportation by harnessing the power of technology. I'm committed to staying updated on the latest technological advancements and remain enthusiastic about making a positive impact on society and organizations. I look forward to continuing to contribute towards creating a better future.

Gaurav Sharda, CTO, Beacon Mobility
Gaurav Sharda is a highly accomplished professional and the Chief Technology Officer(CTO) of Beacon Mobility. With a strong background in technology and innovation, Gaurav plays a crucial role in driving the company's technological advancements and ensuring its position as a leader in the mobility industry. He has a deep understanding of emerging technologies and their potential to transform industries. With his visionary mindset, Gaurav continuously explores new avenues to leverage technology for driving innovation and improving customer experiences.