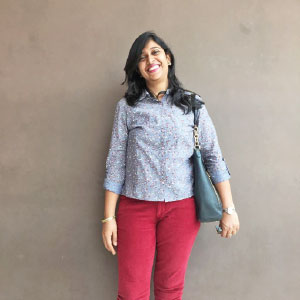 Undoubtedly, entrepreneurship is driven by outcomes.But, while many entrepreneurs are excited about the business outcome, they often forget that their journey has always been the most exciting part for them. So it is for GeetuChakraborty, Founder & Managing Director, The Big Y Enablers,who always believed from childhood that women are no less than men and in that context, envisioned her self running her own business and being in the executive chair. Thus, she started off on her own entrepreneurship journey after gathering a wealth of exposure and learning through her corporate stints with famed multinational companies post her Company Secretaryship and MBA degrees.
Her determination defeating an entire gamut of gender status quo, she incepted The Big Y Enablers in 2007, which over the years has become one of the most preferred providers of comprehensive & quality HR consulting and services. This kind of industry recognition and stature was made possible with the steely blocks of grit, focus, perseverance, self-belief, and never quit attitude.
A Spark is What it Takes
Geetu's corporate career kick-started in 2001 and it spanned across a decade. She hit the proverbial glass ceiling and was given an understanding that she was a great performer but she had hindrances in terms of her' personal constraints'. "I wanted to show that a woman can achieve a lot,in spite of any constraints. I wanted to symbolize women and make the world hear that it's not about the gender - it's just about the grit," asserts Geetu.
Female entrepreneurs all around the globe are forced to activate the
'Avenger'mode to combat predicaments that go beyond to combat predicaments that go beyond business challenges to include gender bias and even the bulging eyeballs when they work late night in the office. Well, Geetu was inspired by the concept of long term success as a singular focus, analogous to Arjuna's singular focus on the bird's eye in Mahabharata. Cut to the present, she remains determined in women empowerment, as The Big Y Enablers comprises of 95 percent female employees."I savor the freedom of decision making, the ability to generate employment and ensure satisfaction in customers by creating value for them," elucidates Geetu.
No funding comes into picture for at least the next few years, as she believes in an organic growth at this stage, and also doesn't want to have pseudo owners of her business
En route her entrepreneurial voyage, Geetu never forgot the opening lines of business studies – profits are the rewards of risk - taking. She was fearless, even to reformat her business model, whenever it seemed to be optimal as per the circumstances. In the process, she operated in various models ranging from people extensive ones to complete remote office models, banking on her decade strong corporate experience in numerous aspects including, but not limited to, decision making, risk assessment, financial prudence, results orientation, and project management."As Nelson Mandela once said -I never lose. I either win or learn. Each situation & each day leaves behind a new learning," she adds. This comprehensive business understanding combined with her never quit attitude helped her keep growing as a successful entrepreneur.
Today, Geetu has defined lucid strategies for the future. No funding comes into picture for at least the next few years,as she believes in an
organic growth at this stage, and also doesn't want to have pseudo owners of her business. On the other hand, she foresees a significant amount of diversification and expansion of offerings hopefully with some amount of leverage of futuristic technologies like AI and ML. "Thankfully, my organization partners with people from all kinds of backgrounds & domains, and this renders an edge for us to keep a constant tab on the market. In addition, I mine through various information sources - online & offline, to keep abreast of the latest trends," adjoins Geetu.

A Family that Never Lets Her Alone
Being in pursuit of achieving more, Geetu takes pride in owing thanks to her wonderful family for playing an indispensable role in her entrepreneurial journey. Her family not only acts as an emotional back lift and supporting hub, but also, in fact, encouraged her to take the entrepreneurship plunge & optimize her potential. She says, "Entrepreneurship is often a lonely place – my family has ensured that I am in good company".

In return, she always spends quality time with her family, and makes life meaningful. Her day starts with a morning walk with her husband. "Those30 minute sare really precious in my life," adds Geetu.,Her entrepreneurial aspirations have not been able to come in the way of her being a caring mother of two wonderful children (of 6& 13 years) and never misses a chance to be with them, be it their school pick, the lunch conversations or the evening board games.

A book, cooking & painting lover, Geetu also loves travelling with her family and spending quality time with them, Singapore being her favorite destination. In addition to her family, the one person that she immensely attributes her success to is her mother, who has encouraged her to be a fiercely self dependent and successful person from a very young age. She always stressed that her daughters could achieve no less than what sons could achieve. "Like leadership or success, work-life balance does not have a fixed formula. If you genuinely want it from the bottom of your heart, you' ll achieve it," concludes Geetu.