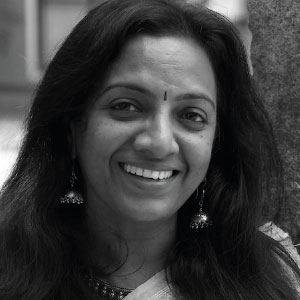 The beauty of the recruitment business lies in building the careers of all involved stakeholders (candidates, enterprises & consultants) from various walks of life. It is this positiveness that enticed Jayanthi (Chairperson, Ad Astra) to give up a happy corporate career built over twenty years and venture into the fluctuating waters of entrepreneurship. This new career choice proved to be more flexible, as the industry is too vast to perceive competition as a threat and has limited dependence on external factors; thereby offering the omniscient lady a much-needed space to exercise her potential. However, bringing enterprises and candidates from all corners of the world with diverse traits, experiences and attitudes, on to the same platform wasn't a walk in a park! Nevertheless, Jayanthi eventually cracked it by garnering global cultural understanding and has been a winner on the forefront.
The exposure to multiple industries she attained during her previous career armed her with profound understanding of clients across industries. Likewise, Jayanthi's experience in building businesses from scratch coupled with her knack for bringing people together
as a happy family, facilitated her to build a strong team for Ad Astra that today works in coalition with the client, understands their requirements and brings them tailor-made solutions. Furthermore, Jayanthi's passion for providing world-class services translated into a stellar reputation and tremendous growth for the organization, which helped it to spread across six branches.
Jayanthi's experience in building businesses from scratch coupled with her knack for bringing people together as a happy family, facilitated her to build a strong team for Ad Astra
Giving it Back
Aptly named as Ad Astra, which stands for reaching for the stars in Latin, the company empowers enterprises and candidates to achieve their maximum potential. Jayanthi's zeal to genuinely help companies meet relevant candidates and assist candidates to secure their dream job is palpable. "We are honest about the candidate being unsuitable for the client enterprise or vice-versa. Quite often, candidates come to us saying that We've been their life saviour," recalls Jayanthi asserting the importance of Culture fitment.
Amidst her busy schedule, Jayanthi finds time to mentor her start-up clients and help them meet with proven clients."Though teaching somebody is an honour, it's a biggest
learning opportunity for me as well," informs Jayanthi, under whose guidance Ad Astra has been awarded the 'Best Vendor Award' and 'Quick Turnaround Specialist' by several high-end organisations. While such business understanding & the network she has built over the years along with her 'never give up' attitude count as her strength, Jayanthi considers expecting the same higher degree of passion from everyone in her team and her lack of patience as her weakness/bitter strength. No wonder, she is a huge fan of the quality & passion the Apple gadgets bring to table.

Nurtured Over the Years
Though Jayanthi appreciates the respect she receives from clients for being a womanpreneur, she strongly believes in gender equality. "Being a woman, it's very important for us to give back, what we expect," she asserts. Jayanthi attributes her success to her mother's values, daughter's support and sister's motivation, as they helped her shape exemplary professional ethos that are today responsible for recurring business and genuine appreciation for Ad Astra.

A driving enthusiast, exploring little known places in India is her favourite destination. Jayanthi is a voracious reader and likes to feed her soul and body with some resplendent European culture & cuisine. The autobiography of Steve Jobs inspires her to find greatness in the minimum of things while the movie 'The Pursuit of Happyness' teaches her to sail through crisis with a smile; qualities that continue to help shape Ad Astra for a better future. As global giants are looking upon Ad Astra for strategic partnership, this bootstrapped company might raise funds in FY2018-19.